The BC Scene - Attractions, Museums and Historic Sites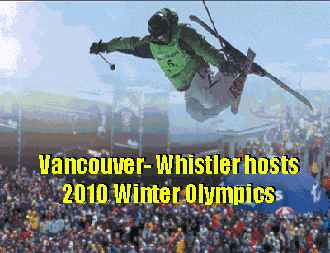 How to attract visitors to your area like a magnet? Let us count the ways. Air Highways and BC Scene Magazine combination in print and online.
Background information by Tourism BC:
Greater Vancouver offers a multitude of attractions, incuding the fact that you can often ski and golf on the same day. On any given day, the waterfront area where we live, is a passing parade of ships large and small.
The sky is a flying circus; you can fly direct from the harbour, next to Canada Place and the Vancouver Convention Centre, by float plane or Helijet to Victoria, Seattle, Whistler - and a variety of fun destinations in the mountains or along the coast.
Parliament Buildings, Victoria: The Parliament Buildings, site of the provincial government were constructed in 1897. From the time the buildings were first opened, the facade's outline was illuminated by more than 3,300 small light bulbs fixed along the corners of the walls, a feature that has contributed to its landmark status. In 1973, restoration work began that would extend from the foundations to the statue of George Vancouver on top of the central dome.

Stained glass windows were repaired. Moldings, light fixtures, and door knobs were made to replicate the originals, and mosaic tiles and ornate plaster work were restored. After 10 years of work, the buildings were restored to their earlier magnificence. Guided tours of the buildings are in groups and without charge. Large groups must phone ahead.

Royal British Columbia Museum, Victoria: Location: 675 Belleville Street This museum is probably like few others you have ever seen. `Walk through' exhibits take you to the streets of a pioneer town, to an old working Gold Rush waterwheel, aboard Capt. Vancouver's ship "Discovery", into a native Indian longhouse, to the bottom of the ocean, through a coastal rain forest or along a seashore.

Exhibits focus on the natural and human history of British Columbia. There are lectures, films and special event days. In the summer, native carvers are at work. Outside, there is a garden of B.C.'s native wildflowers. The museum was founded in 1896. It was housed in the Parliament Buildings across Government Street from 1898 to 1968 when it moved into its present quarters, specifically designed for museum activities.
The museum has more than ten million artifacts in its anthropological, biological and historical collections, though only a fraction are on public display. Craigdarroch Castle, Victoria: Location: 1050 Joan Crescent. Coal baron Robert Dunsmuir must have truly felt a man's home is his castle when he built this lavish house in the 1880s. He died before the castle was finished and his widow Joan moved into Craigdarroch in 1890. She lived there until she died in 1908. Craigdarroch is now a museum furnished in turn-of-the-century style: many of the pieces are the originals. The castle has been restored and features magnificent stained glass windows, intricately-carved oak paneling on the walls and ceiling of the main hall, walnut, mahogany, cedar and spruce paneling in many of the rooms and complex designs in the parquet floor throughout the castle's 39 rooms, executed in exotic wood.
Squares and Old Town, Victoria: Location: Bastion Square, Market Square, Chinatown, Centennial Square. These squares and small streets all have a history and atmosphere that make a walk in downtown Victoria pleasant and historically inspiring. Bastion Square was originally the site of Fort Victoria, established by James Douglas in 1843. The Maritime Museum, prominent on the square, the Courthouse and several other buildings from the turn of the century have been restored and currently house shops and offices. Two blocks over is Market Square, a pack house and busy warehouse at the time gold was discovered in B.C.'s interior. Now a collection of interesting boutiques opens onto a central courtyard, a unique mix of old and new. Another block over is Chinatown, once covering several city blocks but now mainly Fisgard Street. Off to the side is Fan Tan Alley, a narrow passage with shops tucked away. On Fisgard is the ornate Gate of Harmonious Interest. Shops here offer merchandise and meals straight from the Orient. A block away is Centennial Square, a relative newcomer where history nonetheless blooms in a restored City Hall, vintage 1878, and an old theatre restored as the McPherson Playhouse.
B.C. Forest Museum, Duncan: Location: On the Trans-Canada Highway just north of Duncan, about 70 km (43 miles) north of Victoria on Vancouver Island. This museum is not your traditional idea of a museum. It is really a park, the natural setting for a museum about forestry. The theme is "Man in the Forest" and it covers every facet of activity from native Indian times right through to the present. The park covers more than 40 hectares (100 acres) with indoor and outdoor exhibits and walking trails that detail the history of forestry in British Columbia. An original steam locomotive takes you from the entrance to the main exhibits of logging and milling equipment. The train even takes you over an old wooden trestle bridge.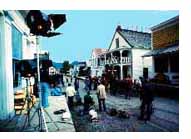 Barkerville: Location: Central Interior of British Columbia, about 450 air km (280 miles) north of Vancouver and about 90 km (55 miles) east of Quesnel on Highway 26. From the decaying remnants of a once-bustling gold rush town, Barkerville has been restored and is now a heritage park that recreates those wild times in western wilderness. Almost overnight, Barkerville was on the way to becoming the biggest community north of San Francisco and west of Chicago. In the 1860s, when gold was valued at $15 an ounce, over $50 million worth was taken out of the area. Barkerville died out when the gold rush ended, though it was never a complete ghost town.
Now, buildings have been restored, stores are occupied by merchants who show how things were done in the late 1800s, and demonstrations, tours and live musical stage shows bring the gold-rush days back to life. Of the 142 structures in Barkerville's townsite, 52 predate 1900 and 54 are historic but post-1900. There are 100 displays and more than 40,000 artifacts in the site's collection. Barkerville has also been the set for several western movies. Camping and hotel accommodation are located close to the site.
Fort Steele: Location: About 550 air km (340 miles) east of Vancouver, east of Cranbrook on Highway 93/95. Fort Steele is the other premier heritage park of British Columbia, a re-creation of an East Kootenay town in the late 1800s. Fort Steele arose as a commercial, social and administrative centre of the East Kootenays when major silver and lead discoveries were made in 1892. Its fortunes turned when, in 1898, the BC. Southern Railway bypassed it in favour of Cranbrook. Now, Fort Steele has more than 60 restored and reconstructed homes and buildings. Staff and volunteers put on demonstrations that recall its heady days a century ago. Living history at its best.
'Ksan Indian Village, Hazelton: Location: At Hazelton, 725 air kilometres (451 miles) north of Vancouver, 1,227 km (762 miles) by road, or 439 km (275 miles) by road west of Prince George. This is the site of a reconstructed authentic Gitksan Indian Village complete in every detail and similar to one that stood on the same site when the first European explorers came to the Hazelton area. Tribal houses are decorated with paintings, carved interior poles, and screens painted in traditional Northwest Coast Indian style. 'Ksan dancers perform traditional Indian dances and you can take a guided tour of several historic sites in the area. This is one of the few sites that really provides insights into Indian life before the advent of Europeans.
O'Keefe Historic Ranch, near Vernon: Location: Ten km (6 miles) north of Vernon, about 480 km (300 miles) east of Vancouver. The O'Keefe Ranch recalls the early cowboy days in the highland interior of British Columbia. The interior of the O'Keefe mansion is magnificent. Its original antique furniture, considered the best of Canadian craftsmanship at the time, is a showpiece of the ranch. Cornelius O'Keefe came from the east in the 1860s, started with 60 hectares (150-acres) and built his ranch to 8,094 hectares (20,000 acres). His descendants lived in the house until 1977 before it was turned into a museum. Now it comprises 20 hectares (50 acres). The antiques here are valued at more than $1 million. There are several buildings, including a Chinese cooks' house, St. Ann's Church, a carriage shed, a blacksmith shop, a reconstructed general store, a cowboy's bunk house and a barn, all preserved true to turn-of-the-century life.

OCTOBER IS SALUTE TO BRITISH COLUMBIA MONTH
Use the two top bars for links to other destinations and events

Air Highways 10th Anniversary Edition
Magazine launch at New York Times Travel Show.
Feb. 24-26 . Over 25,000 expected
.

Airlines and Airport Communities
New, Convenient Directory Series Online

Vancouver, Home of the 2010 Winter Olympics
Travel and Tourism Updater

BC Municipalities 100th Birthday Salute
Prime Minister Salutes Successful Event
Thanks Boeing for a delightful introduction
Future of Flight Aviation Center