Airport

Bella Coola, Discovery Coast and Cariboo Chilcotin
by Jerry W. Bird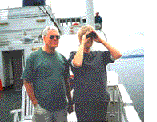 On landing at Port Hardy Airport via Pacific Coastal Airlines, we were greeted by Mayor Russ Hellburg, whose pet topic was the new North Coast Trail via Cape Scott, a challenging hike that's sure to attract world attention. It will feature two parallel trails; one near the ocean, and an inland trail for horseback and biking. Some say this route will be a step above the popular West Coast Trail, offering year round facilities for overnight stops. We then discussed BC Ferries, having heard glowing reports about a new car ferry route. BC Ferries' past President Frank Rhodes, was a lead off speaker at our 1997 Tourism Conference. His presentation on the Discovery Coast Route was the clincher. And what a pleasure it turned out to be.
Discovery Coast Ferry - Port Hardy to Bella Coola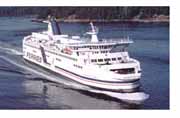 While most ferry trips are considered a point (A) to (B) affair ; an extension of the regular highway; this route is truly a pocket cruise! After a relaxing stay at Donna Gault's Port Hardy Airport Inn, we took the limo to BC Ferries Terminal for a much anticipated trip to the "Discovery Coast." Better known as BC's Central Coast, it's also one of the province's best kept secrets. We sailed in the wake of famous sea captains and ended our week at Bella Coola, where in 1793 Alexander MacKenzie, became Canada's first explorer to reach the Pacific from overland. Ports of call include a deserted salmon cannery at Namu, Bella Bella, Ocean Falls, Klemtu and Bella Coola. Bring your car if you plan to carry on by highway to the Chilcotin lake country and Cariboo.
The Captain Cooks! Aboard the "Queen of Chilliwack, BC Ferries' staff went well beyond the call of duty. What's more the food matches the hospitality. A guitar was on hand for group sing songs, and the Captain gave lessons on how to bake a date nut loaf.
I was then introduced to author Chris Weicht of Vancouver , who's forte is the history of RCAF bases and West Coast flying boats, such as the popular Stranrauer.Chris and I share a common bond, having both enlisted in the Royal Canadian Air force at Vancouver's Jericho Beach the same year. He and his wife (also Chris) were headed to the 50th Anniversary Celebration at Shearwater Resort. Weicht, a former Bella Bella resident and WAG Air pilot, now lives in Chemainus, BC.

Haida Giwa and Nitinat: Speaking of local culture... a highlight of our week on the Central Coast was meeting Frank and Cathy Brown of "See Quest Adventures." The couple operates a Native Interpretation Center at McLouglin Bay, near Bella Bella, we joined Frank Brown for one of his Giwa "ocean going canoe" trips; other guests enjoyed an interpretive walking tour and a Heiltsuik salmon barbecue. The Giwa is the same type of canoe used by Vision Quest in its 1,000 mile journey from the Skeena River to Victoria. With an ten person crew, you can make amazing time, and with Frank Brown's assistant Eric chanting an ancient Haida song, we skimmed over the waves without hardly working up a sweat. That experience alone was worth the week's trip. Try it; you'll agree!


Shearwater and the RCAF:
Accessible by scheduled airlines, Shearwater is a resort based sport fishing operation and marine center, with its own 45 foot charter yacht, the Pacific Lure. It is operated year round by Craig Widsten, son of the founder, a former airman. Located on Denny Island, near Bella Bella, the Shearwater community is a slice of air force history, once home to the Stranraer Flying Boat (above), Canada's famous sub-chaser of the North Pacific. The 1,000 man base was complete with amphibious aircraft, hangars, air raid shelters, bomb storage and mess halls. An original hangar still stands; now aluminum clad, it serves as a boat building and repair center.
Remnants of the "Santa Bella Trail" a boardwalk structure built by airmen during off duty hours, also remain. The Fishermen's Bar and Grill, a 9,000 sq. ft complex, offers waterfront dining, a full service pub and private lounge. While we spent most of our time at Shearwater and Bella Bella, at each port o' call on this new BC Ferry route, you can enjoy a brief visit, or stay over to explore archaeological sites, and native culture.
To complete our circle tour from Vancouver to Port Hardy, via Pacific Coastal Airlines, and Port Hardy to Bella Bella via BC Ferries... our final leg was aboard Brad Widsten's converted tugboat "Nitinat" to Bella Coola. From here, we enjoyed some exciting flight- seeing on Wilderness Airlines. The route took us out of the deep valley at sea level, to broad, open highlands near Anahim and Nimo Lakes (a popular fishing area) to the Inside Passage and on to Vancouver Airport's South Terminal. Click for Adventures on British Columbia's Chilcotin Coast, part of the famous Inside Passage.

Footnote: Why the Discovery Coast? In 1793, Alexander Mackenzie became the first white person to reach the Pacific by crossing North America overland (other than in Mexico). Born in Scotland, Alex moved to Montreal, where he joined the fur trade, his goal being to find an overland route to the Pacific. Howevr, on his first trip from Athabaska, he discovered the Arctic Ocean and charted a mighty river, which he named "River Disappointment." Mackenzie then returned to Britain to learn some of the latest advances in navigation concerning longitude. With this new found knowledge and improved equipment, he returned to the Canadian North and accomplished his dream in less than two years. The idylic spot where he first saw the Pacifdic Ocean is called Bella Coola.

The Alexander MacKenzie Discovery Web Site is: http://www.amvr.org/