My love affair with trains
by Jerry W. Bird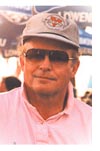 I've been a railway fan since taking that first exciting journey via Lake Bennett and Alaska's Sawtooth Range, from Whitehorse, Yukon to Skagway at five years of age. Last year in South Africa aboard Rovos Rail, and earlier traveling from Marrakech to Casablanca, I felt a similar burst of enthusiasm. That's the magic of rail travel; it stokes the fires of imagination at any age. In the late 80s my defining moment arrived - an opportunity to share such feelings with a large audience in a series I called "Railways of the World. " Features and items on the subject have since appeared in magazines and newspapers from North American to Africa. Many focus on specific journeys such as Amtrak, Via Rail Canada and Rocky Mountaineer; others relate to the interconnection of railways with cruises or parallel highway routes. Good examples from our magazines and web sites are the Trans Canada Yellowhead , Cariboo Gold Rush Trail, and Royal Canadian Pacific (see map) from Calgary via Kicking Horse and Crownsnest pass. Here are a few capsules from the series, which is a never-ending labor of love.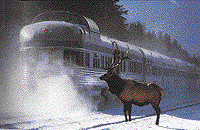 One of the highlights of my most recent return to Calgary and Alberta's Foothills Country, was the opportunity to visit a grand new 'Railtour' product being introduced by Canadian Pacific Railway, adjacent to the elegantly refurbished Palliser Hotel. Here we were given a private tour through the museum facilities and the various railcars that have been beautifully restored to carry tourists and corporate parties on the 'trip of a lifetime,' through the blue Canadian Rockies. Do you have an item about rail travel or photos you wish to share with our readers? Do you represent a railway or rail tour company in any part of the world? Please e-mail us - airhwy@dowco.com .




Vancouver's SkyTrain, SeaBus and a Shopping mall 15 miles long:
Remember the grand old department stores of yesteryear - where a pert, petite, uniformed elevator operator sang out the stops as you rose at a stomach- churning rate? So, it was only Woodwards Department Store, but in your 12 year old mind it felt like you were zooming to the top floor of the Empire State Building. Continued.

Amtrak across the USA and into Canada: Fly-Rail Vacations are an ideal choice for vacationers and business travelers who share our viewpoint - that getting there is often more than half the fun. We've enjoyed the "Amtrak Experience" on the Pacific Coast, from California to British Columbia and count this as one of our decade's highlights.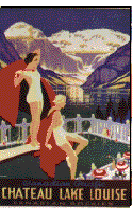 Make Canada's elegant Railway Castles part of your Grand Tour
It's on our agenda. In my book of fondest memories, a Christmas - New Years fortnight at the Banff Springs Hotel, and a week at Chateau Lake Louise rank high. Here in the Canadian Rockies this pair of European style castles reek of elegance from the grand old days, when the world's rich and famous arrived by train, making these grand resorts their private playground.

Society of International Railway Travelers have members all over the world, and we publish our newsletter, The International Railway Traveler, 12 times yearly.
Ontario Rails to the Great White North: From Lake Ontario to James Bay on the Arctic Coast, Ontario Northland Railway, the Little Bear and Polar Bear Express, offer a uniquely Canadian experience. This popular "Northern Rails" tour begins at Toronto's famous Union Station, next to the Royal York Hotel, with connections to North Bay, Temagami, Cobalt and points north.
Trans-Siberian Railway and Great Silk Road: Any time I think of the great Trans- Siberian Railway, as if by magic, sweeping images from Doctor Zhivago (the movie) start to appear on the theater of my mind . I can almost hear 'Lara's Theme' on the balalaika and the tinkle of sleigh bells in the background.
Blue Train with 'White Glove' Service? Only in South Africa!
by Muguette M. Goufrani. For years I had read that South Africa held many pleasures for those of an adventurous or romantic nature, so one summer, taking a month's vacation from my job as a travel agent in West Africa, I headed south. Here at last was my chance to spend some leisurely, laid back weeks getting to know that fascinating country
Street Cars and Street Smarts: Vancouver's Railway Renaissance: Historic Street Cars at Granville Island. It's about time! Like many Canadian cities, Vancouver is a child of the CPR, which was British Columbia's one way ticket to Confederation in 1867.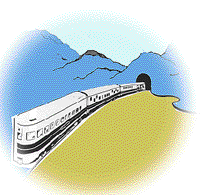 The Charm of Old Mexico via Copper Canyon
Since our rail travel features first starter appearing in newspapers and magazines, one railway tour that has attracted the most response from readers is the Sierra Madre Express of Tucson, (above) which winds its way from Arizona into Mexico's spectacular Copper Canyon.
American Spirit Rail lets you rediscover the Old West
From Montana via Great Falls, Helena, Glacier National Park , Kalispell, Couer d'Alene, Idaho and Spokane to Seattle. Having driven much of the scenic route from Montana via Great Falls, Helena, Glacier National Park , Kalispell, Couer d'Alene, Idaho and Spokane, Washington to Seattle on the Pacific Coast, our editors were pleased to receive the material on this page about American's best daylight train journey. It's the American Spirit Rail tour, formerly known as the Montana Daylight. Passing through many parts of the country impossible to see any other way, its refurbished 1940 and '50 s rails cars, including 'dining car' add a touch of nostalgia and are a class act. Tour highlights include mountain scenery in national parks, native sites, old West museums and much more.America's best daylight train journey.
Franco-Ethiopian Railway to Djibouti on the Horn of Africa
Given Aladdin's 3 wishes, I would restore Emperor Haile Sellasie's 'Lion of Judah' railway engine, hook it up to the prized set of French and British coaches, and operate luxury excursion tours on the Franco-Ethiopian Railway line. Built in the 1930s, the 482 mile route stretches from Addis Ababa, via Nazaret, the Rift Valley and Dire Dawa, to Djibouti, a French protectorate on the Gulf of Aden.