Footloose on Granville Island
by Jerry W. Bird

Living in Vancouver, British Columbia for many years, one venue we never get tired of visiting, come rain or shine, is Granville Island on the south shore of False Creek (opposite the former Expo site). It's an extra special treat when there's a chance to show the area off, like last summer when we invited several New York colleagues to the Public Market for a Sunday breakfast. Just watching their faces light up like Christmas trees, and hearing their favourable comments was a suitable reward. Granville Island, captures the mood of Vancouver in an eclectic mix of art and culture, and in an outdoors marine setting. Granville Island events
From Industrial Eyesore to Eye-Popping Spectacle
The magical transformation of Granville Island from acres of industrial blight to one of the coastal city's prize jewels, is like the Ugly Duckling story by Hans Christian Andersen. I remember visiting the area as a youngster, and what's happened with the new Granville Island never ceases to amaze me. The former industrial sheds have been painted in brilliant colours; moored yachts and fishing boats ring the entire Island. Around every turn you'll find an exciting photo op, as I've learned over the years, always looking for the next masterpiece. The same thing with shops, one of my favourites is the "Wickanninish," which features Haida and other native Canadian fashion wear, plus unique boutique items of native art pieces. It's located in the Crafts Centre building.
Last spring when we were invited on an afternoon Sail courtesy of Cooper Boating Centre,) a local company with an international reputation for yacht cruises and quality training in the art of seamanship. The Island is well served by City Transit, and easy to reach by the popular water taxis, or by car and on foot from Burrard or Granville bridges.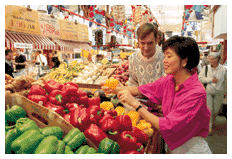 As an added attraction, an Old Fashioned Street Car line has been installed from here to the Science Centre (the Crystal Ball) near Main Street and Terminal Avenue.
The waterside setting with city and mountain views is idyllic, yet this island hums with activity. Stroll the celebrated Public Market, a feast for both the eye and the palate. Take the kids and the kid in you for a treat at the Kids Only Market. Take in a play, or a street performer's serenade. Watch artists and craftspeople at work, or boats pass by from a waterfront bistro. Walk, jog, rollerblade or bike along the seawall in the ocean breeze. From Granville Island you can sail around the harbor or ski the coastal mountains There's virtually no limit to the pleasures you can enjoy on the island.
The Granville Island Hotel
A retreat located in the heart of the action but not overwhelmed by it, the Granville Island Hotel, operated by my friend Diamond Karim, blends simplicity with style. Like the island, our luxurious boutique hotel has its own distinct character, easygoing yet elegant, relaxed but refined. Easy to get to, but hard to leave, the Granville Island Hotel is ideally located for business travelers, vacationing families and couples on a romantic getaway. We invite you to stay with us and discover Vancouver's best kept secret.
Granville Island Hotel
1253 Johnston Street,
Vancouver, BC V6H 3R9
Tel: (604) 683-7373 Fax: (604) 683-3061
E-mail: reservations@GranvilleIslandHotel.com
Web site: www.granvilleislandhotel.com
Cooper Boating Centre
1521 Foreshore Walk, Vancouver, BC V6H 3S4
Phone 683-6837, Fax 683-5844
Granville Island Operations:
1 800 663-1840 Toll free - Canada & USA http://www.granvilleisland.bc.ca/english/homepage.htm
Granville Island Office, 1661 Duranleau Street, 2nd Floor
Vancouver BC, V6H 3S3, phone 604 666 6655, fax 604 666 7376
Media Inquiries 604 666 8779
Info Centre 604 666 5784
Administration 604 666 6655
Ken Tunnicliffe, Manager, Property and Development: ktunnicl@cmhc-schl.gc.ca
Michael Young, Manager Granville Island: myoung@cmhc-schl.gc.ca
Colleen Welsh, Manager Public Marcket: cwelsh@cmhc-schl.gc.ca
Michael Mackenrot, Manager, Operations: mmackenr@cmhc-schl.gc.ca
Gloria Loree, Manager, Public Affairs and Programming: gloree@cm

---
Tourism Vancouver's Main Website

Visitors requiring assistance for accommodation can call: Tourism British Columbia's 1.800.HELLOBC Tourism Vancouver's Visitor InfoCentre on Burrard Street. 604.683.2000

World66 Vancouver Guide
http://www.world66.com/vancouver/htm