Airport

Fort Nelson: Northern BC's Gateway to Alaska and Yukon
by Jerry W. Bird
There's a land where the mountains are nameless
And the rivers all run God knows where.
There are lives that are erring and aimless
And deaths that just hang by a hair.
There are hardships that nobody reckons
There are valleys unpeopled and still.
There's a land - how it beckons and beckons
And I want to go back, and I will.
Robert W. Service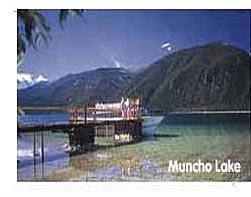 Getting there is often more than half the fun, especially when you are traveling by highway in Canada's North Country. Should you get behind an RV or a small convoy of trucks loaded with logs or ore sacks, keep your cool - I've been driving the Alaska Highway since it officialy opened to the public - and today's journey is a piece of cake compared to our days of hairpin curves and hair raising adventures. The steep grades and switchbacks at Trutch and Steamboat Mountain were enough to conjure up nightmares of the Arthur Hitchcock variety, and I will never forget one midnight dreary, when a huge evergreen tree fell in our path uprooted by the fierce winds that whistel through the Rocky Mountain Trench. I hope to cover that epiosode someday soon.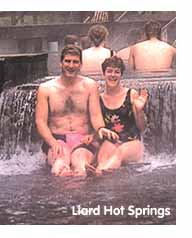 A look at the map of BC and the Yukon Territory will show you how strategically located Fort Nelson really is, and the value of the airport to the community and area. I last visited Fort Nelson during the filming of our Canadian Government sponsored video product "Alaska Highway- the First 50 Years,", which saluted the builders of the Pioneer Road, and rekindled many memories for me, having been born in the Yukon. The nearby Liard Hot Springs helped us get rid of any road cramps and put back the spring in our step. By the way, at Muncho Lake, which the highway skirts for several miles, we encountered a herd of Mountain Sheep who stubbornly held to the center of the road and kept us amused for at least 20 minutes. BC scenes like our Muncho wildlife parade are quite common in the area, so keep a loaded camera handy at all times.
The local hospitality was something else; Mavis Brown and her husband were standouts for the hospitality they showed us in their home, and for taking us to the local interpretive center. The community's twice daily Welcome Visitors presentations are well worth the time, as we got a feeling for the area and its native culture. Mavis' son Earl Brown is a well known local photographer, whose post cards you'll find at many roadside stops along the way. We were also shown around the Alaska Highway Museum, an attraction, where one could easily spend day, with its vintage cars, trucks and paraphernalia from the Trail of '42. There's an old fashioned open top mini car that we putted around in up and down the highway like a couple of crazy school kids on a romp.
My video script spoke of how during World War II, Fort Nelson town served as a vital link between Alaska and the south. After the "highway" was built the community expanded, as a realization of the area's vast resources brought in the forestry and gas/oil industries. Today, Fort Nelson is a modern, thriving community of approximately 6000 people. It's always a happy return each time we stop at this friendly northern community. Air Highways Magazine will be pleased to receive stories about your travels in Fort Nelson and area.
From Air Highways Journal
Fort Nelson, named after Admiral Nelson, was established as a fur trading post in 1805. Situated in the northeast corner of the province the Fort Nelson- Liard Regional District comprises 10% of the land mass of British Columbia, with the town of Fort Nelson its only municipality. Ribbed with thousands of miles of rivers, dotted by hundreds of lakes and crowned by the majestic Rocky Mountains, this vast 10% of the province offers some of the most spectacular scenery and abundance of wild life in North America. The area is a world class resource base for cross-country skiing, wildlife viewing, photography, backpacking , wilderness canoeing and a myriad of other activities. In addition, the Fort Nelson region is famous for specialty pursuits such as fly fishing and big game hunting.
The Fort Nelson region has some of the most magnificent scenery and landscapes in British Columbia. Eight provincial parks are located here including Stone Mountain Provincial Park (with Summit Lake and the famed Wokkpash area ) Muncho Lake Provincial Park (left) and Liard River Provincial Park, where Liard Hot Springs harbors one of the world's most unique ecosystems and year-round swimming. Fort Nelson is located at Mile 300 on the Alaska Highway, which was constructed by the United States Army.
The economy is based on natural resources but with an increasing emphasis toward area services and tourism. In addition to having the world famous "Alaska Highway" as its main street, Fort Nelson is also served by air and rail transportation. Local landmarks of note are the World's largest chopsticks plant, North America's largest gas processing plant and one of the largest plywood/sawmill/veneer plant operations in British Columbia. Fort Nelson offers a wide range of recreational and cultural amenities for such a small community: a comprehensive library, a community forest , a performing arts/ movie theater, and a museum. In addition to a full facility golf course, Fort Nelson has an indoor pool, tennis courts and a multi-use recreation complex which houses a curling rink/skating/hockey arena and convention center.
Once the town center, Old Fort Nelson is now an Indian settlement. Willow, birch and fireweed have swallowed up many of the settlement's abandoned boats and buildings. Items relating to construction of the highway can be seen at Fort Nelson Historical Museum.
Fort Nelson offers a Welcome Visitors Program of Alaska Highway travel information four or five nights a week from June to August.
INTERESTING THINGS TO SEE:
Heritage Museum
Community Forest
Welcome Visitor Program
Golf Course
Info Center
Town Square
Phoenix Theater
Travel Infocentre........
..See our Airnews Pages for connections for a full list of
...Airport. Profiles and Aviation Information.