Airport Links : Airlines . Parking . Ground Transport. Air Museum . Contacts . Tourism Victoria .
BC's Capital and Gateway to Vancouver Island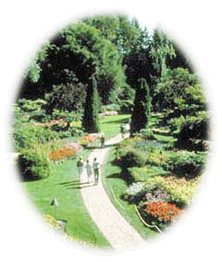 One never gets tired of a visit to Victoria any time of year. Whether it's by conventional aircraft, a Helijet Sikorsky whirlybird, a seaplane, ferry or catamaran, we say that getting there is a big part of the fun. And we've noticed a huge difference in transportation service, facilities, options a we would still like to see improved public transit service between the airport, downtown and the various communities.
What most travel experts do not know is that Victoria International Airport is already Canada's 9th busiest. Victoria has been a lifestyle leader for decades. Located on the Southern tip of Vancouver Island, an area often called Canada's Banana Belt, Greater Victoria averages over 2,000 hours of sunshine and an annual precipitation average of only 25 cm. Here, flowers bloom year-round, as witnessed by the world famous Butchart Gardens, and hanging flower baskets on downtown street corners.
A major force in Tourism for BC is Victoria's Kevin Walker. A hotelier and past President of COTA and the BC and Yukon Hotels' Association, Mr. Walker, who was a key speaker at Air Highways Air and Marine Tourism Conference, takes an active role in the BC Tourism Industry's Annual Conference program
Thanks to the US/Canada Open Skies agreement, local ownership of the airport, and the area's magnetic attraction as a Tourist Mecca,the Airport Authority envisions more direct flights to North American cities. Direct air service to Portland, Oregon, and other U.S. gateways would boost Vancouver Island Tourism immensely.

Victoria International Airport Authority's members represent the Federal Government, City of Victoria, Victoria Chamber of Commerce, 3 Saanich communities, Sidney, and the Capital Regional District.
Acres of Opportunity: The Airport Authority also looks forward to the development of "clean" progressive industry on airport land. As a center for growth enterprises, Victoria Airport offers the Capital Region's last remaining supply of light-industrial lots larger than an acre and a half; an essential item for the high-tech, aviation-oriented, research and manufacturing firms that create high-quality jobs and compete in global markets. While Victoria Airport's priority is industry that supports aviation, they will also seek airport compatible, non-aviation proposals in consultation with Sidney and North Saanich. Such high-yield opportunities will diversify the Airport's revenue base, create employment and add to the municipal tax base. Commercial and industrial development should not be allowed to spoil the airport's scenic charm. "We have one of the most esthetically pleasing airports to fly into ... and want to preserve that special appeal," one spokesman said.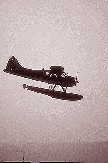 Victoria's Inner Harbor seaplane bases are a quick way for business commuters and conventioneers from Seattle and Vancouver to connect with Victoria and the Islands. It is one of Canada's top five busiest harbors with 35,000 takeoffs and landings in 1998. Five major air service providers: Kenmore, Harbor Air, Cooper Helijet, West Coast Air. Ultimate authority for harbor: Transport Canada.
Parliament Buildings, Victoria: The Parliament Buildings, site of the provincial government were constructed in 1897. From the time the buildings were first opened, the facade's outline was illuminated by more than 3,300 small light bulbs fixed along the corners of the walls, a feature that has contributed to its landmark status. In 1973, restoration work began that would extend from the foundations to the statue of George Vancouver on top of the central dome. Stained glass windows were repaired. Moldings, light fixtures, and door knobs were made to replicate the originals, and mosaic tiles and ornate plaster work were restored. After 10 years of work, the buildings were restored to their earlier magnificence. Guided tours of the buildings are in groups and without charge. Large groups must phone ahead.

Royal British Columbia Museum, Victoria: Location: 675 Belleville Street This museum is probably like few others you have ever seen. `Walk through' exhibits take you to the streets of a pioneer town, to an old working Gold Rush waterwheel, aboard Capt. Vancouver's ship "Discovery", into a native Indian long house, to the bottom of the ocean, through a coastal rain forest or along a seashore.

Exhibits focus on the natural and human history of British Columbia. There are lectures, films and special event days. In the summer, native carvers are at work. Outside, there is a garden of B.C.'s native wildflowers. The museum was founded in 1896. It was housed in the Parliament Buildings across Government Street from 1898 to 1968 when it moved into its present quarters, specifically designed for museum activities.
The museum has more than ten million artifacts in its anthropological, biological and historical collections, though only a fraction are on public display. Craigdarroch Castle, Victoria: Location: 1050 Joan Crescent. Coal baron Robert Dunsmuir must have truly felt a man's home is his castle when he built this lavish house in the 1880s. He died before the castle was finished and his widow Joan moved into Craigdarroch in 1890. She lived there until she died in 1908. Craigdarroch is now a museum furnished in turn-of-the-century style: many of the pieces are the originals. The castle has been restored and features magnificent stained glass windows, intricately-carved oak paneling on the walls and ceiling of the main hall, walnut, mahogany, cedar and spruce paneling in many of the rooms and complex designs in the parquet floor throughout the castle's 39 rooms, executed in exotic wood.
Squares and Old Town, Victoria: Location: Bastion Square, Market Square, Chinatown, Centennial Square. These squares and small streets all have a history and atmosphere that make a walk in downtown Victoria pleasant and historically inspiring. Bastion Square was originally the site of Fort Victoria, established by James Douglas in 1843. The Maritime Museum, prominent on the square, the Courthouse and several other buildings from the turn of the century have been restored and currently house shops and offices.
Two blocks over is Market Square, a pack house and busy warehouse at the time gold was discovered in B.C.'s interior. Now a collection of interesting boutiques opens onto a central courtyard, a unique mix of old and new. Another block over is Chinatown, once covering several city blocks but now mainly Fisgard Street. Off to the side is Fan Tan Alley, a narrow passage with shops tucked away. On Fisgard is the ornate Gate of Harmonious Interest. Shops here offer merchandise and meals straight from the Orient. A block away is Centennial Square, a relative newcomer where history nonetheless blooms in a restored City Hall, vintage 1878, and an old theater restored as the McPherson Playhouse.

Helijet Airways' Super City Triangle
Info Links: http://victoriabc.com
http://attractionsvictoria.com ( Victoria)