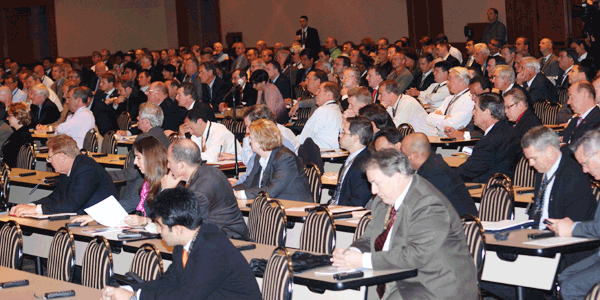 FLASHBACK:
Canada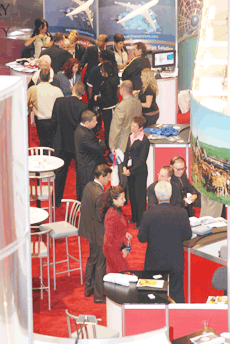 Hosts 2006 Air Cargo Forum and Exposition
The International Air Cargo Association's vision of creating a neutral forum for stimulating discussions and solutions among all segments of the air cargo industry has created a biennial event recognized internationally as the world's premier air cargo event. The 2006 edition WAS held in Calgary, Canada, September 12-14. Attendees at ACF events in Bilbao, Hong Kong, Paris, Washington and other crossroads of international commerce since 1962 have not come "simply to do business." They gather biennially to analyze the state of the industry; discuss its problems challenges; and network together to solve problems and maximize opportunities. Discussions and decisions made at biennial Air Cargo Forums are far reaching only into the commercial world but into governmental policy making as well as academia.

LIST OF EXHIBITORS AT CALGARY EVENT
Web site:http://www.tiaca.org/content/acf2006/history.asp
Boeing Forecast Sees Air Cargo Strength Continuing
- Industry Will Rely Increasingly on Large Freighters
SEATTLE: The global air cargo market, currently showing significant strength through a flurry of new freighter orders, is poised for strong 20-year growth, during which The Boeing Company forecasts that the world freighter airplane fleet will double from 1,760 to 3,530 airplanes.
This is a key finding in the latest Current Market Outlook, recently produced by Boeing and available on its Web site.
According to the Current Market Outlook 2005, issued annually by Boeing Commercial Airplanes, 2,870 freighters will enter the fleet by 2024 and 1,100 cargo airplanes will be retired, for a net gain of 1,770 airplanes.
Freighters of all sizes will provide more than half of the world's total air cargo capacity, a slight increase from today, although as a percentage of the total world airplane fleet, freighters will decrease from 10.5 percent to 10 percent, due to an increase in size of the average freighter.
"The overall forecast is slightly higher than last year's forecast, with about 100 more airplanes entering the fleet than we projected previously," said Jim Edgar, regional director, Cargo Marketing for Asia. "Carriers also are looking increasingly to large freighters, especially the 747 and 777 models, for optimal efficiency and range."
The share of widebody freighters is expected to increase to 64 percent of the fleet, compared to 47 percent currently. About 60 percent of the freighters that will be added to the fleet will be widebody airplanes.
The share of standard-body freighters will decrease from 53 percent to 36 percent over the next two decades, partially due to preferences by operators such as express carriers for medium widebodies as a replacement for retiring standard-body freighters.
By 2024, 720 new production freighters will enter the fleet, about 25 percent of the total growth, with the remainder being conversions from passenger and combi airplanes. Although new airplanes will make up a minority of the world freighter fleet, many airlines prefer the technical advantages, reliability, and fuel efficiency of new airplanes. Half of these new airplanes will be in the large freighter category (greater than 65 tons).
"In 2004, we saw the completion of the post-9/11 recovery period with a year of unprecedented growth," said Tom Crabtree, Boeing regional director, Cargo Marketing for Europe and Russia. "While that growth can't be sustained on a continuing basis, it provides a good basis for the long-term growth that is indicated by the available data.
"Thus far in 2005, growth certainly has slowed, which isn't surprising considering the 2004 growth levels."
The value of the new production freighters entering the market over the 20-year period totals $155 billion, an increase over the previous Boeing forecast, again due to the increasing reliance on larger airplanes.