Tofino: Gateway to Vancouver Island's magnicent West Coast;
beautiful,bountiful and wild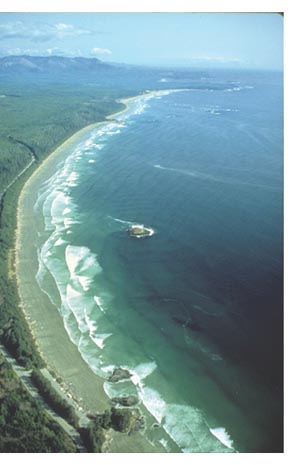 On the west side of Vancouver Island, not far from Long Beach (photo right) and just north of Pacific Rim National Park, the resort community of Tofino has become a popular destination for vacationers. A number of bed and breakfasts and several resorts cater to ocean kayakers, whale watchers and naturalists, who travel here for a taste of adventure. Visitors will feel a sense of awe as they walk through old-growth forests containing cedar and fir trees that may be a thousand years old.
Take a wildlife boat cruise and look for grey whales, killer whales and the myriad of seabirds that frequent the area. Visit the aboriginal longhouse that houses the paintings of well-known local artist Roy Vickers.
Whale watching tours are also available from the charming city of Victoria. Travel the West Coast Road (Hwy 14) from Victoria to Sooke, where excellent resorts and restaurants provide a comfortable base for such day outings as fishing and beachcombing, or exploring East Sooke Regional Park.
Air Services:
Tofino Airlines: Sea plane adventure in Clayoquot Soundand other packages. Box 99, Tofino, B.C. V0R 2Z0 Telephone: 1-250-725-4454 Fax 1-250-725-4421.
Northwest Seaplanes : 1-800-690-0086 Tel: (425) 277-1590 / Fax: (425) 277-8831; Email: info@nwseaplanes.com
More to come.