Airport

Chilliwack, in BC's Mighty Fraser Country

Area attractions include Minter Gardens, Dusty's Dino Town, Bridal Falls and Cultus Lake. Chilliwack Airport is about 60 miles east of Vancouver B.C. More information to come. New Tourism Brochure available at Information Centres in British Columbia's Mighty Fraser Country.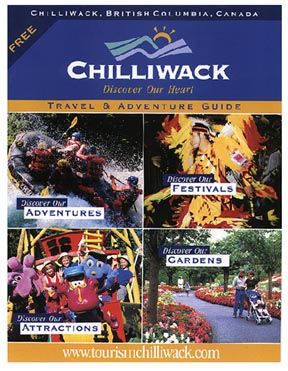 Visitor Information Centre. Phone: (604) 858-8121, Toll Free: 1-800-567-9535
Website: http://www.tourismchilliwack.com Email: info@tourismchilliwack.com
Airport
Our airport encompasses 130 acres and boasts a terminal building designed to accommodate aircraft with up to 19 passengers. Airside facilities include 3,990 ft. (1,219 meters) paved and lit runway and parallel taxiway. Our 24 hour fueling station offers competitively priced 100LL Avgas for small aircraft and Jet A for turbine and jet engine aircraft and helicopters.
The Chilliwack Municipal Airport is home to approximately 75 private and commercial aircraft, which includes both fixed wing and helicopters. There are over 20 businesses at the airport including: flight training schools, charter companies: both fixed wing and helicopter, aircraft paint and maintenance shops, as well as, other assorted aviation oriented businesses. We also boast a fine eatery: "The Airport Coffee Shop" and their famous pies.
Approximately 70 percent of our estimated sixty thousand annual air traffic movements are itinerant traffic consisting of both pilot training and recreational flights from all around B.C. and south of the border.
Chilliwack Airport is well known to B.C. aviators as one of the most attractive airports in the province. It is a showpiece for our community.
Chilliwack Flight Fest
AirportEach year, on the last weekend in August, the airport hosts the Chilliwack Flight Fest - a free Airshow with top name performers. The fun takes off in the morning with a pancake breakfast, followed by a full day of flying and ground activities, fun for the whole family.
CITY OF CHILLIWACK
8550 Young Road, Chilliwack, BC, Canada, V2P 8A4
Phone: 604-792-9311 | After Hours Emergencies Only: 604-792-2233 | Fax: 604-795-8443 For More Information...
Edward (Ed) Wilkins. Airport Manager
Magnum Management
Chilliwack Municipal Airport
46244 Airport Road, Chilliwack, B.C. V2P 1A5
Phone: 604-792-3430
Fax: 604-792-3070