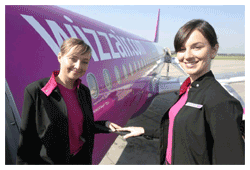 About Wizz Air
Wizz Air is Central & Eastern Europe's leading low fare &endash; low cost airline. Wizz Air flies a young fleet of 180 seater Airbus A320 aircraft from Katowice, Warsaw and Gdansk in Poland and from Budapest in Hungary on 32 European routes to 17 destinations this summer. Shortly operations from Poznan, Poland, Sofia, Bulgaria and Kaunas, Lithuania will be added. Since its start in May 2004 Wizz Air has carried nearly 2 million passengers.
Ink Publishing wins contract to publish inflight magazine for Wizz Air, Central and Eastern Europe's leading low cost airline
Ink Publishing is taking off in Eastern Europe, strengthening its position as the company which produces more inflight magazines than any other publisher in the world.
London-based Ink was selected following an extensive tendering process to publish the inflight magazine for low cost carrier Wizz Air, which has bases in Hungary and Poland and routes throughout Europe.
The magazine will be in equal parts Hungarian, Polish and English &endash; Ink is the only publishing company Wizz Air felt could effectively tackle such a brief.
The contract is further confirmation of Ink Publishing's global capabilities and sector expertise as a travel and business publishing specialist.
Jeffrey O'Rourke, Chief Executive of Ink Publishing, said: "We are delighted to have been selected from a strong field to publish Wizz Air's inflight magazine, which is a significant addition to our portfolio and reinforces our position as a leading international, multi-language publisher.
"We are pleased that the airline recognised Ink for its capability in meeting its international requirements. Our partnership with Wizz Air carries us into an exciting and growing new market and, as a result, we are hiring additional London-based editorial and sales staff."
Mr József Váradi, Chief Executive Officer of Wizz Air, commented, 'We have been working closely with Ink to come up with a really informative and entertaining magazine, which stands out from all the rest, with features and guides that will highlight the best and brightest from our exciting and unique range of destinations. I am convinced that this magazine in all details will truly reflect the Wizz brand."
Wizz Air began operating in May 2004 and has already carried nearly 2 million passengers.
From its bases at Katowice, Warsaw and Gdansk in Poland and Budapest, Hungary, it operates services to 17 European and Scandinavian destinations on 32 routes.
Services on its fleet of Airbus 320s, liveried in distinctive pink and purple, include Brussels South Charleroi, Frankfurt Hahn, Gerona, Liverpool, Luton, Milan Orio al Serio, Rome Ciampino, Stockholm Skavsta and Paris Beauvais-Tille.
About Ink Publishing
Ink Publishing is a fast-growing international publishing company which produces inflight magazines for more airlines than any other publisher in the world. Ink's award-winning titles include AirTran Airways Go, Bangkok Airways in-flight magazine, British Mediterranean Airways Impressions, easyJet Inflight, MyTravel Recline, Siem Reap International Airways in-flight magazine, Tiger Airways in-flight magazine, Virgin Express Red Hot and VLM Airlines Velocity, as well as Summit Hotels Summit magazine. Ink also publishes Bradmans Business Travel Guides to Asia, the Middle East, Africa, Europe and North America.
Ink is the publisher of European Business and CNN's bi-monthly global travel magazine, CNN Traveller, which reaches 850,000 readers worldwide. Among Ink's online content clients are The Diamond Trading Company, eBookers, Fiat, Orange, The Royal Bank of Scotland and Vodafone.
The company has operations in the UK, US and Singapore, with its headquarters in London.
For more information, visit www.wizzair.com.
Media contacts:
Julian Reader, MPS International
Tel: +44 20 7348 6033 Mobile:+44 770 917716
Email: jreader@mpsipr.com
Advertising Enquiries:
Tel: +44 20 7613-8777
Email: wizzair@ink-publishing.com
Ink Publishing
• UK: +44 20 7613-8777 tel +44 845 280-2413 fax
• Singapore: +65 6491-5262 tel +65 6491-5261 fax
• USA: +1 888 685-1681 tel +1 646 349-3844 fax