The British Columbia & Yukon Hotels' Association
More famous Doors of Hospitality

Read about some of the our favourite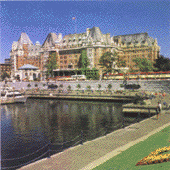 British Columbia hotels in a new section we call 'Canada's Castles' many of which were built by the railroads in the early 1900s. Other pages on this site will profile specific hotels and resorts we have visited, past, present and future. Coming from families with hospitality industry backgrounds, our editors have a fondness for hotels and hoteliers. We've worked closely with management representing hotels, inns and resorts of all sizes, in North America and worldwide. We also interact with regional hotel associations and are pleased to tell our readers of their objectives and activities. We greatly appreciate our liaison with the BC & Yukon Hotels' Association before and since the launch of our publishing operations in 1995. The following is the latest information from the Association.
BCYHA is headquartered in Vancouver and represents members in all hotel industry matters.
Executive Vice President: James Chase
Public Affairs: Ashley Haslett
Call Toll-Free 1-800-663-3153.
604-681-7164 (Vancouver)
Fax: 604-681-7649
Fax Toll Free 1-866-220-2032
E-Mail: hotel@bcyha.com
Purpose: The purpose of our association is to enhance the financial viability of our members in the accommodation and hospitality industry through initiatives in government relations, marketing, education, training, technology, and the promotion of excellence, professionalism and social responsibility.
The BCYHA is a trade association with over 570 member hotels and 200 member affiliates. BCYHA is committed to the advancement and continued improvement of the lodging industry in British Columbia and the Yukon.
- over 48,000 rooms strong and growing, the BCYHA represents an industry with more than 35,000 employees.
- a strong industry association with representation from all areas of the Province and Yukon Territory on its Board of Directors.
- a vital communications network between other hoteliers throughout the Province, Yukon Territory and Canada. BCYHA staff and executive members maintain regular liaison with the Hotel Association of Canada and other provincial associations on matters pertaining to our industry.
Tourism Growth: BCYHA works closely with the Ministry of Tourism and related groups to build an even larger tourism industry in B.C.
- Membership Benefits
- Credit Card Merchant Discount Programs
- Telecommunications
- Property and Liability Insurance Program
- Group Health and Welfare Insurance Plan
- Purchasing Opportunities Plan
- Beverage Ordering System
- Budget Rent a Car - Corporate Program
- Educational Video Library / Resource Centre
- Activities and Publications
BCYHA reflects a blend of knowledge and expertise vital to hoteliers:
Annual Convention and Trade Show: provides exposure to innovative industry products and developments, combined with educational business sessions and social events.
Local Region Meetings: provide current information, knowledge and networking opportunities.
Hotel Directory and Buyers' Guide: a comprehensive listing of BC & Yukon hotels, association members, industry-related government officials and an extensive list of preferred suppliers.
INNFOCUS: a quarterly magazine which features in-depth hotel industry articles.
INNTOUCH: a bi-monthly newsletter providing current information on hospitality industry events, happenings and trends.
Comprehensive Educational Services: provides up-to-date information on a wide range of opportunities. The BCYHA is a member of the following organizations:
http://www.labourpolicies.com/ Coalition of BC Businesses
http://www.cotabc.com/ Council of Tourism Associates (COTA)
http://www.bcbusinesssummit.com/ BC Business Summit
http://www.bcyha.com/COHO.htm
Coalition of Hospitality Organizations (COHO)
http://www.conferenceboard.ca/ctri/
Canadian Tourism Research Institute
http://www.crfa.ca/
Canadian Restaurant & Food Services Association (CRFA)
http://www.csae.com
Canadian Society of Association Executives (CSAE)
http://www.brewers.ca/>Brewers Association of Canada
http://www.ih-ra.com/>International Hotel & Restaurant Association (IH&RA)
http://www.ifebp.org/default.asp
International Foundation of Employee Benefit Plans Executives (SHAE)
http://vancouver.boardoftrade.com/ Vancouver Board of Trade
http://www.tiayukon.com/
Tourism Industry Association of the Yukon (TIAY)
http://www.tourismvancouver.com/docs/visit/index.html
Tourism Vancouver
http://www.mpiweb.org/
Meeting Professionals International (MPI)
http://www.iabc.com/homepage.htm
International Association of Business Communicators (IABC)
http://www.northeasternbc.com/
Northern Rockies Alaska Highway Tourism Association
BC & Yukon Hotels' Association
Phone: 1-800-663-3153