The Harrison, one of Canada's Famous Doors of Hospitality
by Jerry W. Bird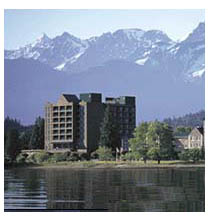 Canada is dotted with famous hotels, inns, lodges and resorts, a few having existed since pioneer days, while others are but faded memories. Some of my favourite haunts remain as attractive and popular as ever, keeping up with the times, yet retaining their unique charm. We love to visit those castles and resorts built during the hey day of Canada's two great continental railways. One of our favourite business or leisure retreats in the British Columbia Lower Mainland, the world-famous Harrison Hot Springs Resort and Spa, has been sold for about $35 million to Delaware North Parks Services, a hospitality group based in Buffalo, NY. The new manager, Donald Ponniah, held senior management positions with the group, including Tenaya Lodge at Yosemite National Park, California. All assets of the Harrison resort, which consists of the 323 room hotel, conference center, golf course, marina and spa, are included in the deal. The 140 acre property provides rooms, plus cottages and 24,000 sq. ft. of meeting space. As we can vouch for from experience, the main attraction is the resort's natural mineral springs, with five swimming pools and a new "Healing Springs" Spa.

Harrison Hot Springs Resort recalls a legend of CPR's glory days, when high rollers, from movie stars to royalty rode the Canadian Pacific Railway, staying at hotels and resorts at or near the main line. I am touched by that same spirit with each visit, and its always a happy return. We launched Air Highways Magazine at the Harrison, when the BC Aviation Council asked me to speak at its 1996 Conference. The area was once a stopover on the gold rush trail.
A subsidiary of Delaware North Companies Inc. the new management group also owns major sports facilities, including the Fleet Center arena, home of the NHL Boston Bruins and Boston and the NBA Celtics. Delaware North Parks Services DAPS) is one of the fastest growing providers of recreational visitor services in America, with an impressive list of well-known clients.
Here's a capsule description: Harrison Hot Springs Resort is nestled on the shores of Harrison Lake in the majestic Fraser Valley, bordered by the snowcapped mountains of BC's Coast Range. The lake's wooded shoreline has become a renowned Canadian getaway, with 45 miles of glacial waters and 700 acres of woodlands, wildlife and waterways. Here you can soothe yourself in 8,000 square feet of indoor and outdoor natural mineral hot spring pools. There's also a special children's water park. Harrison Lake and the nearby Harrison River are a water lover's paradise. Do a little fishing. Play some tennis. Watch bald eagles feast on spawning salmon. Golf is a nearby favourite. Throughout the year, you can also enjoy numerous events from the village festival of the arts to our world-championship sand sculpture competition.
Lakeside Cafe Restaurant: Enjoy a casual meal with a view. Miss Margaret's is a favourite for cappuccino and biscotti. In the Copper Room you'll spend your evening enjoying Friseur Valley cuisine, while singing, swinging, and dancing to the exciting music of live entertainment. Call For Reservations: 1-800-663-2266
Harrison River Resort: Watch for update on Rowena's Inn and the Sandpiper Golf Course.
Canada's Hotels continues with "Hotels along the Yukon"
Fotomation- series of souvenir posters available at Canadian Pacific Stores. Catalogue: http://www.cphotels.ca.