Airport

Penticton's Wine Country: Gateway to the Okanagan Valley
by Angela Warner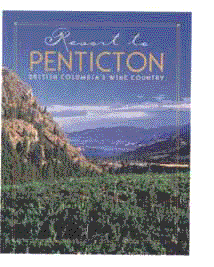 Although I'm rather embarrassed to admit it, the first time I visited Penticton from Vancouver, I could not quite understand why we were headed inland for a vacation to be spent primarily on the beach, accustomed as I was to the ocean beaches of Europe, Australia and Hawaii. But when we arrived at this town in the beautiful Okanagan Valley, with its sparkling twin lakes skirted by clean and most pleasant beaches, it was a scene as yet unknown to even this seasoned traveller.
Penticton's Tour deVine

Here, we were able to indulge ourselves with all manner of water sports and activities- swimming, water-skiing and even paragliding. On one particularly lazy Sunday afternoon, we took a leisurely float on inner tubes down the river channel which flows from Okanagan Lake on the north side of town to Skaha Lake on the city's southern boundary- one of Penticton's unique summer pastimes. We were fortunate enough to be visiting the town at the time of the annual Ironman Canada event. Guiltily, we sat back at a roadside hostelry, sipping our excellent local wine and nibbling on succulent local produce, while contestants from around the world ran wearily by on the last leg of grueling the swim/cycle/run event. Maybe next year.By the end of one far too short week, I could quite understand why local natives named this valley "Pen-Tak-Tin"- "a place to stay forever". No wonder Chatelaine magazine voted Penticton one of the top ten cities in Canada to live. Coming soon. Bicycles and Wine: Tour deVine
Penticton - A resort for All seasons
Less than a 50 minute flight from the port city of Vancouver, Penticton offers visitors a resort for all seasons. Miles of clean sandy beaches, Lakes Okanagan and Skaha, lush golf courses, vineyards and orchards are all natural attractions in vacationers' paradise.
Penticton is a clean, safe and friendly community where guests can enjoy the pastels of orchard blossoms from April through May and orchard and winery tours from June to October. Special events include the Peach Festival in August and October's Okanagan Wine Festival. Winter skiing at Apex Resort and year-round golfing make Penticton an all-season destination.
The area offers a wide range of luxury resorts moderately prices hotels and charming bed and breakfast inns. Beachside cafe's, cappuccino bars, boutiques, open markets and specialty shops are found everywhere. Visitors can follow a personal itinerary or join organized tours. Whether pre-arranged or a spur of the moment decision, the resort city of Penticton offers a full agenda of exciting and memorable experiences. For further information or suggested itineraries, please contact Tourism Penticton at 1-800-663-5052.
Committed to safety and service, Penticton Airport is owned and operated by Transport Canada with year round day and night flight capability. Scheduled air service is provided by Canadian Regional Airlines and AirBC, while charter and sightseeing trips through nearby canyon and alpine areas is provided by Canadian Helicopters and Stage Air. Conveniently located on VFR routes to the Pacific Coast, the BC Interior and Alaska, Penticton Airport is right within the city limits. Just a short and economical taxi or limo ride will whisk you to your
final destination
Penticton Wine Country Airport welcomes you!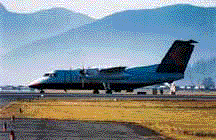 Penticton Airport in the heart of the scenic Okanagan Valley, is strategically and conveniently located on direct air routes to the Pacific Coast, the British Columbia interior and Alaska -- a brief 45 minute flight from Vancouver, BC or Calgary, Alberta. Currently, there is a single 6000 ft long paved runway. The airport is presently served by Canadian Regional Airlines and AirBC/Central Mountain Air with daily schedules. The airport operates a Canada Customs service for international arrivals.
The Penticton airport provides a full range of passenger services, including a gift shop, restaurant, car rental concessions and a flight service station. A shuttle service operates to the downtown area, which is less than ten minutes away. A full range of ground transportation services are available at the airport.
Airport operation: Transport Canada
RR #2, Site 5, Comp 2
Penticton BC, V2A 6J7
Airport Manager: Brian Bramah
Manager Resource Management:
Louise Noble
Air Carriers: Air BC, Canadian Regional
Destinations: Vancouver, Calgary, Cranbrook
Car Rentals: Budget, Tilden
For Airport Information
call (250) 492-6042 Fax: (250) 492-6334
E-mail: transcan@vip.net.
Highlights! Special Events!
• Miles of sunny beaches
• 30 Lakeview & Mountain Golf Courses
•30 World Class Wineries
• 2 Marinas: Skaha and Okanagan Lake
• 3rd largest Convention Facility in BC
• Ornamental Garden, Parks, Fruit Stands
• Dominion Radio Astrophysical Observatory
• Canada's Safari: Okanagan Game Farm
• Museums & Art Galleries
• Kettle Valley Railway Train & Trestle
• Great restaurants and beach side cafes
• Hotels, Motels, Campgrounds, B&Bs
• Boutique Shops, Shopping Centres
• May: Okanagan Fest of Ale
• Spring Blossom Wine Festival.
• Bacchanalia '98
• June: Okanagan Hockey School
• Okanagan Summer School of the Arts
• July: Beach Blanket Film Festival
• Okanagan Ballroom Classic
• Aug: Square Dance Jamboree
• 50th Annual Peach Festival
• Ironman Canada Triathlon
• Sept: Dixieland Jazz Festival
• Oct: Fall Okanagan Wine Festival
• Consumer Wine Tasting
• Nov: Summerland Festival of Lights

For Information call or write:
TOURISM PENTICTON
273 Power Street, Penticton, BC V2A 7K9
Visitor Information: 1-800-663-5052
Tel (250) 492-4103 fax: (250) 492-6119 www.pen.org
.....More airport Information and tourism contacts.