Quick Now! Why do they call British Columbia Super Natural?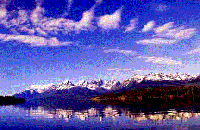 The BC Scene is a potpouri of natural and man made attractions and a kaleidoscope of panoramic vistas, as we talked about in our award winning theme "Many Worlds in One." British Columbia combines the geography of many lands, from desert to seacoast and alpine meadows, plus a culture that goes back thousands of years. The following section of our web site provides capsules of various attractions compliments of Tourism BC, whose staff and members have assisted us on many occasions over several decades in publishing.
Hell's Gate Canyon is on the Trans-Canada Highway as it follows the Fraser Canyon inland from the coastal area at Vancouver. Through a deep gorge that narrows to 34 m (110 feet), water from 233,000 square km (90,000 square miles) of land passes at a rate of 15,000 cubic m (3.9 million US. gallons) a second during high periods. Hell's Gate was a barrier to all but the strongest salmon as they journeyed inland to spawn. A fish-ladder built in 1945 gave them a way around the most treacherous part. In recent years, river rafters have been tempting fate by shooting the rapids on one of the many commercial rafting outfits. For a safer view of this awesome spectacle, an aerial tramway descends 152 m (500 feet) from the highway to the Fraser River where a viewing area has been built just above this narrow, deep gorge.Cathedral Grove: In the centre of Vancouver Island, between Parksville and Port Alberni on Highway No. 4. This stand of giant Douglas fir and western red cedar is one of the few remaining on the west coast. The tops of the tall trees form a cathedral-like ceiling high above your head while the thick tree trunks, some as old as 800 years, rise as pillars from a forest floor of delicate fern.This is one of the best examples of the virgin forests that greeted the first Europeans to visit the west coast. It is awe-inspiring, so much so that Indians regarded Cathedral Grove as a sacred place. It is right along the highway that takes you to Long Beach.
Long Beach: Location: On the west coast of Vancouver Island between the towns of Ucluelet and Tofino. There is only one road to Pacific Rim National Park, scenic Highway No. 4. Of all the places where the Pacific Ocean washes the shores of British Columbia, Long Beach and Pacific Rim National Park are arguably the most beautiful. Huge rolling waves carry in a wealth of fascinating sealife and spread it on a broad expanse of fine golden sand. The waves whip up a fine mist that mixes with the vapour rising from warming beaches and touches the whole scene with a rugged magic. The receding tide often leaves a wealth of small sealife temporarily stranded in tidal pools. This is a destination for thousands of visitors every year. Wickaninnish Centre is located right next to Long Beach and provides informative displays on the Pacific Ocean (wall murals, Native whaling displays) and guided nature tours of the beach.
Salmon Run on Adams River: Location: 65 km (40 miles) east of Kamloops off the Trans-Canada Highway. The Adams River is the site of one of the biggest sockeye salmon runs in the world. The river is protected as the Roderick Haig-Brown Conservation Area , 11-km (7-mile) run between Adams and Shuswap lakes. Salmon that have fought their way up the Fraser and Thompson rivers start arriving in Adams River in October. In a dominant run on the Adams River, which occurs about once every four years, up to 200,000 visitors come to see as many as two million salmon jam into the creek to spawn. It's a spectacle that is as awesome on the surface as it is miraculous underneath the surface, a river of writhing red fish. It's a natural wonder that is also at the base of an entire fishing industry. The salmon also run in Goldstream Park northwest of Victoria, right next to the Trans-Canada Highway. The run here is much longer, as long as nine weeks of spawning, than on the Adams River but the numbers are fewer. Goldstream Park has an excellent nature house on salmon spawning habits (open times vary with the season) and beautiful hiking trails that meander through 600-year-old Douglas fir and western red cedar forests.
Mount Robson: Location: 750 km (466 miles) by highway and 520 air km (323 miles) northeast of Vancouver. Mount Robson is visible from the Yellowhead Highway near the Alberta border. "The Monarch of the Canadian Rockies", Mount Robson is one of the most magnificent sights to be seen from any major highway in the world. At 3,932 m (12,900 feet), it is the highest point in the Canadian Rockies. Hiking trails take you from the highway through the Valley of the Thousand Falls to the mountain's north face, visible only from the vicinity of Berg Lake, where chunks of Berg Glacier break off and dot its surface. For the seasoned hiker, there's much more to see in this park and breathtaking vistas almost at every turn.
Mount Assiniboine: Location: Approximately 550 air km (340 miles) east of Vancouver. This is an isolated provincial park that cannot be penetrated by wheeled vehicle. Still, Mount Assiniboine and the park around it exemplify the magnificence of the Canadian Rocky Mountains. Its majestic craggy peak rises to 3561 m (11,680 feet), standing alone among the neighbouring mountains. The park is a scenic masterpiece. While it is totally within British Columbia, a main access to it is from the neighbouring province of Alberta. A gravel road from the Trans-Canada Highway north of Banff, Alberta takes you close to the park through the ski resort of Sunshine Village in Banff National Park. From the west in BC., two hiking trails start from near Highway 93 in Kootenay National Park.
Cathedral Provincial Park: Location: Approximately 356 km (221 miles) east of Vancouver, off Highway 3 and along the American border.Cathedral Park is 33,000 hectares (81,500 acres) of alpine meadows, jagged peaks, azure lakes and curious rock formations carved by time and the wind, and given apt names such as Stone City, Giant Cleft, the Devil's Woodpile and Smokey the Bear. Mule deer, mountain goat and California bighorn sheep are just a few of the wildlife species that are invariably seen by park visitors. Vehicle access to the park's facilities is restricted. It is a six-hour hike into the park's main features. A private resort operates a lodge in the centre of the park and will also provide transport in by four-wheel-drive for a fee. Arrangements must be made ahead of time.
Mount Maxwell Park: Location: On Saltspring Island, north from Victoria, reached by ferry between Swartz Bay and Fulford Harbour on Saltspring. At 589 m (1,932 feet), Baynes Peak in Mount Maxwell Park is no match for the high mountains of the British Columbia coastal mainland and interior. Still, it is the highest point on Saltspring Island and mountain-climbing was never so easy. You can drive right to the top. Be warned, the road is no freeway but it gets you there in a bumpy sort of way. At the top, an observation point at the edge of a vertical precipice provides breathtaking views of Vancouver Island and the Olympic Mountains in the United States to the south. Saltspring Island is a pleasant day-trip out of Victoria.
Waterfalls in British Columbia
In such a mountainous area, there are bound to be waterfalls. British Columbia has many in both isolated and easily accessed locations.
Della Falls: In Strathcona Provincial Park on Vancouver Island, Della Falls are the highest in Canada, cascading 440 m (1,440 feet) down a mountain side. You won't have to line up to see them either. The rugged hike necessary to get to them weeds out the casual thrill seekers.
Takakkaw Falls: In Yoho National Park, accessible by vehicle via a side road off the Trans-Canada Highway. Glacial melt water drops an unbroken distance of 366 m (1,200 feet) over Takakkaw Falls. Some contend that when a higher portion is taken into account, the falls actually cascade more than 500 m, which would make them the highest in Canada. Decide for yourself; see them both.
Helmcken Falls: 469 air km (291 miles) northeast of Vancouver in Wells Gray Park. Helmcken Falls are the most impressive of six other major waterfalls on the Murtle River. In winter, a massive ice cone builds up almost to the brink 137 m (450 feet) above the basin but few brave the cold elements to see it. Other falls in the park are Majerus Falls, Meadow Falls, Horseshoe Falls, McDougall Falls and Rainbow Falls.
Bridal Veil Falls: Along Trans-Canada Highway 114 km (71 miles) east of Vancouver. These falls live up to their name as they cascade down the face of a mountain. Easily accessed from the Trans-Canada Highway and a pleasant stroll through a forest of cedar and fir.
Little Qualicum Falls: Twenty km (12 miles) west of Parksville along Highway 4. Little Qualicum River crashes into a deeply cut bowl and then even further down a gorge carved by the river itself.
Brandywine Falls: About 87 km (55 miles) north of Vancouver near Garibaldi Park. The scenery around here is as spectacular as the 70-m waterfall, as the massive snow-peaked mountains of Garibaldi Provincial Park rise to the east above Daisy Lake.
Caves in British Columbia
Caves are hardly an attraction for most people with even a hint of claustrophobia. But they are certainly a phenomenon of geological interest and, for the seasoned spelunker, they're irresistible. There are several areas in British Columbia with caves, two of which are extensively explored.
Cody Caves: Location: 697 kilometres (433 miles) east of Vancouver, north of Nelson on Highway 3A and Highway 31. Cody Caves resulted from the action of water over millions of years in layers of limestone on the eastern slopes of the Selkirk Mountains, near the community of Ainsworth. There are a system of tunnels and galleries containing stalacites, stalagmites, soda straws and other cave features. These caves are a provincial park. An interpretive display near the cave entrance explains the formations and illustrates the cave interior. A local firm offers several types of tours of the caves, suitable for everyone from the casually curious to the subterranean explorer. While it may be a scorcher outside when you visit, bring warm, rugged clothing for the 6° C (42° F) temperatures inside.
Horne Lake Caves: Location: On Vancouver Island, 176 km (109 miles) north of Victoria, at the west end of Horne Lake. These caves are also a provincial park. Several of the caves are open at all times and vary in length and size from spacious chambers to small crawl-ways. Riverbend Cave has a total of 383 m (1,259 feet) of mapped passages but only guided access is allowed and must be arranged ahead of time. The upper third is spacious and accessible but lower sections require ladders, ropes and some agility. Tours through Riverbend Cave are conducted by the experienced guides of a private company that runs the government-owned park. The caves are undeveloped and the road to it is an active logging road, so be careful. Tours can be self-guided, family-oriented or high adventure.
Inside Passage: Location: Along the north coast of British Columbia. The Inside Passage is a 440 km (274 miles) ferry route plied by BC. Ferries' Queen of the North between Port Hardy on the north end of Vancouver Island and Prince Rupert on the northern mainland, and by luxury cruise ships charting a course to Alaska from American ports, and Vancouver and Victoria. The narrow channels are protected from the open ocean, making it possible to sail almost the entire length of the coast without ocean swells to rock the boat. The Queen of the North carries 750 passengers and 157 vehicles. The 15-hour voyage takes you dramatically close to virgin wilderness and its diversity of wildlife in water and on land. The Coast Mountain scenery is breathtaking.
Queen Charlotte Islands: Location: Off the northwest coast of British Columbia. This archipelago was once considered remote but now can be easily accessed by ferry from Prince Rupert. The `Misty Islands', the traditional home of the Haida Indians, live up to their nickname. Local mountains and shores are often shrouded in fog and rain-laden cloud. The rugged and rocky west coast of the island faces the ocean. The east coast has many broad sandy beaches. Naikoon Provincial Park in the northeast corner of the islands preserves a large section of this unique wilderness. Isolation from the mainland has given rise to subspecies of wildlife that are unique to the Queen Charlottes.
Fraser Canyon: Location: East of Vancouver between Hope and Cache Creek. The Trans-Canada Highway follows the Fraser Canyon as it cuts its way from the high interior plateau of British Columbia, through the Coast Mountains to the coast. It has cut deepest in a 38-km (24-mile) section between Yale and Boston Bar. Railway tracks run along each side of the canyon, clinging to its edges close to the water. The highway is high above the river through most of the canyon. At one point, Alexandra Bridge carries the highway across the canyon high above the water. Gold was found in the canyon during the 1850s at the beginning of the Cariboo gold rush in B.Sc.'s central interior.
Whale Watching: Location: In Johnstone Strait and off the west coast of Vancouver Island. Several pods (families) of orcas (killer whales) inhabit the waters of the west coast around Vancouver Island year-round and are routinely seen from ferries between the mainland and Vancouver Island. They frequent Johnstone Strait and in one area, Robson Bight, they like using the beaches to rub against. For this reason, Robson Bight has been made into an ecological reserve: whales must not be disturbed by human observers in this area. There are plenty of opportunities to see whales in the immediate vicinity. Several companies operate whale-watching excursions out of Victoria specifically to see orcas. Gray whales migrate between Baja California and Alaska, travelling north in spring and south in fall. Companies take visitors out from the communities of Ucluelet and Tofino on small boats to see this migration spectacle firsthand, truly the thrill of a lifetime. A few whales remain all summer near Vancouver Island but for certain results, you have to go in season.
Return to BC Attractions- First page
BC Views
ny given day, the waterfront area where we live, is a passing parade of ships large and small.