Airport

Smithers: Gateway to Bulkley Valley, Interior Plateau and Mighty Mountain Ranges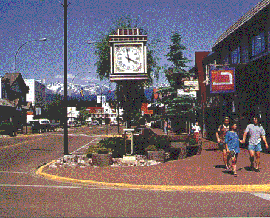 In the green and pleasant Bulkley Valley, sitting in the shadow of the splendid 2560 metre Hudson Bay Mountain, Smithers is a region rich in the history of both the native peoples and European pioneers, evidenced by the existence of ghost towns, totem poles and Chinese graves. This prosperous town is a service centre for the valley's resource industries and is a Railway Division Point. The main industries in the valley include forestry, mining, agriculture, tourism and transportation. (pop. 5,000)
Smithers marks the end of the Interior Plateau and is surrounded by four mountain ranges: the Babine, Hazelton, Telkwa and Omineca, but none are as dominant as Hudson Bay, looming over the landscape. On this distinctive peak nestles the Kathlym Glacier, an ice cirque more than 100 metres thick. The glacier drains through the picturesque 152-metre Twin Falls, down the rocky walls of two-kilometre-wide Glacier Gulch.Smithers Airport is the gateway to the Bulkley Valley and a host of r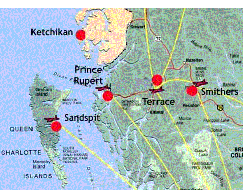 ecreational opportunities. With Central Mountain Air now feeding into Air Canada/ Air BC's system and using that company's flight numbers, there are now up to 16 air movements daily at the airport. The major charter flight company of the region, Northern Lights Air, is also looking at expanding, thanks to the increase in mining exploration in the area. Smithers Airport has recently developed a campground for pilots stopping en route to their destinations.
---
Air Update: Terrace - Smithers-Prince Rupert, Northwest BC
Hawkair Daily Service from Terrace Airport. Hawkair will be doubling its flights in late October, 2001, providing a new daily service for Smithers, increasing service to Prince Rupert from twice-weekly to daily, and adding more business day flights in Terrace. Toll-free 1-866-429-5247 and 1-800-487-1216. Web page http://www.hawkair.net mailto:reservations@hawkair.
---
It is in a secure, fenced area within the parking area. A fire pit, picnic tables, tenting and toilet facility are available. Sightseeing flights are offered by Highland Helicopters and for the more adventurous there's the increasingly popular new pursuit of heli-hiking, arranged by Take a Hike Tours. For a unique experience, contact the Bulkely Valley Soaring Society- they can take you up in a glider, soaring silently above the trees and water below.
Within a radius of a few miles of Smithers is every conceivable outdoor attraction from fishing, swimming, skiing and hiking to adventure tourism like kayaking and white water rafting. Hunting is a popular option here, thanks to a healthy population of moose, mule deer, grizzly bears, mountain goats and caribou. The town has a swimming pool, ice area and curling rinks, tennis courts, two golf courses and a driving range. Smithers is becoming a winter resort known for the challenging skiing available on Hudson Bay Mountain. The Big Onion-Ganokwa Basin area of Babine Mountains Recreation Area offers some of the best snowmobiling in BC.
To explore the town on foot, take a few hours and follow the Perimeter Trail, a multi-purpose public trail system which connects Riverside Park, the Bulkley River, the Smithers Golf Course and residential and commercial areas.
If you want to go further afield, head for the Community Forest, which is more than 11 times the size of Vancouver's Stanley Park. It includes an interpretive nature trail which winds through a variety of ecological habitats and the Pine Creek Cross Country Ski Trails.
The Babine Mountains Recreation Area is one of the finest hiking areas in west-central BC, comprising 32,000 hectares of mountainous environment within the Skeena Mountains. Glacier-fed lakes, rugged peaks and extensive sub-alpine meadows provide back country recreation opportunities as well as habitat for healthy populations of mountain goat, moose, marmot and several species of birds. Tyhee Lake includes a full facility 33 hectare Provincial Park with a 200 metre beach front. It boasts the only float plane base in the area, where fishers and hunters can be whisked away to wilderness lakes.
North by Northwest Tourism Zone
The North by Northwest region is a blend of romance and adventure. From awesome Mt. Robson, the highest peak in the Canadian Rockies, stretches the Trans Canada / Yellowhead Highway 16, a highway that promises an adventure-filled journey across the north, meeting with the mystical Queen Charlotte Islands or connecting to the Yukon or Alaska. Campers who enjoy wildlife, outdoor recreation, native history, hunting and fishing will delight in the area.
From the densely forested interior of spruce, pine and fir to the magnificent red cedars in the rain forests of the Queen Charlottes, the outdoor enthusiast has much to see and do. Mountain ranges stretch through the area, dipping into deep valleys, coursed by rushing rivers and thousands of lakes. In the area's rivers and streams lie record-size salmon and steelhead, a fisherman's paradise with several varieties of Pacific salmon. Also abundant are rainbow trout and char. Wildlife sightings of moose, deer, coyote, fox and black bear are common along the highways and "off-the-path" adventure roads.

BC Attractions, Museums and Historic Sites
How to attract visitors to your area like a magnet? Let us count the ways. Air Highways, WingSpan and BC Scene Magazine present a selection of capsule profiles featuring BC's most notable attractions, with background information provided by Tourism BC. We will add many of our other favourites in the weeks and months ahead, including those that have been featured in our magazines. For starters we have a number of stories on line, including the Footloose Series on Vancouver's West End, plus Adventure Roads and Adventure Rails. There's also a section on Cultural Tourism and another on Vision Quest.


.