Airport Info . Tourism

Dawson Creek: BC's Gateway to Peace River Country and Alaska Highway Adventures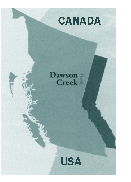 In his history of the Alaska Highway for the Canadian Government's 50th Anniversary *Commemorative Video, Air Highways editor Jerry W. Bird emphasized how this single event transformed the entire Canadian Northwest almost overnight. He was a child at the time, living in the Yukon. One of the communities most affected by this vast wartime project was Dawson Creek, BC.
As Mile Zero of the Alaska Highway, Dawson Creek serves as the transportation and distribution center for the northeast corner of British Columbia. Vital to that transportation network is Dawson Creek's modern airport, featuring a 5000 ft (1.524 m) paved runway, 5300 ft (1615 m) Float Plane Base, restaurant, flight services station and aviation fuel outlet - all just 7 km from City centre.

Dawson Creek was the first city in Canada to privatize its airport from Transport Canada ownership. The airport features seven daily flights via Central Mountain Air to Vancouver and Edmonton. The airport also serves Peace Air. Canadian Helicopters also has a base station in Dawson Creek. Northward Air provides float and ski charters multiengine Instrument flight Regulations and approved repair and maintenance.
* The Alaska Highway 50th Anniversary Video has appeared on local and world television, and is used by cruiseship lines to inform and entertain passengers en route to Alaska and the Yukon. A brief vignette from that video is on this site.
Airport: Operated by City of Dawson Creek
Airport Manager: Ian A. Darling, A.A.E.
PO Box 150, Dawson Creek, BC V1G 4G4,
E-Mail: taygus@pris.bc.ca,
Phone: 250-782-3142.
Air Carriers: Central Mountain Air, Peace Air. Auto Rental: Avis, Budget, Tilden

The Float Plane Base, which runs parallel to the runway, was licensed in 1964; a project initiated and developed by then Dawson Creek Mayor Bob Trail. In 1966, the main runway at Dawson Creek Airport was paved, allowing jets and large turboprop aircraft to land. A new terminal building was opened in 1970. In 1984 the new airport fire hall was completed, and in 1991 the Flight Service Station was built. 1992 saw the addition of a cafe to the terminal building. Dawson Creek was one of the first cities in Canada to take over the airport from Transport Canada. Locally owned and operated, the modern airport facility at Dawson Creek is seen as a major tourism and economic development opportunity.
Dawson Creek has commercial and light industrial property for sale or lease. This creates an excellent opportunity for a wide range of businesses, from hotels to courier services, that would benefit from locating near an airport, that is in turn very close to the City. The City itself has relocated its public works operation to the Airport in a new 12,000 square foot facility. Landing surfaces include a 1,524 m asphalt airstrip and a 1615 m seaplane water strip. Passenger movements at the Dawson Creek Airport in 1989 were 20,406 with 16,104 aircraft movements. By 1992 passenger movements had increased to 34,407 and aircraft movements to 22,4329. By 1996, passenger movements were approaching 36,000 annually. The Canadian north has long held the promise of riches and adventure, a place where the lure of wealth and new vistas prompted explorers to seek out new lands. Today, that promise holds true, but modern transportation links have made it fast and easy to access these riches.
Airport history: As early as 1930, the United States and Canada had discussed the feasibility of building a first-ever road from the contiguous United States via Canada to Alaska. With the surprise attack at Pearl Harbor on Dec. 7, 1941, and occupation of the Aleutian Islands, the two countries were moved to action. Construction of such a road was deemed necessary to defend North America's Pacific Coast from attack. At the time, Dawson Creek's licensed airstrip was located in town limits, at the present location of the Northern College campus. It began as a grass strip, and was gradually improved to military standards as the Alaska Highway took shape. Because Dawson Creek was the "end of steel", it was here where troops and equipment were dropped off, and the massive construction project began. Hacked out of raw wilderness under extreme conditions, the 2,500 km Highway was completed in just 8 months, with official opening Nov. 20, 1942. This became the first real land transportation artery in the region and, other than air links, and the first access through northeast BC to the Yukon and Alaska.
Black Gold -- a rich resource
Dawson Creek's strategic location and its importance as an oil supply and service center during the late 1950s and early 1960s caused municipal authorities to improve air service by moving the airport to its present site in 1958.
Center of a vast tourist area
Having driven the Alaska Highway for decades, we at Air Highways Magazine are well aware of the breathtaking scenery that awaits you on this famous and challenging route that leads to the top of the world. And the friendly City of Dawson Creek is where it all begins. Because Dawson Creek was the "end of steel", it was here where troops and equipment were dropped off, and the massive construction project began. Hacked out of raw wilderness under extreme conditions, the 2,500 km Highway was completed in just 8 months, with official opening Nov. 20, 1942.
Local attractions
Dawson Creek Golf Course • Northern Alberta Railway Park (Dawson Creek Tourist Info Center is in the old N.A.R. Station. • Dawson Creek Art Gallery • Mile Zero Rotary Park • Rotary Lake • Mile Zero Cairn • Harper's Store • Sudeten Hall • Walter Wright Pioneer Village, and many other buildings from the 30s and 40s. Dawson Creek Tourism: 250-782-9595, City: 250-784-3617• BC Hydra Dam Tours: 250-788-5211
Connecting Transportation
Road: Four major highways form their juncture in Dawson Creek: the Alaska Highway (97N), the primary link to Alaska; the John Hart highway (97S) to Prince George and Vancouver; Highway 2 to Grande Prairie and Edmonton, Alberta; Highway 49 to the northern Peace River region of Alberta. Other ground transportation is through major trucking companies and regularly scheduled or charter bus service. The City of Dawson Creek also provides a local transit system.

Rail: Canadian National Railways and BC Rail lines meet in Dawson Creek. The CN line links the city to the rest of the Peace Region and to Edmonton. The BC Rail line runs north to Fort Nelson and south to Vancouver. The lines provide access to ocean shipping through the ports of Vancouver and Prince Rupert.

n
mm
....More about the Alaska Highway.
....More about Airports.