Airport

Salmon Arm: Gateway to Shuswap Country and the North Okanagan
by Jerry W. Bird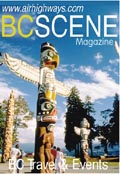 For years our family spend its summer holidays in and around a pleasant, prosperous community in central British Columbia. It was a fairly short and scenic drive from Calgary, and convenient to several lakes, one of which was the mighty Shuswap. You guessed it-- the location was Salmon Arm. I fell in love with the town a few years earlier, when as a teenager, I went there to look for work, and made an immediate circle of friends during a very short stay. This visit may have changed my life had I found a civilian job in Salmon Arm instead of returning to Vancouver and joining the RCAF. All said and done, it's an ideal vacation paradise and still an attractive place to visit.

.Here's what Tourism BC has to say.
Situated at the north entrance to the Okanagan is the community of Salmon Arm, often called "The Gem of the Shuswap". Positioned right on Shuswap Lake, there is the nice feature of a wharf offering downtown access to the lake and its many amenities and activities, including boat charters, houseboat rentals and bird and wildlife viewing.

Salmon Arm is the main regional service and trade centre for the Shuswap and, as with most interior B.C. communities, forestry is the mainstay of local residents. There are a number of sawmills and at least three companies building log houses for export to Japan. The community also has strong roots in agriculture, with fruit and produce growing and dairy farming playing a strong role in the local economy.
Shuswap Lake is one of the most popular recreational destinations in BC. The 1000 km of shoreline contains 22 Provincial Parks and offers uncrowded boating, fishing, swimming and extensive resort facilities.