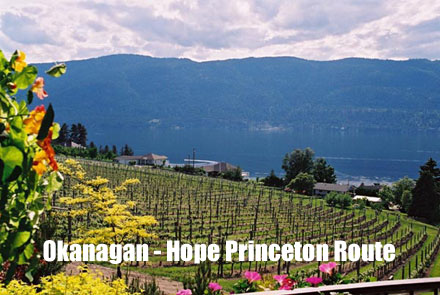 Oliver: BC's Wine Capital, Golden Mile, Okanagan Valley, the USA and Hope Princeton Highway
by Jerry W. Bird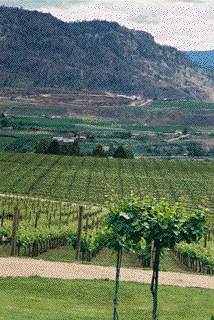 We just returned from a wonderful trip from Alberta in our Dodge Caravan, and decided wisely to make our overnight stop at the friendly town of Oliver, where the sign proudly announced, "BC 's Wine Capital. " After loading up the van with fresh asparagus, blackberry syrup and other delicacies, we discovered to our delight that Oliver is home of the Golden Mile, some of the Okanagan area's finest wineries. Our first stop was at a Bavarian style "castle," just south of town, where the popular Golden Mile Wines are produced.
Information Package on Oliver and District and a great place to live and invest

There's so much to tell, and we are in the process of completing the story in detail thanks to the excellent package of tourism and commercial material sent in the mail by Oliver's Mayor and Patrick Deakin of the Economic Development Office. For now we will include some of the area photos from our trip that tell a small part of the story.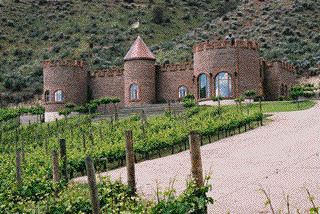 The Castle at Golden Mile Vineyards, Oliver, BC
Gersighel Wineberg
Highway #97 &endash; RR#1, s40, C20'
Oliver, BC VOH TO
Winery & Vineyards of the Miracle Mile
Winemakers : Gerd & Helgi De Gussem
Deep South Okanagan Valley
White Wines / Pinot Blanc/ Gewurstraminer / Late Harvest Gewurztraminer / Chardonnay/ Chenin Blanc / Riesling
Red Wines / Sunset Ret / Pinot Noir / Merlot
Contact: Dirk De Gussem. Phone: 250-495-3319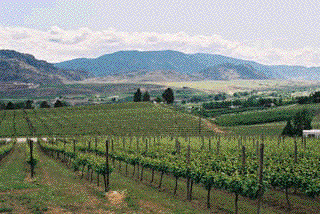 Golden Mile & Cambret Vineyards, Oliver, BC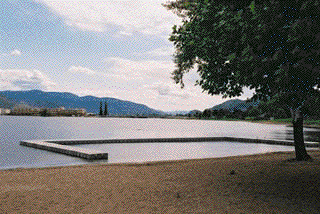 Captions for the above photos to come.

Osoyoos Lake Beach . Scenes on this page are from our May 2002 tour.of the Okanagan Similkameen area, famous for its agricultural bounty and award winning wines. Much more to come.
Background Information on Oliver and District: BC's Wine Capital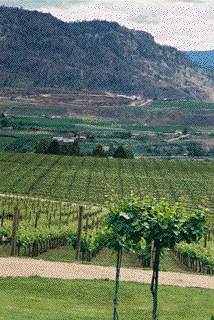 Our Near Term Future:
• 2001 Oliver claimed the title of 'Wine Capital of Canada' based on: our 13 wineries (about 10% of Canada's total)
~ 2400 acres under wine grape (about 23% of Canada's total),
- more than our share of national awards (Wine Access magazine recently awarded Tinhorn Creek Vineyards' 1998 Merlot the Best Red Wine in Canada)
- internationally trained wine makers.
Our new and still developing emphasis on wine tourism also reveals something about:
- our climate (lots of sunshine, hot summers, warm spring and fall),
- our physical appearance (lush vineyards and orchards irrigated by wells and the Okanagan River),
- our peaceful, small town rural nature (~ 4,300 people live in town and another ~ 4,300 people live in the adjacent rural area).
Our postal code is V0H 1T0, which our residents have aptly translated as
Valley of Heaven In The Okanagan.
Housing:
Housing is still inexpensive although realtors in our community say they have been experiencing a huge increase in interest in residential properties for several months now fueled in part by our wine tourism, in part by 'baby boomers' looking to retire and in part by the events of September 11th, 2001.
Commercial and Industrial Properties and Business For Sale:
Some commercial properties on our main street (Highway 97) are available for lease or for sale. Businesses for sale include a gift shop, a small grocery store, a hotel, and a craft/pottery shop. A few industrial properties near the down town core are also available for lease or for sale.
Major Employers (more than 100 employees)
¸ K & C Silviculture (tree seedlings),
¸ General Coach (RVs, 5th wheels and trailers),
¸ Okanagan Similkameen Growers Co-op,
¸ The South Okanagan General Hospital, and
¸ The School District.
The Osoyoos Indian Band (based in Oliver) is also becoming one of the largest employers in the area through its conglomerate of companies and its very progressive economic development focus.
Amenities
- 18 kilometer hike and bike path
- A few wonderful restaurants
- A few interesting boutiques
- A small lake (no power boats allowed)
- Two terrific 18 hole golf courses,
- The aforementioned river
- Ice arena
- Curling rink
- Baseball diamonds
- Tennis courts
- Good community hall
- Two ski hills nearby
- A lakeside resort, RV parks, 1 hotel, 1 inn, motels, 11 bed & breakfast operations
- Some of the best bird watching in Canada
- Three elementary schools
- A high school with a wonderful auditorium
- A hospital
- A great little movie theatre that sponsors two foreign film festivals each year
- Launching points for hang gliders
- Excellent rock climbing nearby
- Some care facilities for the elderly
Many people are choosing to retire here for all of the above reasons and more (the dry climate appeals to many with health problems) so our population statistics reflect a high percentage of seniors, empty nesters and baby boomers.
Transportation
By road, we are about:
- 15 minutes from Osoyoos and the US border,
- 30 minutes from Penticton,
- 90 minutes from Kelowna,
- 3 hours from Spokane, and
- 4 and _ hours from Vancouver.
We have approximately 6,000 vehicles per day traveling through the community in the summer months.-
We have a 3,200' paved runway for aircraft (with radio controlled lighting) and there are commercial airports at Penticton and Kelowna. -
High Speed Communications
A cable company serves our high-speed communications needs at present. Two companies have fiber optic lines running through our town; access to their local hubs is being negotiated. ADSL service arrives June 29, 2002.--
Safety and Security Issues
In the wake of Sept 11 we observe that our community has the following
things going for it:
¸ we produce our own food (and wines);
¸ we have an abundance of water;
¸ we have a small power plant but are not near any major power dams;
¸ we are an easy drive away from major cities but are not close enough
to be affected by any catastrophic events there;
¸ we have 4 ways of getting in or out of the community by road (north on Highway 97, south on the same, east on a partly paved, partly gravel road and west on a gravel road).-
Taxation
Our taxes are comparable to other communities in the south Okanagan (at the
low end of taxes in BC.-
Worthy Of Note
This small community is the headquarters for two organizations that are internationally renowned. World Neighbours Canada is a non-sectarian development agency supporting grass-roots community initiatives to alleviate hunger, disease and poverty in Asia and Latin America. The Okanagan Gleaners is also a non-profit society (whose members are 'lay people' of the Christian faith) that produces millions of servings of dried soup-mix and fruit leather gathered from produce that is grown in this area but otherwise would not be harvested for a variety of reasons. The servings are donated to reputable relief organizations throughout the world. It is estimated that volunteers in this community gave the equivalent of $7 million worth of services and labour for hundreds of good causes in 2001.
For More Information
There are three web sites you can visit for a good look at our community:
¸ www.oliverbc.ca (the Town of Oliver)
¸ www.oliverchamber.bc.ca (the Oliver and District Chamber of Commerce)
¸ www.oliverchronicle.com (the Oliver Chronicle - our local weekly paper).
We can mail you a copy of our Community Profile, a compendium of population and labour force statistics, a copy of the Chronicle's 'Focus on Business in the Wine Capital of Canada' - printed in November 2001, a map, a tourism guide and brochures.
Our two Chamber staff (Joan Thompson - Manager, and Louise Szalay - Assistant Manager) are both long time residents and know a lot about the skills, interests and experience of local residents that might also be applied to a new business. They can be contacted at 498-6321.
Thanks for your interest in our community.
Patrick Deakin
Economic Development Officer
Phone (250) 498-3404 ext 205 Fax (250) 498-4466 email: edc@oliverbc.ca