Quesnel, Gateway to Cariboo, Barkerville and Bowron Lake Park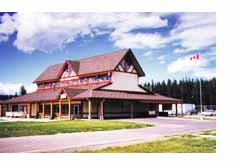 Named after a member of Simon Fraser's exploration party, Jules Maurice Quesnelle, the first settlement grew rapidly in the 1860's as a way-station on the route to the gold fields. Catering to miners, Quesnel was a lively and sizable community during that era. Incorporated n 1928, Quesnel became a full fledged city in 1979. The forest products industry has sustained this growth, and Quesnel is now the major pulp and lumber centre for the North Cariboo. Landing at Quesnel Airport on your scheduled flight from Vancouver or Williams Lake, you will enjoy the services at one of British Columbia's newest and most attractive air terminals. Local folks call it the Cariboo Classic. Quesnel Airport Information (250) 992-2208, fax (250) 992-2108. Trading area population: 23,000. Elevation 475 m.

The world's largest gold pan is a memorial to an area once yielding the richest gold fields in North America. Colourful flower displays along its streets and bridges makes Quesnel a picturesque treat for visitors.
River front Park and Trail: Beginning near the footbridge Front Street, this Park highlights Quenelle's history and features an excellent walking trail past historic points of interest. The paved trail runs through manicured residential areas, where plaques feature local citizens of note, then along the Quesnel River and past the BC Rail yards. The mix of history and industry makes for an interesting walk. Fly fishing enthusiasts will be in their element as the Blackwater River is rated as one of BC's best. A truly unspoiled waterway, it's also popular for canoeing, kayaking and wildlife. Q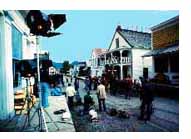 uesnel is the gateway to BC's legendary gold rush town of Barkerville, visited by over 100,000 people each year. The town, boasting some 125 original and restored buildings, and over 100 displays, live theatre, demonstrations and shows, evoke its past so well that you feel like you are experiencing history, not just learning about it. When Billy Barker struck gold here in 1862, a rip-roaring town soon sprang up ... the largest city north of San Francisco and wet of Chicago. Cariboo Country Tourism Information 1-800-663-5885
.....More airport Information and tourism contacts.