Sea to Sky Highway to Whistler:Resort of the Rich and Famous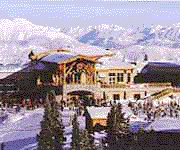 WHISTLER OFFERS LUXURY AT LOW COST
Whistler is at the top in terms of Best Vacation Value in North America and the Caribbean according to a survey of 223 U.S. travel agents. The survey published by the weekly U.S. News & World Report underscores the emphasis affluent vacationers are putting on value without compromising service. Whistler's high-end amenities, natural setting and great prices have made it an attractive destination. Value hunters can enjoy summer packages including four nights accommodation and their choice of resort or wildlife sightseeing tours, or golfing starting at $339 Cdn per person. COTA member Tourism Whistler confirms that last year Whistler as a destination generated$1.1 billion in visitor spending for 2001, just over 10 per cent of all tourism spending in the province.
Recognized by Lives of the Rich and Famous as the Number One ski resort in North America, Whistler is 2 hours north of Vancouver on the Sea to Sky Highway. While it's not an air gateway, many vacationers, property owners and business travelers fly in to this great resort area by helicopter or via Pemberton Airport.
Spring through fall: As a four season alpine resort, Whistler offers 4 golf courses, whose designers include Arnold Palmer, Jack Nicklaus, Robert Trent Jones Jr. and Robert Cupp. In summer, the weather is ideal for hiking, biking, tennis, and horseback riding, windsurfing, sailing, or canoeing on one of five lakes nearby.Since getting there is half the fun, we'll describe the drive north from Vancouver. We could fill many pages extolling the joys of life in and around Whistler, however in the interest of saving space we will provide some recommended links below. Much more to come on this site. For specific information on accommodation, etc. contact Whistler Online: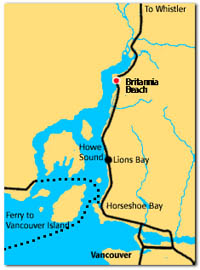 A Great Drive En Route to Whistler
One of our favourite drives is the Sea-to-Sky Highway from Horseshoe Bay in North Vancouver to the Whistler- Blackcomb area. There are many unique tourist attractions on the way, including the town of Squamish, home of Logger's Days and a Railway Museum. It is fast becoming a hikers' and climbers' haven for city dwellers seeking a quick escape. One unique spot that stands out in my mind is the museum at Britannia Beach- a salute to British Columbia's Mining industry and those who made their living underground.

BC Museum of Mining
Leaving Vancouver's North Shore via the "Upper Levels" you round the bend at Horseshoe Bay, where the BC ferry fleet departs for Nanaimo, the Adventure Islands and Sunshine Coast, then weave northward along the aptly-named Sea-to-Sky highway, to Whistler and points beyond. Those who marvel at history and man's ingenuity will discover a real treasure at Britannia Beach, a few scenic miles along the cliff-hugging route. Here on the shores of Howe Sound, British Columbia's mining heritage is preserved intact at the Britannia Copper Mine, which served world markets from 1888 to the 1970s.
Survivor of fire, flood and avalanche, this hardy community harbors a national treasure, and has become a favorite location for major motion pictures. In a word - awesome. Little wonder most motorists make an abrupt stop for a close encounter, many staying for several hours of fun and exploration. For history buffs like me, the BC. Museum of Mining and adjacent area is a destination all by itself. In the boom days of the 1920s and '30s, Britannia was the largest producer of copper ore in the British Empire- a jewel in her imperial crown. Today, it's a National Historic Site destined to become a world-class venue for mining, geology and social history, thanks to a recent restoration program.'
Looming like a centurion at the entrance is a mammoth 235-ton Wabco "Super Truck" - part of a fleet which revolutionized low-grade mining worldwide. Guided tours begin with "The Britannia Story," featured in rock displays, ore samples, realistic models, maps, drawings, documents and artifacts. Along with the dramatic portrayal of hard-rock mining and other methods used in the province, you get a feeling for the human side of the industry, reflected in the life and times of workers and families. Displays on two other levels present an overview of British Columbia's rich mining heritage, plus a showcase on Craigmont, a copper mine in central BC. near Smithers.
While the dominant physical feature at Britannia Beach is
the mine's enormous concentrator building, which sprawls
for eight levels up the cliff side, the true highlight is your journey underground . The mine train (which once toted its own privy) takes your group into the mountainside where you'll witness the "tried and true," as well as more current methods of drilling, blasting, mucking, sluicing and rock stabilization.
Emerging from the mine, you'll have a close-up look inside the immense gravity-fed concentrator - a spectacular sight, and a regional landmark for more than 75 years. During peak operations, this monstrous complex processed more than 7,000 tons of ore daily, and is the only facility of its kind in North America still accessible to the public.
At the "Mining House", where all tours begin and end, you'll be treated to a "magic lantern" show - a slide presentation which traces Britannia's colorful history, recapping your experience inside the heart of Mt. Sheer.
A walking tour includes the Assay Office, containing a variety of rock creations donated for auction this fall. Across the way stands the "Ritz Hotel" and assorted mine buildings under restoration. As a token of your visit, the museum offers complimentary drill core samples, many of which date prior to the first world war. Later you can try gold panning.
The BC Museum of Mining is open from 10 a.m. to 5 p.m. , Wednesdays through Sundays and legal holidays - from May until October. Britannia Beach is 45 minutes from Vancouver, and is served by Maverick Coach Lines (5 times daily) and by BC Rail.
During tourist season, there's a likely chance you'll
spot BC's most famous locomotive - The Royal Hudson,
an elegant steam train, which connects with the tour ship Britannia for an exciting day trip from Vancouver to nearby Squamish.
Another reminder of an earlier era at Britannia's dockside was the SS Prince George, once a proud member of Canadian National's Alaska fleet. Part of the "Britannia Opportunity" plan, is a pocket cruise dock, public pier and marina, along with an integrated transportation depot. The community features craft shops, an impressive live-action display of native Indian stone sculpture and several dining spots. We enjoyed a grand home-cooked meal recently, topped by a miner's sized slab of lemon meringue pie at the Tea Shop, a cozy corner of Canadiana.
For free information on this fascinating attraction, call or write: BC. Museum of Mining, Box 188, Britannia Beach, BC VON 1JO. phone(604) 688-8735. For group tour arrangements, fax (604) 892-9152
Whistler Info: http://www.whistler-blackcomb.com/html/dssk/index.html