Welcome to Alberta's famous doors of hospitality
by Jerry W.Bird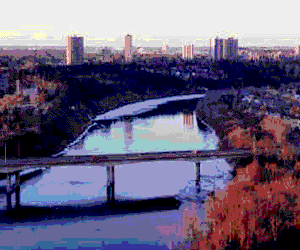 One of my first assignments while handling the Advertising and Public Relations for the Cross family's Calgary Brewing & Malting Company, was a series of newspaper features on the company's chain of country hotels. We called the series " Alberta's Famous Doors of Hospitality." This labour of love gave me an early appreciation for the value of a hotelier to the community. It was an opportunity to count many hoteliers among my inner circle of friends. Both of my sons have been in the hotel industry for most of their careers. That says a lot about the industry as a stable working environment. During many years in the Alberta media, traveling throughout the province, I knew and worked with many Alberta hoteliers, such as Mortie Milner, Sam Switzer and Homer Mears.
Pictured above, along with the famous Chateau Lake Louise and Waterton Lakes Lodge, is a scene of Edmonton's North Saskatchewan River Valley, site of One Thornton Court the first hotel on our list. It is located next to the"Hotel Macdonald," where we've stayed many times.
I worked closely with the Alberta Hotel Association and launched new properties for Sheraton, Holiday Inns, Travelodge, Inns Canada, and Wayfare Inns in the media.
Edmonton's One Thornton Court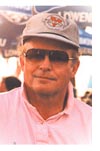 This spring following our participation at the Yellowhead Trans Canada Highway Association's 56th Annual Convention in Sherwood Park on the heels of a hectic month overseas, we needed some quiet time for rest and relaxation in Edmonton. A friend recommended Thornton Court, and it was love at first sight. The spacious guest room off the main lobby and the wide open layout of dining area and patio won my heart immediately. So did the view (see river valley scene in above photo sequence) .The room itself was another wonderful surprise and so was the reasonable price. True value in these days when that principle is not always the norm. We enjoyed the hotel so much, I suggested that we stay an extra two days. Here's what the listing says, and every word is true. "An inspired conversion of Edmonton's landmark federal building named in honor of Sir Henry Thornton, president of Canadian National Railway. With commanding views of the river valley, centrally located in downtown Edmonton's arts and entertainment district. Casual Riverside Luxury. Bringing you the most modern of conveniences. Unique in design, unparalleled in service."
Toll Free 1·877·588·9988
Thornton Court Hotel
One Thornton Court
Edmonton, AB, T5J 2E7
Phone: 780 423 9999, Fax: 780 423 9998
http://www.thorntoncourt.com/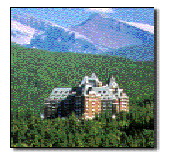 The famous Banff Springs Hotel was, and still remains, a favorite retreat of mine. Its magnificent and challenging golf course, where you tee off over the Bow River, is a story on its own. I stayed up most of the night on my first stay, playing and replaying my first tee off drive over and over again in my mind. I will never forget my many conversations with a bandleader Louis Trono, a walking encyclopedia, who has been part of Banff Springs history since the glory days of the 30s.
It was a time when Hollywood stars and the world's hoi poloi made the 'springs' their favorite retreat. We will share some interesting moments in days to come, and believe you'll like our recommendations. I heard recently that Louis, who is over 90, is still going strong with his dance band, so I look forward to sharing some moments with him again soon. Send e-mail, ph. 606.681.0718 or fax (604) 681-6595.
Best Western Sherwood Park Hotel
and Conference Centre
Headquarters hotel for the Yellowhead Trans Canada Highway Association's 56th Annual Convention in 2002. The new Best Western Sherwood Park Hotel and Conference Center is spacious and cnvenient to several shopping centres. It is accessed by an underground heated walkway to Millennium Place, one of Canada's finest recreation and sports complexes. Skating and hockey rinks, soccer fields, a 235-meter track, pool, wave pool, sauna, complete fitness center all under one roof. The hotel has conference banquet facilities for up to 1000 guests.
2016 Sherwood Dr
Sherwood Park AB T8A 3X3