Airport Links . Tourism . Commerce
Powell River, BC: Gateway to the Sunshine Coast and Outdoor Adventures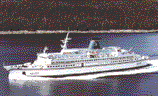 Powell River is about 80 air miles northwest from Vancouver along the coast. By road, it is accessible only if you take two ferry trips across scenic inlets. Driving time, together with ferry crossings, is about three hours. The pillar of Powell River's economy for more than 75 years has been MacMillan Bloedel's pulp and paper operation, among the world's largest and most technologically advanced facility. Powell River is home port to a fleet of fishing vessels and tourism is an increasing influence on the local economy.

Powell River is known across North America as the `hot spot' for scuba diving, with 19 dive sites in the immediate vicinity. Nature and water lovers are attracted by the wilderness that surrounds Powell River on land and the inland ocean at its doorstep. Boating and sports fishing for salmon and trout are ardently pursued year-round. This file was just opened. Much more to come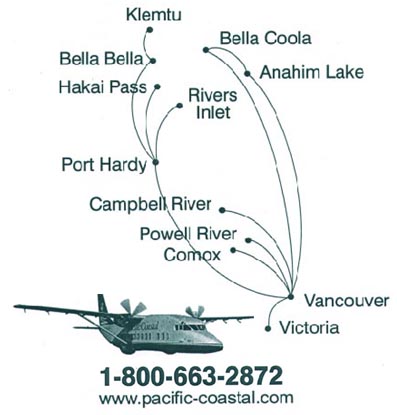 BASIC INFORMATION FROM TRANSPORT CANADA
The Powell River Airport is owned by the Province of British Columbia and operated by the District of Powell River. The airport has been designated a Regional/Local airport under the National Airports Policy and will be eligible to apply for financial assistance under the Airports
Capital Assistance Program.
It is 40 km by ferry to the nearest alternate airport with scheduled passenger air carrier service. The Powell River Airport has a total land area of 80 ha and includes the following facilities:
• Air terminal building of 237 m2 built in 1955
• Firehall of 55 m2• Single runway (3627X150 asphalt)
• The Powell River airport is served by one scheduled passenger air carrier.The Powell River Airport is a Regional/Local airport on the basis of its scheduled passenger air carrier traffic. Federal financial assistance for Regional/Local airport operations was phased out March 31, 2000.
For Further Information
Regional Director General - Airports Group
Transport Canada
Suite 506, 800 Burrard Street
Vancouver, British Columbia V6Z 2J8
Telephone: (604) 666-5849