Airport Links . Terrace Tourism . Commerce

Terrace: Northwest BC's Gateway to Natural Wonders and Cultural Treasures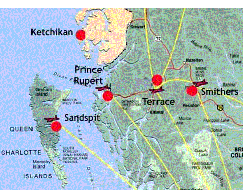 The Terrace-Kitimat Gateway Airport is only 5-minutes from Terrace and 20 minutes from Kitimat. It serves aircraft as large as Boeing 737, has 3 paved runways, and is 713 ft. above sea level on an expansive, flat, gravel bench, formed 10,000 years ago during glacial retreat. Gravels deposited by melting glaciers were subsequently eroded by rivers, forming a series of benches. What to do in Terrace? Here's an agenda courtesy of Airport Manager Daryl Laurent: First in line are the wonders of Tseasx Lava Beds and Nisga'a Memorial Lava Bed Park, a lunar landscape left behind by a volcanic eruption more than 250 years ago, destroying two Nisga'a villages.
Flanked by totem poles, Terrace's House of Sim-oi-ghets is a showcase formative wood carvings, moccasins, jewelry, prints and books ... created by the Kitsumkalum people.There's a Northwest flavour to the Terrace Farmers' Market (fresh produce, meats, home-baked goodies and local crafts), and a far east flavour to The Japanese Gardens, a picture of peace and serenity. At Heritage Park, you can step right into the horse and buggy era. Costumed guides lead visitors through pioneer cabins, barns, and an early 1900s hotel.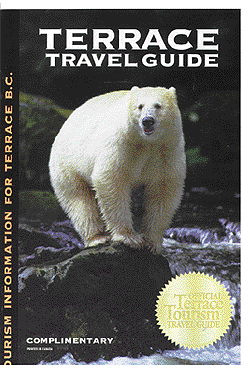 For a hikers' heaven in an Alpine meadow, visit Shames Tea Bar, where they tell me the cheesecake is out of this world. At Deep Creek Fish Hatchery, visitors can follow the growth of Chinook salmon, from egg to fry. Folks are buzzing about the Skeena Sawmill Tours, so don a hard-hat and see why B.C. is the world's forestry capital. A division of Eurocan, the mill produces products, from pulp chips to high-grade lumber. Note: The photo on the Terrace brochure cover is of the famous Kermode Bear, seen only in Northwest BC and the Coastal Archipelago. Kermode is actually a white subspecies of the black bear.
---
Hawkair Daily Service from Terrace Airport. Hawkair will be doubling its flights in late October, 2001, providing a new daily service for Smithers, increasing service to Prince Rupert from twice-weekly to daily, and adding more business day flights in Terrace. Toll-free 1-866-429-5247 and 1-800-487-1216. Web page http://www.hawkair.net mailto:reservations@hawkair
.We met Paul Hawkins and his staff at the 2001 Addison Travel Trade Show and will provide a photo profile on their service to Vancouver, Prince Rupert and other gateways shortly.

---
See another facet of local industry at the Red Sand Demonstration Forest, where the trail leads through managed and unmanaged stands of trees, to show the effects of both nature and man in the forest. Take in a round of golf at the scenic 9-hole Skeena Valley Golf and Country Club, set against Thornhill Mountain's rock face. After a day of hiking or other outdoors fun, a plunge in the steaming mineral water pool at Mount Layton Hot Springs Resort is bound to soothe every muscle. The Terrace Aquatic Centre, with its pool, whirlpool and saunas is another option.

At Kitimat, you'll enjoy one of Canada's last true wilderness frontiers, with both fresh and saltwater fishing included. Its oldest living resident:, a Sitka spruce tree is over 500 years old. Explore the beaches of Douglas Channel , or drive north to Lakelse Lake for camping and water sports. Kitimat's two arenas, swimming pool, whirlpool, saunas, racquetball, squash and fitness gym are open year round. At Hirsch Creek, popular with Adventure travelers for wilderness camping, you can hike a variety of trails suited to all ages. Golf Kitimat's 18 hole championship course.
More to come. We invite you to send your stories and pictures.
North by Northwest Tourism Zone
The North by Northwest region is a blend of romance and adventure. From awesome Mt. Robson, the highest peak in the Canadian Rockies, stretches the Trans Canada / Yellowhead Highway 16, a highway that promises an adventure-filled journey across the north, meeting with the mystical Queen Charlotte Islands or connecting to the Yukon or Alaska. Campers who enjoy wildlife, outdoor recreation, native history, hunting and fishing will delight in the area.
From the densely forested interior of spruce, pine and fir to the magnificent red cedars in the rain forests of the Queen Charlottes, the outdoor enthusiast has much to see and do. Mountain ranges stretch through the area, dipping into deep valleys, coursed by rushing rivers and thousands of lakes. In the area's rivers and streams lie record-size salmon and steelhead, a fisherman's paradise with several varieties of Pacific salmon. Also abundant are rainbow trout and char. Wildlife sightings of moose, deer, coyote, fox and black bear are common along the highways and "off-the-path" adventure roads.

BC Attractions, Museums and Historic Sites
How to attract visitors to your area like a magnet? Let us count the ways. Air Highways, WingSpan and BC Scene Magazine present a selection of capsule profiles featuring BC's most notable attractions, with background information provided by Tourism BC. We will add many of our other favourites in the weeks and months ahead, including those that have been featured in our magazines. For starters we have a number of stories on line, including the Footloose Series on Vancouver's West End, plus Adventure Roads and Adventure Rails. There's also a section on Cultural Tourism and another on Vision Quest.