Airport Info. Comox Valley Tourism

Comox: Gateway to Central Vancouver Island
Interactive Map - Click for a page profiles on each major destination
on Pacific Coastal Airlines flight schedule.
Civilian use
The airport has a civilian terminal used by the following airlines:
• Air Canada
• Air Canada Jazz (Calgary)
• Air Transat
• Operated by WestJet (Cancun, Puerto Vallarta) - Seasonal
• Central Mountain Air (Vancouver)
• Pacific Coastal Airlines (Campbell River, Vancouver)
• WestJet (Calgary, Edmonton)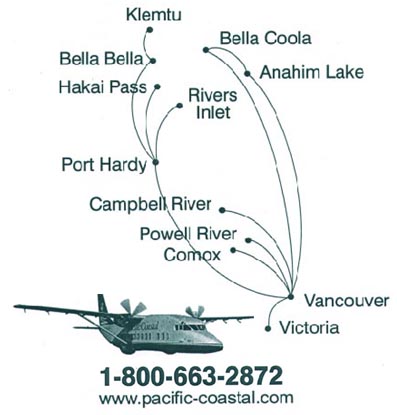 Military use
19 Wing Comox hosts 407 Maritime Patrol Squadron flying the Lockheed CP-140 Aurora and 442 Transport and Rescue Squadron flying the CC-115 Buffalo fixed-wing and CH-149 Cormorant rotary-wing aircraft.
The base also hosts the 19 Air Maintenance Squadron, and a number of other organizations. It is also the location of the Canadian Forces School of Search and Rescue, where all para-rescue specialists in the Canadian Forces, known as SAR Technicians or "SAR Techs", undergo training.
This base also serves as the home to Regional Cadet Air Operations Pacific; part of the Royal Canadian Air Cadet program. Some part of the base is converted to Regional Gliding School (Pacific) in the summer. During summer, about 40-45 selected air cadets are trained to become fully licenced glider pilots. Their training glider is the SGS 2-33A. The school also runs a power course which takes place at nearby airports and a ground-school level course for younger cadets.
An annex of CFB Comox, Annex A "Goose Spit", is used by the Royal Canadian Sea Cadets during the summer. It is called during the summer months HMCS Quadra. HMCS Quadra is home to about 1,000 course cadets, 100 staff cadets, and about 100 adult staff. Course cadets train in the Royal Canadian Sea Cadets four basic trades (Boatswain, Gunnery, Music, Sail). Some course cadets train in three of the four Royal Canadian Sea Cadets specialty trades (Silver Sail, Marine Engineering, Shipwright). Staff cadets are often senior cadets who have trained in one of the Royal Canadian Sea Cadets trades. The adult staff are usually members of the CIC, or the Reg. Force.
CFB Comox also serves as a forward operating base for temporary deployments of the CF-18 Hornet fighter-interceptor.
Every April, the Snowbirds practice at 19 Wing Comox.
[edit]