Which City was selected #1 in the Americas?

Footloose on Granville Island
by Jerry W. Bird

Living in Vancouver, British Columbia for many years, one venue we never get tired of visiting, come rain or shine, is Granville Island on the south shore of False Creek (opposite the former Expo site). It's an extra special treat when there's a chance to show the area off, like last summer when we invited several New York colleagues to the Public Market for a Sunday breakfast. Just watching their faces light up like Christmas trees, and hearing their favourable comments was a suitable reward. Granville Island, captures the mood of Vancouver in an eclectic mix of art and culture, and in an outdoors marine setting. Granville Island events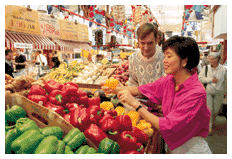 From Industrial Eyesore to Eye-Popping Spectacle
The magical transformation of Granville Island from acres of industrial blight to one of the coastal city's prize jewels, is like the Ugly Duckling story by Hans Christian Andersen. I remember visiting the area as a youngster, and what's happened with the new Granville Island never ceases to amaze me.
COME ON IN!
Visitors to Canada from the United States do not require a passport to re-enter the United States by sea or air until December 31, 2006. For those returning to the U.S. via land borders, a passport is not required until December 31, 2007. U.S. citizens are encouraged to visit the U.S. Department of State website for further information on travel document requirements. www.travel.state.gov
FAIRMONT ANNOUNCES NEW VANCOUVER HOTEL
Fairmont Hotels and Resorts have announced that they have sold a parcel of undeveloped land in downtown Vancouver to Vancouver-based developer, Westbank. Westbank plans on developing a hotel and residential condo project on the site, and Fairmont has entered into a long-term agreement to manage the hotel.
Located across from the existing Vancouver Convention and Exhibition Centre (VCEC) and adjacent to its planned expansion site, this development will include a 415-room luxury hotel and 200 residential condos. The hotel is expected to open in mid-2009, shortly after the expansion of the VCEC and before the 2010 Olympic and Paralympic Winter Games. The hotel will be branded a Fairmont hotel and will showcase prime views of Stanley Park, the harbor skyline and North Shore Mountains. www.fairmont.com
TRAINS, PLANES AND AUTOMOBILES
Starting in May 2006, Rocky Mountaineer Vacations will introduce Whistler Escapes, eight packaged tours featuring Canada's newest train, the Whistler Mountaineer. These short-break vacations range from three to five days and can be added to a cruise, a Rocky Mountaineer Rail Vacation or taken alone. One of the highlights of the packages is the Sky, Sea and Rail Escape, with guests beginning their journey with an overnight stay in Vancouver, then taking a 30-minute float plane flight to Victoria for another overnight stay. A second float plane flight to Whistler over the Georgia Strait and Coastal Mountain range will follow, and after a night in Whistler, the trip ends with a three-hour afternoon rail excursion back to Vancouver on the Whistler Mountaineer. This particular trip starts at CAD $964 per person (USD $825). Phone: 604.606.7425 www.rockymountaineer.com
YVR Lands No.1 Ranking In North America
Vancouver International Airport (YVR) has been rated the top airport in North America by passengers surveyed for the International Air Transport Association's (IATA) annual global survey. For the fifth consecutive year, YVR has also been chosen as one of the top 10 airports in the world, the only Canadian airport to make the global top 10 list. Since 1993, IATA has conducted the annual global airport monitor survey to measure airline passenger opinions of major airports in North America, Europe, the Middle East and Asia Pacific. Approximately 70,000 passengers were asked to rate 51 airports in a variety of service categories. YVR received high marks for its shopping facilities, restaurants and eating facilities, and for comfortable waiting areas.

YVR Offers $300 Million for Rapid Transit
Vancouver International Airport Authority (YVR) is prepared to invest up to $300 million to build the airport portion of the proposed rapid transit line between Richmond, downtown Vancouver and the Vancouver International Airport. The YVR connector portion - approximately 4km (2.5 miles) of the 19.5 km (12.2 miles) line - would include between three to five airport stops to accommodate people working at the airport, as well as arriving and departing passengers.
2010 Olympic Update
The 2010 offices have hired six senior marketing and communications executives to the leadership team for the 2010 Olympic and Paralympic Winter Games. For the latest updates visit www.winter2010.com
Shangri-La selects Vancouver for new luxury hotel
Asian Pacific's leading luxury hotel group, Shangri-La Hotels and Resorts, is supporting its expansion with a management agreement for a five-star deluxe hotel in Vancouver slated for opening early 2007. Set in the heart of downtown Vancouver, the hotel is an easy walk to all amenities.
Occupying fifteen floors of a new 60-story landmark building, the 120-room hotel will be the tallest in Vancouver with cutting edge architectural design. The entire multi purpose complex will showcase the best of cosmopolitan West Coast life. Guestrooms will be an average of 550 square feet and amongst the largest in Canada.

Summer Meetings in Vancouver
During Vancouver's 100 Days of Summer there's always a festival or special event to enjoy. Our moderate climate is comfortable; that's why most Vancouverites don't even own an air conditioner. Surrounded by 12 miles of beaches, there are many vantage points to enjoy mountain views and spectacular shorelines.
Let our Meetings and Conventions team suggest exciting local activities, festivals and events, or pre and post options to add value to your meeting. One benefit of holding your Vancouver meeting in summer is the ease of adding an exciting Alaska Cruise or a trip on the spectacular Rocky Mountaineer Railtours. Your association could earn free cruises if as few as 18 passengers book. An Alaska cruise is a once in a lifetime experience for many. Cruise bookings can easily be fulfilled through our partner Uniglobe Advance travel through a website link or toll free number.
A Summer Incentive Experience
American Investors Life's "Top Producers" enjoyed an incredible incentive experience during their memorable 9-day Vancouver and Whistler program. One of the most unique events produced by Maximum West Destinations/ Fireworks Marketing Group (www.fireworksgroup.com), on behalf of incentive house Galactic Marketing, was a "Medieval Rock" party on the third night of the guests' Vancouver visit.
Vancouver's premier concert hall, the Commodore Ballroom, synonymous with the city's entertainment and nightlife scenes, was the perfect choice for a theme party. The art deco styled venue was transformed into a magical medieval court. Hanging beams with large candles created a lighting effect that set the tone for the entire hall. The theme continued with customized pennants on columns, enhanced with period-specific decor items. Long rectangular dining tables were set with crushed velvet burgundy linens, gold trim goblets and charger plates, and flagons for wine.
The evening's entertainment included strolling characters: a court magician, stilt-walkers, fire jugglers, and 4 comic actors mingled with guests to create a modern day equivalent of a medieval court. A post-dinner sword fight helped to bring the 300 guests, serving staff, strolling entertainers and 9-piece dance band decked out in period costumes, back in time.

Footloose in Vancouver's Historic Gastown
Recently arrived for a cruise or convention? Just steps from Canada Place, where Alaska-bound cruise ships berth, Gastown begins.

Footloose in Stanley Park, the Beaches and English Bay
A sea of umbrellas one moment, local denizens decked in everything from beachwear to high fashion the next.

Footloose on Vancouver's Elevated Railway
SkyTrain and SeaBus provide a Supermall 15 miles long.
Footloose on an Old Fashioned Streetcar
Street Cars, Street Scenes, Street Smarts: Signs of Vancouver's Rail Renaissance.

Footloose at Vancouver International Airport
A classy shopping mall and a convention hotel all in one complex
.
New Vancouver Convention Centre
We were just at the Press Conference where plans for the expansive waterfront facility were unveiled. You can expect a major section on that facility on this site.
Views of Vancouver
Courtesy Tourism Vancouver. Allow a few minutes for loading, but its worth the wait.

Footloose on Robson Street
Robson Street is often compared to Hollywood's Rodeo Drive, and its stores keep late hours for shoppers' convenience and to help pay the abnormally high rent. PET FRIENDLY PACIFIC PALISADES