Kelowna Airport Links . Kelown Tourism . Commerce



More Than 600 People Celebrate the Road to Tower Ranch
More than 600 local community members gathered at Tower Ranch on October 14 for an afternoon BBQ to celebrate the grand opening of the McCurdy Road extension &endash; the road into the Okanagan's newest Golf Course community. Mayor Shepherd was joined by former B.C. premier Bill Bennett for the celebration, which not only opened the new McCurdy road, but also officially opened the new community named for and envisioned by local landowner Stan Tower.
"The extension of McCurdy road marks the opening of Tower Ranch to the Kelowna community, and the realization of Mr. Tower's vision," said Bayne Anderson, Development Manager at Intrawest. "This project is the result of years of envisioning, planning and collaboration among our team and our partners."
Following the ceremony, a community BBQ and afternoon celebrations were held at the Tower Ranch Discovery Centre, where guests previewed the three Tower Ranch showhomes - including the newest Sedona showhome - met the renowned golf course designer Thomas McBroom, and toured the Tower Ranch property and golf course.
"We're thrilled that so many people came to celebrate and experience the Tower Ranch property." said Jill Grant, Marketing and Project Manager for Playground, a division of Intrawest. "This is a very special community, not only for those who will call it home, but for everyone who lives in and visits Kelowna."
The public is welcome to view the Discovery Centre and Showhome where they can learn more about the master planned community, The Club at Tower Ranch, Golf Membership opportunities and the first phase of homes.
More than a thousand families from the local Okanagan Valley, as well as Calgary and Vancouver, have already expressed interest in becoming a part of this premiere golf course community.
Situated in the uplands above Kelowna, Tower Ranch encompasses 446 acres of prime
Okanagan land offering unparalleled views of Lake Okanagan, the Okanagan Valley and the city of Kelowna. Tower Ranch will feature four distinct and unique neighbourhoods offering residents a variety of options. Inspired by the natural surroundings of the property, Tower Ranch will feature a 43-acre public park, complete with an extensive network of hiking and mountain bike trails, as a gift to the city of Kelowna.
Tower Ranch is a joint development between Intrawest, golf course owner/operator
Aberdeen Golf Group, and Master-greens architect Thomas McBroom, with the first offering of single-family and townhomes being offered by premiere local builder, Dilworth Quality Homes.
Media Contact
Kyla Leslie
Immedia PR
T 604.568.6511
Kelowna's Okanagan lifestyle keeps visitors coming back for more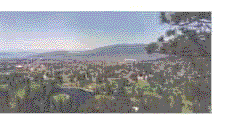 by Tracey Cochrane
From Air Highways Journal
Not long ago, Kelowna, in the heart of British Columbia's Okanagan region, was a place where families escaped every summer for guaranteed sunshine and togetherness. Unlike other destinations, which lose their charm once they are "discovered", Kelowna's reputation has grown considerably along with its size. With a population of 89,000, it is today a major centre with even more for visitors to enjoy all year long, from the moderate, dry climate to numerous recreational and cultural opportunities. And yet that same easy-going pace it was first known for still remains.

When it comes to promoting Kelowna, George Tinling, Manager of the Kelowna Visitors and Convention Bureau feels he couldn't have a better product to represent. "We still have all the natural features people originally came here for -- lots of sunshine, great beaches, and the orchards and fruit stands," says the long-time Kelowna resident. "But there is also so much more: every kind of restaurant, excellent accommodation, and cultural options like the new art gallery, theatre, the symphony and museums which are not typical of cities this size."
---
The unspoiled rural atmosphere is still a major attraction, however. Within a five hour drive of British Columbia's Lower Mainland or Spokane, Washington, and within eight hours of Calgary, Kelowna offers pure, clean air, the pristine beauty of Lake Okanagan, lots of open space and some 2,000 hours of sunshine a year. The burgeoning agri-tourism industry promotes simple pleasures, such as orchard tours, berry picking and shopping at country markets and roadside stands.
City Park: The Okanagan climate and geography are conducive to walking and biking throughout the year, with generous biking shoulders provided on many major routes. City Park, just minutes from the downtown business district, includes popular "Hot Sands" beach, an outdoor stage, playground and children's waterpark just minutes from the downtown business district. The walkway through the park joins the boardwalk into Waterfront Park, extending the lakeside walk past the Grand Okanagan Lakefront Resort, a 205-room deluxe hotel and conference centre built in 1992. Each season offers its own recreational pursuits. Well-maintained beaches invite boating and water-skiing in summer as well as more adventurous activities such as para-sailing and hot air ballooning. Golf courses abound and take advantage of one of the longest golfing seasons anywhere, from March through November. Close to town are excellent facilities for downhill and cross-country skiing all characterized by their lack of waits and dry, powdery snow.
Kelowna's community spirit is evident in every season, resulting in a year-long calendar of events. The summer months still attract the majority of visitors, with parades, rodeos, regattas and other celebrations taking place almost every weekend from mid-May through August. A variety of guided and self-guided tours can be had at several wineries, orchards, the Sun-Rype fruit processing plant, the Riverside Forest Products mill and Western Star Trucks manufacturing facility. In addition, valley-wide events like the spring and fall Wine Festival enable many to discover Kelowna outside of the peak season when room rates are down and the roads are less travelled.
Cultural tourism is yet another "clean industry" coming into its own in Kelowna. Steven Thorne, the City's new Arts Development Officer is hard at work in conjunction with various local arts organization promoting Kelowna as a potential "Mecca for cultural tourism."
Ideas for developing tourism in the Okanagan actually go far back into Kelowna's economic history. As early as the 1920s, the Kelowna Chamber of Commerce's publicity, transportation and entertainment committees were involved with tourism issues, although a solid strategy for attracting visitors was limited by the lack of transportation and communication links with the Interior, and an official tourism arm. Since the formation of the Kelowna Visitors and Convention Bureau in 1990, a strategic marketing program has evolved, bringing year-round visitors, many of whom return to live and work in Kelowna.
Building on Success: Kelowna's incredible growth over the last 10 years has attracted many new services and amenities, putting it in a league of world-class destinations. Tinling points out that "13 per cent of all tourists who come to BC now visit the Okanagan. Kelowna is seeing more and more international visitors, particularly Asians tourists, and we receive dozens of overseas inquiries a month." General visitors inquiries for 1995 were up 23 per cent over 1994. With the addition of conference facilities such as the Grand Okanagan and strategic marketing of these facilities, the group tour and convention market has also taken a jump: between 1989 and 1995, the number of group tours grew from 469 to 1,712 and convention business tripled from 20,000 to 60,000 delegates.
Currently Tinling and other industry representatives are focused on attending trade shows to market Kelowna throughout North America, and meeting with the decision-makers of major companies and organizations across Canada to attract convention business. Bookings are already being made into the next century for groups of 500 and up. Tinling looks to the future with typical enthusiasm for the city he loves. "Our goals now are to develop new markets and remain responsive to the changing needs of today's travellers. Above all else, we want to ensure tourism as an industry continues to enhance, rather than dominate the lifestyle Kelowna is so well known for."
Air Travel Facts
Kelowna
* Kelowna Airport is the third busiest airport in BC in terms of passenger activity.
* The airport is presently served by Air BC, Canadian Regional Airlines, Central Mountain Air, and WestJet Airlines. There are also two full service fixed based operators on the airport.
* The airport has a single 7,300 ft. long by 200 ft. wide paved runway.
* The Kelowna Air Terminal Building has 30,000 square feet of floor space and provides a full range of services including: a restaurant/bar; car rental concessions; a gift shop and international arrivals facilities for aircraft up to 120 passengers.
* Parking is available for over 500 vehicles in the terminal area. Bus services from/to downtown Kelowna and Vernon meet most flights. From November to March, bus service is also available to local ski hills.
* At the present time, the air carriers operate 32 commercial flights per day into Kelowna, utilizing Boeing 727, Boeing 737, F28, Dash 8, and Beech 1900 aircraft. Same plane service is available to 13 destinations in Western Canada including Vancouver and Calgary International Airports.
Tourism Partnerships Paying Off
One of the Okanagan's greatest strengths is that Vernon, Kelowna and Penticton -- the Okanagan's three major centres -- work together to market the Okanagan as a whole rather than each competing for the largest share. Similarly, partnerships within different areas of the local tourism industry such as golf and skiing are also paying off. The Okanagan Valley Golf Association, for example, is the result of major golf courses in the Okanagan coming together in 1990 to promote golf as a major attraction. With the support of the Okanagan Similkameen Tourism Association, the OVGA Golf Guide, published annually, has become a highly effective tool for marketing golf in the area.
"Air tourism", an idea that got off the ground in 1994, is also producing positive economic results. The initiative began when Tinling and Kelowna Airport Manager Roger Sellick sat down to discuss how to increase the number of air travellers to Kelowna. From there, an air tourism committee was formed consisting of representatives from local accommodation, ski and golf facilities. As a result of their efforts, Kelowna is becoming known as an affordable, accessible golf and ski destination, particularly for travellers from eastern Canada. With direct flights from Toronto to Kelowna in the off-season costing only a fraction of what they used to, one can leave Toronto at 8 am and be on the slopes or the golf course in Kelowna by one that afternoon.
Since it opened as a small "commuter" airport in 1946, Kelowna Airport has served an increasingly broad catchment area, drawing passengers from throughout the Southern Interior. With frequent flights to 13 western Canadian cities, direct service to Toronto, plus seasonal charter flights to Reno and Mexico, "Kelowna is starting to evolve into a mini-hub serving long-haul destinations," says Sellick. The strong rapport between the KVCB and Kelowna Airport is evidence by the presence of brochures on local attractions prominently displayed in the airport. A direct phone line between the KVCB office and the airport terminal can provide instant information for a visitor who has just disembarked from one of over 33 daily flights into Kelowna.
Ramada Inn Kelowna, an RPB Hotel. Details to come.

...Visit Penticton via the Okanagan Valley's Wine Country Airport.