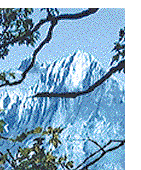 There where the mighty mountains bare
Their fangs unto the moon.
There where the sullen sundogs glare
In the snow-bright, bitter noon.
And the glacier-glutted streams sweep down
At the clarion call of June.
Robert W. Service


Travelers Advantage Rates: Top U.S. Camping Spots
NORWALK, Conn. As the sun rises on summer fun, outdoor vacation and family camping is surging in popularity -- and the experts at Travelers Advantage have packed the backpacks, loaded up the maps and grabbed the compass to chart the top outdoor adventure destinations across America.
According to the Travel Industry Association, camping is the number one outdoor activity in the United States, and one third of U.S. adults say they have gone on a camping vacation in the past five years. Fifty-nine percent of campers said they traveled with their spouses on their most recent outdoor vacation and nearly half traveled with their children.
"As vacationers pitch their tent on outdoor adventure in 2005, we are shining the light on the top camping treks across the country, from the best campsites, to the top national parks, to the most scenic views and best hiking trails," said Julia Ryan, vice president of Travelers Advantage and Travelersadvantage.com. "The great outdoors is the perfect backdrop for wonder and discovery, and creates family memories that will last a lifetime."
To get a jump-start on your great outdoor adventure, consider flying to these destinations by booking flights on TravelersAdvantage.com. Simply send your backpacks, tents and camping gear through as baggage -- and you'll be answering the call of the wild in no time.
The Travelers Advantage experts have strapped on the hiking boots and trotted out the top campsites, national parks, scenic views, hiking trails, top picnic areas and most kid-friendly parks:
* Top Campgrounds: Allegany State Park New York; Choctaw Lake Campground,
Ackerman, Miss.; Copper Falls State Park in Wisconsin; Fallen Leaf
Campground California; Guadalupe River State Park in Texas; Juniper
Springs Recreational Area/Ocala National Forest, Silver Spring, Fla.;
Lake Michigan at Manistee National Forest in Michigan; Seneca
Shadows/Monongahela National Forest in West Virginia; Steamboat Lake
State Park in Colorado; Waveland Park in Arkansas.
* Top National Parks For Summer: Yellowstone (Montana/Wyoming), Grand
Teton (Wyoming), Olympic (Washington), Rocky Mountain (Colorado), Great
Smokey Mountain (Tennessee/North Carolina), Grand Canyon (Arizona),
Acadia (Maine), Yosemite (California), Glacier (Montana) and Mt. Ranier
(Washington).
* Top Scenic Views: Brady Mountain Campground, Lake Ouachita, Ark.;
Chittenango Falls State Park, NY; Coral Pink Sand Dunes, Kanab, Utah;
Dale Hollow Lake, Allons, Tenn.; Table Rock State Park, Pickens, S.C.;
Warm Springs Recreation -- Lake Sonoma, Geyersville, Calif.; Mount
Diablo State Park, Clayton, Calif.; Massanutten Overlook, Shenandoah
State Park, Warren County, Va.; Rose Hill Plantation, Union, S.C.;
Wildwood Campground/Fort Gibson Lake, Fort Gibson, Okla.
* Best Hiking Trails: Salt Point State Park, Jenner, Calif; Harriman
State Park, Beaver Pond, N.Y.; Kings Mountain State Park, Blacksburg,
S.C.; Veterans Trail, Coralville Lake, Iowa; Warm Springs Recreation
Area/Lake Sonoma, Geyserville, Calif.
* Top Picnic Spots: Devil's Lake State Park, Baraboo, Wisc.; Moreau Lake
State Park, Ganesvoort, NY; Oconee State Park, Mountain Rest, SC;
Patrick's Point State Park, Trinidad, Calif.; Pokegama Dam Recreational
Area, Grand Rapids, Minn.
* Most Kid-Friendly: California State Railroad Museum, Sacramento,
Calif.; Douthat State Park, Millboro, Va.; Myrtle Beach State Park,
Myrtle Beach, S.C.; Shoal Bay Campground, Dardanelle Lake, Ark.; Verona
Beach State Park, Verona, N.Y.
About Travelers Advantage
Members of Travelers Advantage (http://www.travelersadvantage.com or
1-877-841-1335) can save money on air travel, cruises, car rentals and accommodations, as well as earn five percent cash back on eligible travel booked with preferred providers through the service. Membership in Travelers Advantage can be enjoyed during the first two months for only $1. The trial membership can be canceled at any time during the two-month trial period by calling toll free and owing nothing further. Unless the member calls to cancel during the trial, the membership will be extended automatically for an entire year at the $99.99 annual fee and automatically renewed annually upon expiration at the then-current annual fee, billed to a credit card account, without the member having to do anything further. Additionally, members may call toll free to cancel at any time and receive a pro-rata refund of their then current membership fee.
Available Topic Expert(s): For information on the listed expert(s), click appropriate link.
Julia Ryan
http://profnet.prnewswire.com/ud_public.jsp?userid=351270
CONTACT: Todd Smith, +1-615-764-2598 (O), +1-615-202-7944 (C), or Andrea Lindsley, +1-615-780-3315 (O), +1-615-415-8886 (C), both for Travelers Advantage /
/Web Site: http://www.travelersadvantage.com /