The planning challenges for the 2010 Games are enormous. Here's how lines on paper and dreams in organizers' hearts will become real
It has been 18 months since the International Olympic Committee and a collection of B.C. municipalities, sports organizations and community supporters embarked on one of the most ambitious cooperative sporting exercises in Canadian history.
Much has happened in the young life of the Vancouver 2010 Winter Games since IOC president Jacques Rogge and representatives of Vancouver and Whistler fixed their signatures to a contract during a summertime ceremony at the Hilton Hotel in Prague.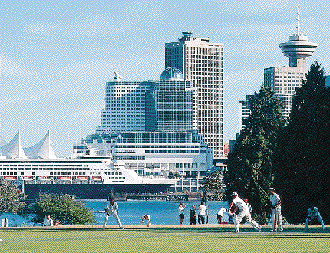 The heady euphoria of displacing two equally competent bids from Austria and South Korea in an act that galvanized Canadians around the world has given way to a more pragmatic and hard reality: 78 months is not an awful lot of time in which to organize the Games.
Today, only 60 of those months remain before the parade of nations will march into B.C. Place Stadium to open the 17-day Olympics, which will precede the Paralympics.
There is still so much to do.
Not one drop of concrete needed for any of the massive new venues has been poured. The ground in the pristine Callaghan Valley, site of the Nordic ski jumping and sliding centres, has not been broken. The curling venue dreamed of for Riley Park is still just that. The aging ice hockey arenas at the University of B.C. have yet to be replaced.
Across B.C., billions of dollars of non-Olympics construction
Although Olympics-related construction projects are in the public eye, hundreds of others are planned or underway throughout British Columbia -- especially in the Lower Mainland -- and helping to heat up the construction industry. Here are some of the bigger ones:
The creative plans for how the Games will take place are all on paper, reams and reams of paper, and in binary files of organizers' and consultants' computers scattered between Vancouver, Montreal, Calgary, Toronto and the seat of the IOC, Lausanne, Switzerland.
They are also lodged in the brains and hearts of people like John Furlong, the de facto soul of the Vancouver Organizing Committee (Vanoc), and a small squadron of senior executives and planners who are slowly and methodically putting together what they hope will be a lasting Canadian legacy.
Almost everything is rolling off according to the plans. And yet the road over the past year and a half has not been wholly smooth. There have been some brilliant achievements, such as the record-breaking $200-million sponsorship deal Vanoc cut with Bell Canada, a deal so rich that it covers twice over what the organizers thought they'd get from all top-tier sponsors combined.
And the small team of senior executives Furlong has surrounded himself with appear to be copies of the Energizer Bunny. They arrive in their West Pender Street offices early in the morning and they keep going until late into the night. The air miles they've clocked in trips to Switzerland, Italy, China, Toronto and Montreal as they search out guidance from those who have gone before them, and to implement the contractual demands of the IOC, likely represent the year's profits of a small airline company.
This week, for example, Furlong was in Victoria on Monday, in Williams Lake and Quesnel on Thursday, and Prince George on Friday. Today he's in Whistler to officiate at the official five-years-out Vanoc celebrations.
Vanoc is still a small organization, with fewer than 80 people working for it. By Games-time, there will be nearly 1,200, along with as many as 25,000 volunteers. Each of the vice-presidents have multiple responsibilities, and they're having to make Solomon-like choices every day. It's not possible to delegate responsibilities to a staff you don't yet have.
Historic building boom meets inflation
Organizers of the 2010 Winter Olympic Games officials may have to turn to cheaper venue designs as British Columbia enters what might be the biggest building boom in its history and double-digit inflation hits construction costs, a senior industry official says.
Building the dream: From the Vancouver and Richmond to Whistler and beyond, billions of dollars will go into the 2010 Games. The schedule is complex, the work daunting. Here are the major projects
VANCOUVER -- Vancouver Olympic Village
Vancouver and Area Links
Footloose in Vancouver's Historic Gastown
Recently arrived for a cruise or convention? Just steps from Canada Place, where Alaska-bound cruise ships berth, Gastown begins.

Footloose in Stanley Park, the Beaches and English Bay: A sea of umbrellas one moment, local denizens decked in everything from beachwear to high fashion the next.

Footloose on Robson Street: Robson Street is often compared to Hollywood's Rodeo Drive, and its stores keep late
Footloose at Granville Island: You could spend a day easily.
Footloose on Vancouver's Waterfront: Ed Anderson covers the Air harbour and port with exciting photos and items.

Footloose on Vancouver's Elevated Railway
SkyTrain and SeaBus provide a Supermall 15 miles long.
Footloose on an Old Fashioned Streetcar
Street Cars, Street Scenes, Street Smarts: Vancouver's Rail Renaissance.

Footloose at Vancouver International Airport
A classy shopping mall and a convention hotel all in one complex
.
Footloose on Vancouver's North Shore and West Van
Footloose on Lonsdale Quay

Vancouver Convention Centre: Exciting things are happening right now at the waterfront. Take a look.
BC Scene Magazine: New web site featuring Economic Development, Travel and Tourism in British Columbia-Yukon and Cascadia (Washington-Oregon)

Tourism Vancouver's Main Website
http://www.tourism-vancouver.org/docs/visit/
Visitors requiring assistance for accommodation can call: Tourism British Columbia's 1.800.HELLOBC Tourism Vancouver's Visitor InfoCentre on Burrard Street. 604.683.2000World66 Vancouver Guide: http://www.world66.com/vancouver/htm