AIR FARES
AIRCRAFT
AIRPORTS
AIRLINES
USA
Alaska
Aloha
American
America West
Delta
Northwest
Continental
United
Canada
Air Canada
Air Transat
Harmony
Jetsgo
WestJet
Europe
Air France
Alitalia
Austrian
British
KLM
Lufthansa
SN Brussels
Virgin Atlantic
Africa
Air Namibia
Air Mauritius
Air Tanzania
Air Zimbabwe
Cameroon Air
Ethiopian
Kenya .
Royal Air Maroc
South African
Zambian
Others
Qatar Air
Cruises
Alaska .
Others.



Rail
Alaska
Africa
Asia
Canada
Europe
Mexico
USA .
Highways
Alaska .
Canadian Rockies
Yellowhead

On Sea Island at Vancouver International Airport



Current YVR News Release. Jewel of the Pacific and Crossroads of the World. If you haven't strolled through the ever-changing public and retail section of the Vancouver International Airport lately you are in for a pleasant surprise. Photos and story by Ed Anderson
Vancouver International Airport is among the most modern and efficient airports in the world. It is also known that YVR provides a full range of facilities to meet the needs of the community, airlines, the traveling public, cargo handlers, and the many businesses situated on Sea Island. Tremendous strides and progress since the days of its humble beginnings as a little airport on Sea Island in 1931. 1937 saw the inauguration of commercial air service by Trans-Canada Air Line's with their five Lockheed 10A Electra's and the rest is history. Today the old Vancouver Airport Terminal, now known as the South Terminal, is undergoing a complete face lift to become a modern regional hub for small aircraft, float planes, helicopter operations, corporate charters, regional carriers, and aerospace facilities. YVR is governed by the Vancouver International Airport Authority, made up of a 15 person community-based Board of Directors, nominated by entities such as the City of Richmond, the City of Vancouver, and the Vancouver Board of Trade.
The Airport Authority assumed the management and operation of YVR from Transport Canada in 1992. YVR is operated under the provisions of a long-term lease with the Government of Canada. There are no shareholders, no government funding guarantees or subsidies. All earnings are reinvested in airport developments and service improvements.
YVR is Canada's second busiest airport and a major west coast gateway, serving some 16 million passengers each year and transporting upwards of 260,000 metric tonnes of cargo. Also, according to the records, there were approximately 295,000 takeoffs and landings in the year 2000. With there being close to 26,000 people who work on Sea Island, the 'Mission' of the Vancouver International Airport Authority is "to serve their community by building outstanding airports for the 21st century." In itself, YVR is intended to become one of the best airports in the world and today having innovative common use terminal equipment, and many other up to date efficiencies for the traveling public, it is also considered a "smart" airport. More->


Flight Centres Canada Expands
In spite of travel market downturns and global challenges such as 9/11, Flight Centre Canada has managed to continue turnover growth across Canada to report a pre-tax profit of more than 400% in the last half of its fiscal 2002 year, announced Flight Centre Canada Western Division Marketing Manager, Carol McLelan today. (continued)

Open Skies to USA, Asia Pacific and beyond
Turn right for Texas, turn left for Timbuktu




Airport Index
We invite Airports and Airlines to provide links, news releases, route maps, flights, security and background information for these company profiles. airhwy@dowco.com
Links: Airport Codes / Aviation Councils / AOPA / IATA / Intermodal / Dining / Africa / Americas / Asia Pacific / Canada West / China / Europe / Malaysia / Mexico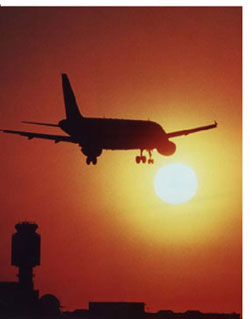 Kruger Mpumalanga International Airport Now open for business
SAA Alliance partners to serve new airport. In a press statement released by SAA Corporate Communications it was stated: "South African Airways alliance partners, SA Express and SA Airlink, will start services to the new Kruger-Mpumalanga International Airport (KMIA) scheduled to open 21 October. When the new airport opens, the KMIA management will close Skukuza and Nelspruit airports and KMIA becomes the sole airport for scheduled operations in the area. The alliance partners will start operating the route from Johannesburg to KMIA as from the scheduled opening day. passengers originally booked to fly to Skukuza will be transported by road from KMIA to Skukuza Airport. From 20 January SA Express will be the sole operator from Johannesburg to the new airport. Negotiations are underway for services from Cape Town to KMIA to be operated by SA Airlink. Contact their website for updated information:
www.flysaa.com

Volunteers Wanted to Reviews Books and Articles
We constantly receive requests for book reviews and would love to find someone who would be dedicated to that important task. If you are qualified and interested- Send Mail

This tiny map icon is your portal to the original 40 Gateway Airports whose managers helped us launch Air Highways Magazine in 1995, just as the US- Canada Open Skies Agreement was about to be signed. The airport authorities handled the distribution of our magazines and Supermaps to thousands of passengers at airport lounges, airline ticket counters and in-flight.