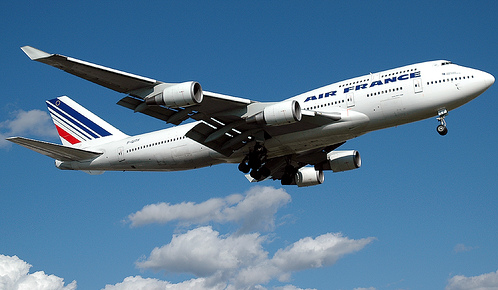 From November 2022 to February 2023, Air France will be offering new Michelin-starred dishes by top French chefs Arnaud Lallement and Michel Roth in its La Première and Business long-haul cabins. Working with carefully selected seasonal produce, vegetarian compositions, red and white meats from France and fish from sustainable fishing, the renowned Michelin-starred chefs have created refined flavours for the airline's customers to enjoy over the coming months. With this new exceptional meal service, Air France is continuing to offer the best of fine French dining on board.
Arnaud Lallement in the La Première cabin
In the La Première cabin, triple Michelin-starred chef Arnaud Lallement offers contemporary, gourmet cuisine bursting with flavour. As a guest of the Servair Culinary Studio, he has prepared an appetizer, two starters and eight dishes that are gradually being unveiled on the menu of the airline's most exclusive cabin.
"For Air France, I wanted to promote seasonal cuisine, do what comes completely naturally to me, as if I was hypnotized, and offer dishes passed down to me by my father," said Arnaud Lallement.
Michel Roth in the Business cabin
In the Business cabin, Michel Roth, Michelin-starred chef, Bocuse d'Or and Meilleur Ouvrier de France, offers a new series of refined dishes. Produced in collaboration with Servair, eight tasty dishes will be gradually unveiled for optimum culinary pleasure on board.
"My cuisine - authentic, simple and attentive - is, like Air France, deep-rooted in its heritage and shows great respect for the flavours of the produce," said Michel Rot
Air France reveals Michelin-starred chef partnerships for 2019
Air France has released details of the chefs which will design its business class and La Premiere (first class) menus in 2019.
The carrier will partner with a total of seven Michelin-starred chefs on long-haul flights departing Paris, who will "help design the menus, choose the products and create the recipes".
In La Premiere, passengers will be offered dishes by Michel Roth – two Michelin-starred chef and owner of The Bayview Restaurant in Geneva – between January and March.
These will be followed from April to June by creations by the late Joel Robuchon, who died in August 2018, as Air France honours the memory of "a visionary and virtuoso chef".
From July to September LA Premiere customers will be offered dishes by Regis Marcon, owner of the three Michelin-starred restaurant Le Clos des Cimes in Saint-Bonnet-le-Froid in the Haute-Loire.
Finally between October and December first class passengers will be treated to dishes by the three Michelin-starred Emmanuel Renaut, founder of Flocons de sel in Mégève in the Haute-Savoie.
Meanwhile in business class three Michelin-starred Anne-Sophie Pic – who opened La Dame de Pic London at the Four Seasons Ten Trinity Square in 2017 – will create dishes between January and March.
This will be followed by menus by three Michelin-starred Arnaut Lallement between April and June, and Guy Martin of Le Grand Véfour in Paris from July to September, before Michel Roth then creates dishes for the business class cabin between October and December.

DISCOVER ENCHANTING CAIRO WITH TRAVEL BY AIR FRANCE
There is a beautiful smell of jasmine in the gardens of Heliopolis, with rose sellers along the coastal path, where lovers walk hand in hand in the evening. The night is mild, laden with the smell of chichas. Cairo never seems to sleep, and never stop living. Everything is forgiven in Cairo, as something seems to make everything calm. Its Pyramids defy time and the nurturing river Nile flows from the heart of Africa.
Air France offers all curious, demanding and passionate travellers a digital and original travel blog called travelby.airfrance.com. With two new cities added each month, Cairo is one of the 100 or so destinations available.
AIR FRANCE IS PARTNERING WITH THE MICHELIN-STARRED CHEF ON MEALS TO WOW TRAVELERS EN ROUTE TO PARIS
Beginning today, Air France flyers from 11 U.S. cities to Paris will be treated to meal specials by chef Daniel Boulud. Born and raised near Lyon, France, Boulud made it big with his first New York restaurant, Daniel, in the 1990s. Since then, his empire has only expanded, as has his recognition for his mastery of French cuisine. He has received James Beard awards and Michelin stars, but Boulud once told Condé Nast Traveler of his humble love for wearing stretchy jeans on long flights. (That's a hot tip you may want to follow with airline meals this good.)
First class travelers leaving from New York (JFK), Los Angeles (LAX), or Washington D.C. (Dulles) may order Boulud-created meals like Atlantic lobster with curried coconut sauce and bok choy; Provencal lamb chops with zucchini pesto, tomato, and cheese polenta; and sea bass in vine leaves with za'atar, farro, and grapes. Meanwhile, those seated in business class and departing from Atlanta, Boston, Houston, Washington D.C., New York, Los Angeles, Miami, San Francisco, and Detroit may find their menu features one of these Boulud dishes: salmon with fennel, chickpea, and sumac; moroccan chicken tagine with lemon, cauliflower, and couscous; or braised lamb with spring root vegetables and edamame.
Even though the Boulud specials will only be available in first and business class, Air France has not forgotten about those in the back of the plane. Top Chef France winner Jean Imbert designed a la carte spreads for economy and premium economy travelers on long-haul flights departing from Paris. These meals will be available starting April 1 for $23 as an upgrade to the standard economy meal offering, and include items like a cold starter with organic quinoa, a poached egg with tarragon, and a fruit-filled pastry for dessert.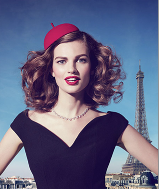 By Vancouver Sun- Dan Fumano & Bethany Lindsay
The Vancouver Airport Authority expects the new direct Paris-Vancouver flight service will be a boost not only for YVR and Air France, but for Metro Vancouver. The service is expected to generate around $13.7 million in gross domestic product and $8.8 million in wages to the B.C. economy, according to Vancouver International Airport.
For travel agents who specialize in European vacations, Air France's flights from Vancouver to Paris have been a long time coming. The last year-round direct flights to the French capital were offered by Air Canada and ended in the late 1990s, according Kerry McKeen of France Bound, a Vancouver-based agency focused on vacation rentals.
"It's been a long wait for the reinstallation of that routing and I'm just thrilled that we have it again," she said. "That's really important these days, to have that convenience in travel, because travel is not as easy as it used to be in the old days."
Scheduled service between Vancouver and Paris will operate three times a week until May, when it will expand to five times a week for the summer. Air Transat also offers some non-stop charter flights between the two cities, but only during summer months.
As the Air France Boeing 777-200 taxied minutes after landing, small French and Canadian flags waved from the cockpit windows for members of the media filming on the tarmac in wet and windy weather.
Inside the terminal, a celebration was warming up, as passengers enjoyed food (croissants, baguette sandwiches and an Eiffel Tower-shaped cake), and entertainment (in the form of a mime, an accordion player, and a DJ playing disco and classic French tunes).
Nicolas Chapuis, France's ambassador to Canada, took to the podium next to the flags of France and Canada, and asked the crowd: "How can we not be proud of seeing these French colours flying in British Columbia?"
"Craig Richmond, president and CEO of the Vancouver Airport Authority, welcomed Air France, calling the airline "one of the oldest, most beautiful and most desirable brands in aviation."
Richmond praised Air France's history and pedigree, saying: "Can you imagine an air carrier with routes that go back to 1918? C'est formidable."
DURING THE 2014/2015 WINTER SCHEDULE FROM OCTOBER 26, 2014 UNTIL MARCH 28, 2015, AIR FRNCE WILL DEPLOY THE A380 ON THREE WEEKLY ROTATIONS BETWEEN ITS PARIS HUB AND ABIDJAN
Air France has confirmed that Abidjan, the capital of Côte d'Ivoire, will be the second destination in Africa to be served by its Airbus A380 fleet after successfully operating a one-time service to the city's Félix Houphouët-Boigny International Airport in January 2014 to mark the hosting of the International Forum for Investments in the city. The European flag carrier already uses the Super Jumbo on its Paris – Johannesburg route.
During the 2014/2015 winter schedule from October 26, 2014 until March 28, 2015, Air France will deploy the A380 on three weekly rotations between its Paris hub and Abdijan. The route will be flown on a daily basis and the remaining four flights will be operated, as present, by a Boeing 777-300. The flight operates during daylight hours to Africa and returns to Europe overnight.
The use of 516-seat (9 seats in La Première, 80 seats in Business, 38 seats in Premium Economy and 389 seats in Economy) A380 into the country will boost seat capacity in an important market for Air France. With a strong level of growth, the Côte d'Ivoire aims to become the main hub and gateway to West Africa, a market representing over 300 million inhabitants.
The news is no real surprise as when Air France announced its one-time A380 charter to Abidjan it revealed its intention to serve the African destination with the type on a scheduled basis. As our analysis below highlights, bi-directional O&D demand between Paris and Abidjan increased by almost a quarter in 2013 (up 23.5 per cent versus 2012) but traffic levels are still down on the peak years between 2006 and 2009 when traffic exceeded 200,000 bi-directional O&D passengers.
Air France announces additional capacities on services to Southeast Asia
Kuala Lumpur, Jakarta and Singapore: these are the three capitals in Southeast Asia which will benefit from an increase in seat capacities by French air carrier Air France between now and June.
PARIS - Air France increases service to South-East Asia as the airline wants to capitalize on strong economic growth in this part of the world. As Garuda announced to join the Skyteam alliance, Air France is now looking to add Jakarta from the end of March to its network.
More frequencies between Paris and Kuala Lumpur (Malaysia)
With larger capacity aircraft and increased flight capacity during the 2014 summer season, Air France is increasing its service to Kuala Lumpur.

Spurred by the successful launch of this destination in April 2013, the Company is increasing its service to the Malaysian capital. In January, Air France is increasing by 25% its capacity to Kuala Lumpur. This destination is now served by Boeing 777-200 equipped with a new "leisure" configuration offering additional seats for customers. The aircraft offers a seat capacity of 309 seats (35 in Business class, 24 in Premium Economy and 250 in Economy) compared with 246 when this frequency was first launched.

Starting on 16 June 2014, Air France will also launch an additional frequency between Paris-Charles de Gaulle and Kuala Lumpur. The Company will thus offer customers four weekly flights, providing them with greater flexibility to organize their trip.

More flights between Paris and Singapore
Throughout the 2014 summer season, Air France is increasing its flight capacity to Singapore-Changi airport. From 17 June to 30 August 2014, the Company will operate 10 weekly flights and two different flight times for its customers.

In addition to the daily Air France flight between Paris and Singapore, additional flights will be operated by Boeing 777-200, with a capacity of 247 seats, including 4 in La Premiere, 49 in Business, 24 in Premium Economy and 170 in Economy.

Jakarta, a new Air France destination
Starting 30 March 2014, Air France's daily flight to Singapore will also continue on to Jakarta. Flights will be operated by Boeing 777-300 equipped with 303 seats, including 8 in the La Premiere cabin, 67 in Business, 28 in Premium Economy and 200 in Economy.
This new destination will complement the flight schedule offered by KLM, which serves Jakarta on a daily basis from Amsterdam-Schiphol.

On both the outbound and inbound flights, all Air France flights to Singapore and Jakarta will leave in the evening, enabling passengers to rest during the night. Moreover, in Singapore, Air France customers wishing to travel to Bali can easily take a connecting flight on the daily KLM Singapore-Denpasar service.

For the winter 2013-2014 season, Air France-KLM serves 23 destinations with more than 200 weekly flights between Europe and Asia via the hubs at Paris-Charles de Gaulle and Amsterdam-Schiphol: Bangalore, Bangkok, Beijing, Chengdu, Delhi, Bali, Fukuoka, Guangzhou, Hangzhou, Ho Chi Minh City, Hong Kong, Jakarta, Kuala Lumpur, Manila, Mumbai, Osaka, Seoul, Shanghai, Singapore, Taipei, Tokyo, Wuhan and Xiamen.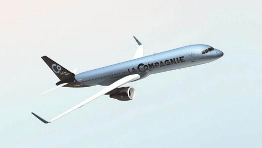 AIR FRANCE UNVEILS A NEW WORLDWIDE CAMPAIGN
Luc Citrinot - 27 March 2014
Air France unveils a new worldwide campaign

Air France unveiled in the palatial reception rooms of France Minister of Foreign Afaires its new worldwide marketing and communication campaign with a new slogan: "Air France- France is in the Air" The Official Campaign will hit media around the world with the start of the official summer schedule season 2014 on April 2
PARIS - Out for the ethereal, almost poetical campaign of Air France dating back to 15 years - Making the sky the best place on earth-, Air France unveiled in world exclusivity yesterday in Paris its newest advertising campaign. Daring to be different, the new campaign highlights the willingness of the carrier to be perceived youthful, dynamic and energetic and at the same time very French in its essence. "We are in France very "Frenchsceptical". But I can assure you that this image is not what most foreigners perceive or see when thinking of France. Our country is one of the strongest image-generating destination and we wanted to play with all the cliches and icons shaping France", explained Remi Babinet, one of the cofounder of BEPC, the advertising agency which stands behind the new Air France tagline and campaign. "Our aim was then to offer a dramatic different image, far from the normal image campaigns emphasizing always the flight attendant smile or aircraft's cabins", said Mr. Babinet.

« Air France, France is in the air » is daring to be different to carry the ambitions of the Transform 2015 Plan. " Transform Plan has been essentially centered on economic efficiency and cost improvement in its first application phase. We now want to improve our revenues and our communication by also highlighting our new commercial offer and our ambition to be a world leader for service quality", toldFrederic Gagey, the airline CEO.

The new campaign consists of 6 visuals illustrating the services offered by Air France: the comfort of the A380, the new La Premiere cabin, the new Business cabin, gastronomy, the carrier's network and SkyPriority (priority channels at more than 1,000 airports). It is supplemented by 12 visuals depicting iconic destinations served by Air France (Paris, New York, Brazil, China, Japan, Africa, Italy, etc.). In total, some 38 to 40 visuals were created for the campaign.

The visuals, created by the Argentine photographers Sofia & Mauro, create an effect of surprise by mixing heritage and modernity, while echoing Air France's past as a renowned poster specialist. Pleasure, youth and vitality emerge from images of the Moulin Rouge, the French Revolution, the Sun King, master chefs and haute couture.

The airline's eminently French character and the notion of the pleasure of travelling with Air France are illustrated in a fun, lively and exciting message, in line with the French lifestyle. The bright and offbeat tone creates a form of affinity and proximity with the public.
On 2 April, Air France will be unveiling its new advertising campaign called « Air France, France is in the air » in the printed press, with coverage in Air France most promising or important markets(France, Germany, Italy, Russia, Spain and Switzerland in Europe, Senegal, Brazil, Canada and the USA in the Americas and in Asia, China/Hong Kong and Japan. The campaign will be seen on the internet, social and printed media and on the radio. "We will not go on TV campaign. We wait to see if this first campaign phase will be successful", indicated Adeline Challon-Kemoun, Vice President Communication of Air France. The campaign will go around the world but it will be adapted to the cultural and social specificities of each targeted market. "It is obvious that some of the visuals will not work in Arabic, African or Asian countries. We will then have different images but also different taglines", she added. The advertising budget has not been unveiled but Air France will spend far over 50 million Euros…