Calgary, Alberta: Foothills Ranchlands, Bow River, Banff and Dinosaurs
by Jerry W. Bird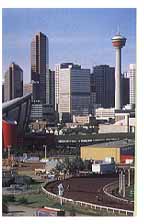 The Calgary Airport contingent was out in force at Aerospace North America and who can help but be impressed with their progress. I have followed the activities at Calgary International Airport for decades and can remember when you could fly Pacific Western Airlines to Edmonton for under $20. Some times I made the trip several times a week. Who can forget the city where one's media career blossomed, where he and his family sampled every type of outdoor activity there was, never missed a Stampede, and raised two sons, both of whom are now part of Alberta's hotel industry. From Calgary International Airport, a visitor can take off on a variety of cross Canada trips, plus foreign destinations, such as Seattle, Spokane, Portland, San Francisco, Los Angeles, Las Vegas, Phoenix, Salt Lake City, Denver, Minneapois-St. Paul, Omaha, Chicago, Louisville, Boston, Hartford, Philadelphia, Washington, Oklahoma City, Dallas, Houston and Nashville. On the World scene, you can fly direct from Calgary to London, Manchester, Frankfurt. Seasonal: Maui, Honolulu, Los Cabos, Mazatlan, Puerta Vallarta, Manzanillo, Cancun and Cuba


World Cargo Forum and Expo, September 2006
Calgary, Roundup Centre

Holy Cowgary!
Check those colorful cattle on the next page.

Canada's largest living historical village
My company used Heritage Park as the location for a series of video features, posters and commercials, produced for Burns Foods, one of the city's oldest and largest companies. Pat Burns, an Irish immigrant, was one of the 'Big Four' who put this once quiet 'cowtown' on the map. Pat Burns, an Irish immigrant, was one of the 'Big Four' who put Calgary on the map by launching the first Stampede. Another Big 4 member was A.E. Cross of the Calgary Brewery, another client of mine, famous for its 'horseshoe and buffalo label.'
The park proved to be the ideal setting, with its old fashioned farm kitchens, cast iron stoves, ornate ovens and large wooden chopping blocks. The mountain backdrop which frames the park's western vista added a dramatic flavor to the outdoor scenes. This unique slice of Canadiana overlooks Glenmore Lake (reservoir), and is easy to access via the C-Train from downtown, plus a 5-minute shuttle bus ride. Like in most Canadian prairie towns of an earlier era, the railway is the focal point. An historic train circles the entire area, and the replica of a vintage paddle wheeler plies the lake.
Continued.

Holy Cow. Dig those crazy colors!
Talk about remembering your pastoral roots - the latest craze in downtown Calgary is a painting contest with the object of raising money for a worthy cause (more to come). Everywhere you go, along Stephen Avenue mall, from Mewata Armories to City Hall, you'll encounter a herd of crazy cattle painted in all variety of themes. Continued.

Enjoy a Rocky Mountain High


From Calgary it's a short hop to Banff and Kananaskis Country -- and from there on to either Jasper, Golden or the Windermere route to the Kootenays. Landmarks on the Banff- Windermere Parkway include Sinclair and Marble Canyons, Vermilion Pass and the Fireweed Trail. Heard about The Paint Pots? Would you believe they're ponds of red, yellow and orange, just like a kiddies' coloring set? The pots are fed by oxide-bearing streams, and there's an endless supply. For ages untold, Indians mixed ochre from this site with fish oil or animal fat to decorate rocks, teepees -- and each other. Near Vermilion Pass, the Alberta- BC. boundary marks the summit of the Continental Divide; rivers east of here drain to the Arctic Ocean or to far off Hudson's Bay; waters to the west flow to the Pacific.
Banff Park's Castles and Caves
Imagine spending twelve festive days of Christmas in a fairyland castle! Truly unforgettable, when it's the Banff Springs Hotel. During many memorable stays, l learned of the hotel's hey day from band leader Louis Trono, who was on a first name basis with the Hollywood greats. As a return to elegance, the hotel offers a new $12 million health spa, with cascading waterfalls, mineral whirlpools and Turkish baths. The Banff Springs is an Epicurean's delight and a golfer's challenge. The first tee-off, from high above the Bow River to its far shore, still gives me goose pimples.
Upper Hot Springs
After skiing Mount Norquay, hiking Sundance Canyon, or fishing Lake Minnewanka, Sulphur Mountain's Upper Hot Springs is a Banff ritual -- hot plunge, icy shower, steam bath, blanket-wrap and massage. Loose as a noodle and ready to devour an ox -- is how one usually feels after that routine. A gondola nearby will whisk you to the summit for a sweeping view of the valley. Sundance Canyon Trail leads to The Cave and Basin National Historic Site, where like honeymooners for generations past, we gazed through a telescope at surrounding peaks. Clad in Rundle-stone, like most Banff buildings, this site contains displays, a theater, and tours into the misty grotto, with its emerald pools, and warm sulfur water dripping down the cavern walls. Priceless Indian relics at nearby Luxton Museum are well worth seeing.
The Teahouse of Lake Louise
If you really want to seize the moment, rent a canoe, or pedal your way to Bow Falls, Tunnel Mountain, or 101 equally delightful places. Heading north west from Banff, one can cruise the Trans Canada via Sunshine Village to Lake Louise in a breeze. For a change of pace, however, take the old road (Hwy 1A) along the north bank of the Bow River via Johnston Canyon, with its ink pots and nature walks. Chateau Lake Louise is a jewel in an exquisite crown. Talk of beauty and serenity! -- when one's creative spark needs rekindling, the Chateau is my choice. You can paddle a canoe in a scene right out of Hiawatha, or take the alpine trail to a Tea House for granola cakes and wild berry tea. The azure lake far below gets even smaller, as you climb the corkscrew path. Breathe deeply folks -- it gets to be a challenge near the top. Guess who was left standing still by a German couple in their mid 80s?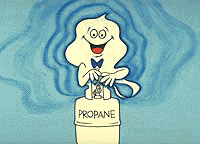 Mr. Wonderfuel: Our Award Winning Superstar is Cooking With Gas!
by Jerry W. Bird
Mr. Wonderfuel, our cartoon mascot, proclaimed the joys of gas cooking, and during a promotional video for the Propane Gas Association of Canada, one of my Calgary crew got into the act as the all knowing chef de cuisine. He was a natural for the part, and we staged many a barbecue and cookout in backyards and backwoods during numerous film productions over 10 years, including a feast of Rocky Mountain Rainbow trout. Since propane is popular for cooking in the "Great Outdoors," far from the nearest town, it has a prominent role in our various Travel & Aviation magazines - for many good reasons. [Top of page]