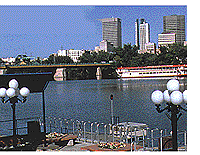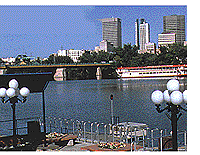 Winnipeg is Canada's Cultural Capital and Gateway to the West
by Jerry W. Bird


Call it Chicago North, Canada's Crossroads, or simply "The Peg" - Manitoba's capital (population 700,000) is home to no less than 50 ethnic groups, all of which take part in Folklorama - a Manitoba Mardis Gras. Winnipeg is also the largest center of French culture outside Quebec and hosts the Annual Festival du Voyageur in St. Boniface, Winnipeg's French Quarter. Having spent many fun times in and around Winnipeg during my air force days and later at conventions, recording sessions, photo shoots and business trips, it was fun to write the following piece for Latitudes Magazine featuring the historic Yellowhead Highway, which begins here at the Forks and extends westward through four provinces to the Pacific Coast.
Check your map; see how the streets converge like spokes on a giant bicycle wheel. Three historic rivers, the Red, Assiniboine and Seine, merge here at a place called The Forks. Not long ago, trains shunted back and forth, and river craft dumped their cargo at this downtown site. Today it's the "in place" - an oasis of greenery, scenery and people-watching, with shops, sidewalk cafes, and a river front promenade. To many first nations people, The Forks is where their ancestors hunted, fished and camped for centuries. The Forks National Historic Site preserves that 6,000 year legacy with interpretive programs, displays, sculptures, festivals and special events.
Food for Thought
According to Mayor Glen Murray, Winnipeg has the most restaurants per capita of any Canadian city, which is not hard to believe when you consider the ethnic mix. His other comments were, "The reality of Winnipeg is so vastly different from the image held by so many people who have not been here. Whether it's riverside parks, over 100 km of navigable waterways within the city, or the activities that seem to be never-ending around the city's famous 'Portage and Main' at the downtown center, Winnipeg is as culturally fascinating and scenically blessed as any of her colleagues across the nation." www.tourism.winnipeg.mb.ca
Lower Fort Garry National Historic Site
North America's oldest stone fur trading post stands as a lone sentinel on the Red River. Launch point for York Boat brigades, off to Hudson's Bay, Mackenzie or Athabaska Country, and Red River carts bound for Minnesota, it was a bastion of Empire. Plan to stay awhile - fresh bread's baking in the stone oven at Governor Simpson's Big House - dinner's on, and a magic lantern show is about to tell the fort's unique story.
It's a short drive to Portage La Prairie, Mile "0" on the Yellowhead Highway. Here, muscles of steel were needed to tote one's canoe overland. Today, Portage is a major food processing center, amidst some of the world's richest farmland. Lake Manitoba's beaches bring fond memories from my air force days. Macdonald Air force base, near Portage, was my hub of activities for several years as an RCAF weatherman --it was a fascinating area. I met a group from Southport at the Abbotsford Airshow and was pleased to learn that the city's other base is alive and thriving as a training and technical center. You'll hear much more about their projects in a future issue of Air Highways Magazine.
Airlines Serving Winnipeg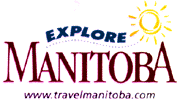 Air BC/ Air Canada/ Bearskin Airlines/ Canada 3000
Canadian Airlines International/ Canadian Regional Airlines
Evergreen (Cargo)/ First Air/ Northwest
Royal Aviation (Cargo)/ Westjet
Scheduled Destinations
Alberta: Calgary / Edmonton
Saskatchewan: Regina / Saskatoon
British Columbia: Vancouver/ Abbotsford
Ontario: Toronto / Ottawa/ Thunder Bay
Quebec: Montreal
Northwest Territories: Rankin Inlet
USA: Minneapolis, Minnesota/ Chicago, Illinois
Charter Destinations
Canada: Victoria, British Columbia
Caribbean: Montego Bay, Jamaica/ Puerto Plata, Dominican Republic
San Jose, Costa Rica / Varadero, Cuba
Europe: London, UK / Frankfurt, Germany
Mexico: Acapulco,/ Cancun/ Cozumel/ Ixtapa/ Manzanillo/ Mazatlan/ Puerto Vallarta
USA: Las Vegas, Nevada/ Orlando, Florida/ Palm Springs, California/ Phoenix, Arizona
Cargo: Grand Forks, ND/ Memphis, TN/ Nanjing and Schenzen, China
Exploring Manitoba: At Minnedosa, voted Manitoba's most beautiful town, a side trip leads to Riding Mountain National Park. In this "island of the prairies", buffalo roam and 500 species of wildlife thrive. Remember when we were kids, wolves used to whistle -- right? Well you can take wolf howling lessons here, but the Plains Indians' relationship with the buffalo is the top item on the agenda. Bathers can enjoy Clear Lake's sandy beach; those afoot and on horseback, can rove the meadows, aspen groves and evergreen forests on a network of trails. Steeped in the history of hearty voyageurs and European culture, Winnipeg's sleek skyline welcomes you to a landscape where massive herds of buffalo once roamed across the Prairies.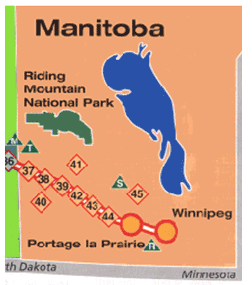 For information by mail or phone, contact:
Tourism Winnipeg, 279 Portage Avenue,
Winnipeg, Manitoba R3B 2B4
Ph: 204-943-1970, 1-800-665-0204 (Toll-free in North America)
Fax: 204-942-4043
WpgInfo@Tourism.Winnipeg.MB.Ca
Winnipeg International Airshow
please call for times
74 Shamrock Drive, Winnipeg, Manitoba
(204) 257-8400, (204) 256-7799 fax