CMH HELI-SKIING & SUMMER ADVENTURES WINS 2012 CANADIAN TOURISM AWARD
December 6, 2012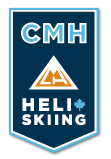 The annual awards – twelve of which were presented this year — recognize success, leadership and innovation in Canada's tourism industry and reward those people, places, organizations and event that have gone above and beyond to offer travelers superior tourism experiences in Canada.
For 35+ years, CMH has been guiding summer guests on extraordinary lodge-based journeys in the mountains of British Columbia. Tailored to guests of all fitness levels, ages and interests, CMH offers unique summer vacations that range from calmly serene retreats to wildly spirited adventures for individuals and families.
Speaking from Ottawa, Connie MacDonald, one of CMH's directors and a member of the senior leadership team, who was there to accept the award said: "This is an amazingly proud moment and it is so great to see our summer program recognized by our industry as the very best in class. We have long believed that CMH offers the best experiential travel in the country and it is a thrill and an honor to have this validated by TIAC."
Banff National Park's Castles and Caves
by Jerry W. Bird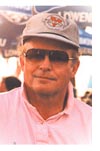 Imagine spending the twelve festive days of Christmas and a New Year's gala with family and friends in an Alpine Fairyland Castle. As an encore, we enjoyed a similar experience during the Easter holidays. Truly unforgettable, when it happened to be the Banff Springs Hotel, where the staff went out of their way to entertain us with everything from costumes, carol singing, candle light events and theme dinners, to a hotel-wide easter egg hunt in which everyone from infants to grandparents participated. The famous Banff Springs golf course, with its tee off over the Bow River and many other tricky hazards, held me in captivity for many years. One of Canada's many European style palaces built by the railroad barons of an earlier era, the Banff Springs stands proud and majestic, framed by a panor

ama of snow-capped Rocky Mountains. During many memorable stays during my carer in Alberta, l learned much about the hotel's hey day in late night conversations with popular band leader Louis Trono, who was on a first name basis with many of the Hollywood greats who came there in the and 40s. As a return to elegance, the hotel offers a new $12 million health spa, with cascading waterfalls, mineral whirlpools and Turkish baths. The Banff Springs is an epicurean's delight and a golfer's challenge. The first tee-off, from high above the Bow River to its far shore, still gives me goose pimples. I lay awake much of the night before, playing it over and over in my head.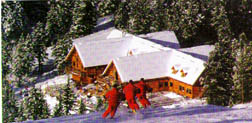 Upper Hot Springs.
For one who learned to ski on Banff 's Mount Norquay using rope tows, I soon graduated to places like Sunshine and Lake Louise. After skiing downhill or cross country, hiking Sundance Canyon, or fishing Lake Minnewanka, Sulphur Mountain's Upper Hot Springs is a Banff ritual -- hot plunge, icy shower, steam bath, blanket-wrap and massage. Loose as a noodle and ready to devour an ox -- is how one usually feels after that routine.

A gondola nearby will whisk you to the summit for a sweeping view of the valley. Sundance Canyon Trail leads to The Cave and Basin National Historic Site, where like honeymooners for generations past, we gazed through a telescope at surrounding peaks. Clad in Rundle-stone, like most Banff buildings, this site contains displays, a theater, and tours into the misty grotto, with its emerald pools, and warm sulfur water dripping down the cavern walls. The priceless native tribal relics at nearby Luxton Museum are well worth seeing.

A Short Drive from Banff: Kootemik-Radium Hot Springs
Imagine if you can -- two million litres of hot, mineral-rich water gushing from the ground each day. That's a lot of Perrier! With healing powers reputed to relieve arthritis and a list of ailments as long as one's arm, a wily Medicine Man could have made a fortune selling it by the bottle. Known as Kootemik to local Indians, whose legend of Nipika traces their origin, the springs were popularized in the 1890s. At Radium's Aquacourt, you can soak year-round in the steamy, odorless mineral water, or swim in two outdoor pools. The Lodge has an 18-hole golf course, campgrounds and shuttle-bus.
Of Marble and Paint Pots
According to experts, Kootenay National Park is an ancient ocean floor. Over 70 million years ago, so they say, it was compressed, folded like a gigantic pretzel, and sculpted into what we call the Rocky Mountains. In 1920, Ottawa bigwigs dedicated the park in a move to preserve the canyon's mineral springs, and protect waterfalls along the highway. Landmarks on the Banff-Windermere Parkway include Sinclair and Marble Canyons, Vermilion Pass and the Fireweed Trail. Heard about The Paint Pots? Would you believe they're ponds of red, yellow and orange, just like a kiddies' coloring set? The pots are fed by oxide-bearing streams, and there's an endless supply. For ages untold, Indians mixed ochre from this site with fish oil or animal fat to decorate rocks, teepees -- and each other. Near Vermilion Pass, the Alberta- BC. boundary marks the summit of the Continental Divide; rivers east of here drain to the Arctic Ocean or to far off Hudson's Bay; waters to the west flow to the Pacific.

..

..


We then follow the Icefields Parkway to Jasper National Park and on the way, we stop to enjoy the grandeur of Lake Louise.