Air Highways to Mainland China
"Where tourism goes, trade flows"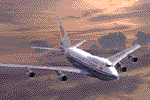 ..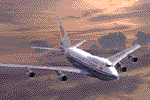 Living in downtown Vancouver, a city that has enjoyed a strong Asian influence and heritage for generations, we have many Chinese friends, and do much of our grocery shopping in nearby Chinatown. This suggests a China Destination Travel Magazine would be tops on our new publishing agenda and why we're so keen on news about travel and trade between Canada and China through our gateways. For example, our Air Highways Magazine's Apec Summit Edition was distributed via 10,000 participants from 18 world economies.
Within two decades China (PRC) is expected to be the world's top tourist destination and the fourth biggest outbound source of travelers, if the country's planned relaxation of travel restrictions takes place. (Bulletin from PATA) According to the Tax Free World Association (TFWA), by 2020 China (PRC) will attract 130 million visitors a year, while 100 million mainland Chinese will travel overseas. Shanghai, China's southern dynamo, plans to add a giant Ferris wheel to its skyline by 2005, exceeding the London Eye, currently the world's largest. Shanghai's 200-metre-tall wheel will become part of the city's famous Bund riverfront.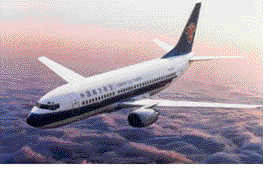 China Southern Airlines Sky Pearl Club sets record
China Southern Airlines (photo above), largest airline in The People's Republic of China, is pleased to announce that its Sky Pearl frequent flyer loyalty club has 275,870 members since its inception in November 1998. The Sky Pearl Club has grown from 122,871 members in March 2000 and has set a goal of 500,000 members.
"Being the largest airline in China and carrying more than 12 million passengers a year, there is no reason our Sky Pearl Club can't break the 1Ú2 million mark in membership. We have a terrific frequent flyer program and we invite all of our frequent flyers to come fly with China Southern Airlines to come join us," said Mr. Wang Chang Shun, President, China Southern Airlines. "The Sky Pearl Club operates with a very basic motto, 'There is no more valued customer than he who returns'. And that is what our loyalty program is really all about. 100% total customer service and satisfaction," said Wang.
China Southern Airlines' passengers may be enroll in The Sky Pearl Club by filling out an application form available at numerous airport check-in counters; China Southern Airlines' ticket offices located throughout China, Asia or around the world … or simply by directing your Internet browser to the airline's web sites at : www.cs-air.com (Chinese) or www.cs-air.com/en (English).
Through February 28, 2001, China Southern Airlines' Sky Pearl Club Members who stay at any Shangri-La or Traders hotel on a non-discounted room rate will receive quadruple mileage plus the following benefits and privileges at no charge and with no restrictions: Complimentary breakfast, Free laundry (Free dry cleaning at city hotels), Free local telephone calls, IDD calls & faxes at cost, 6 p.m. late check-out. City hotels provide free round-trip airport transfer
Resort hotels provide a free daily buffet dinner and free non-motorized water sports In addition, Shangri-La and Traders hotels in China are offering a Winter Special with discounts between 30-60%, double Sky Pearl Club mileage, 4 p.m. late check-out and other special benefits.
(more about China Southern Airlines)
Ranked No. 1 in passengers carried in China for the past 20 years, China Southern Airlines: http://www.cs-air.com/en>www.cs-air.com/en - connects more than 80 cities around the globe.
Contact: Mr. Jeff Ruffolo, Manager, Public Relations
Office 1-949 -706-6789, Cellular 1-949-278-6440
Fax 1-949-706-2535, E-Mail: RuffoloPR@aol.com

---
Continued
We attended a first class dinner reception at Vancouver's Wall Centre Sheraton Hotel and were not only impressed by the warmth and professionalism of our hosts, but learned a lot about travel opportunities throughout China. We were surprised by the number of professional travel agencies now established in China (6,228) and by the volume of arrivals at China's airports (More on that later). If any of those in the tourism group from China, Vancouver and Toronto have the opportunity of reading this page, please accept our thanks and congratulations. You filled the room on a very blustery West Coast Friday evening, which says a lot. The China information office is managed by Richard Liu: 011 86 10 852 96297, fax 011 86 10 8529 6299. e-mail rliu@ctcchina.com
The Chinese Promotion Delegation included: Air China, Shanghai Tourism Commission, Fujian Province Tourism Bureau, Guilin City Tourism Bureau, Xin Tourism Bureau, CITS Shanghai, Fujian Overseas Travel Group, CITS Hunan Province, CITS, Guilin, CYTS Xinjiang Province, CITS Hunan, Sichuan Province Tourism, Shennong Hotel, Hunan. For information contact. China Travel Service (Canada) Inc. 556 West Broadway, Vancouver, BC 604.872.8787, fax 604,873.2823

During Canada's Year of Apec, our Air and Marine Tourism Conference included speakers from several Asia Pacific destinations. We salute the World Chinese Entrepreneurs Association, one of the many key venues we covered.

Map: Asia Pacific destinations
on direct flight path from
Vancouver International Airport (YVR).
For regional feeder airports
see Supermap section.
For more contacts in Asia
Pacific see Apec page.
For Asia Pacific events,
contact PATA
http://www.pata.org.
Canada: Director, Asia & Pacific Regional Coordination Division, Department of Foreign Affairs & International Trade, Lester B. Pearson Building, 125 Sussex Drive, Ottawa, Ontario K1A 0G2; Telephone: (1-613) 944-0462, Fax: (1-613) 943-8167.
China : Chief of Asia-Pacific Division, Department of International Organizations, Ministry of Foreign Affairs, Beijing 100701; Telephone: (86-10) 6513-4521, Fax: (86-10) 6513-0368.
China (Hong Kong) Assistant Director-General of Trade Regional Cooperation, Trade Department, Hong Kong, China Government, 18/F, Trade Department Tower, 700 Nathan Road, Kowloon; Tel: (852)2398-5305; Fax: (852)2789-2491