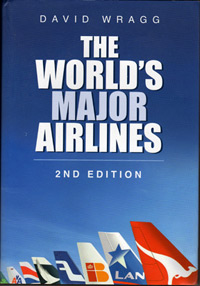 Edmonton: Gateway to Jasper National Park, the Oilfields and Northern Adventures
by Jerry W. Bird
---
What's new at EIA - Edmonton International Airport?
It's a new day at Edmonton International Airport (EIA). We are Canada's fastest growing major airport, serving more than six million passengers yearly &emdash; one traveller, one experience at a time. We're rapidly expanding to serve you better with more gates, new non-stop destinations, additional parking facilities and a new passenger concourse. We're also adding new terminal services, including restaurants, shopping outlets and a 216-room hotel by Marriott. More

Calgary, Alberta: Foothills Ranchlands, Bow River, Banff and Dinosaurs
by Jerry W. Bird

Fly or Drive to Alberta: Many Worlds in One

Come this summer
Explore your own world in Alberta
Follow, follow the sun
We've got many worlds in one
In Alberta. In Alberta.

by Jerry W. Bird


One of the first clients I served as an advertising agency executive in Edmonton, was Travel Alberta, representing a Province whose beauty and bounty I have praised for many years. Our contact was Ed Bryant. My former employer at the time, now called FWJ, still handles the advertising account, which is something of a record. They sent us a beautiful package of photos and some background information, which we are proud to share with you. This will be of special interest to those who join our Air Highways Magazine Sponsored Tours of Western Canada and USA.
One special theme I created (opening lines above) was featured musically in many audio visual presentations we produced. The following capsule describing my experiences on the Alberta sector of the Yellowhead Highway is from a 14-page feature I wrote for Latitudes Magazine of Montreal. It appeared in a special upscale edition they produced entitled, "Roads to Canada's Great Drives." This episode featured the Yellowhead Highway, which winds its way through Alberta on enroute from Lake Manitoba to the Queen Charlotte Islands of the North Pacific.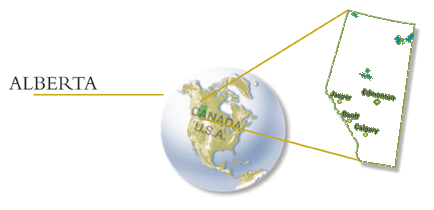 Onions, Easter Eggs and Wild Roses
Yes Virginia, there is a Lloydminster, Alberta and also a Lloydminster, Saskatchewan. Just like there were two football teams named the 'Roughriders' that chased the elusive Grey Cup in the CFL. My hero Ronnie Lancaster is still going strong. That problem of two Lloydminsters, however, causes a bog kaffuffle when daylight saving time rolls around. It also has implications regarding provincial sales taxes and the lack thereof.
The town's Antique Museum honors England's Barr Colonists, and when later on, ..you see an onion-shaped dome or giant Easter egg on the ..horizon, you know you're in Little Ukraine. Vegreville is .home of the Ukrainian Pysanka Festival, with its fly-in breakfast and 3 solid days of food and fun.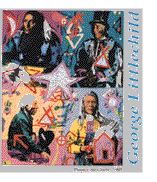 Elk Island National Park
A thatched-roof dacha houses the Ukrainian Folk Museum. There's a fenced preserve, where over 400 buffalo roam, sharing the rolling hills and meadows with moose, mule deer and elk. Poplar, spruce, aspen and birch line a network of hiking trails, and the lakes and sloughs teem with waterfowl. Sandy Beach recreation area has a 9-hole golf course. Alberta's emblem came from the wild roses, which grew in this area along the old Victoria Trail.
Poster of "Chiefs" by George Littlechild, is part of the Artists for Kids Trust program featured in Air Highways Magazine.The opening verse is from a theme song, written by Mr. Bird as part of a program for Alberta Tourism.
Edmonton: City of Big Shoulders
How can one help but love a city that jump-started his career. For me it all began at the Edmonton Journal, one of Canada's great newspapers. No place I know has such energy, or capacity to seize the moment. Edmontonians have always been a cocky lot, from their sports dynasties and oil czars, to politics. Even the location is cocky; perched regally on the North Saskatchewan cliffs; its Upper Level bridge reaching from Alberta's Legislature to the University area. And who else has the audacity to build a shopping Mecca that rates seven mentions in the Guinness Book of World Records? Speaking of highs and lows, Edmonton's river valley, from Old Fort Edmonton to the Conservatory and beyond, is a tourist destination all by itself; golf courses and picnic spots.
Get out and stretch your legs; this is the largest greenbelt of any major Canadian city. Edmonton as a boomtown? - its archives tell of fur traders, riverboats, a Klondike boom, a railway boom, a land rush, and black gold that blew things sky high in '47. Legendary bush pilots, who opened up the North live again at Canada's Aviation Hall of Fame. By the way, if you love to shop, or hanker for genuine Alberta Prime Rib -- there's no provincial tax. And if I recall the jingle, "Your credit is fine with Irving Kline." Beyond the outskirts is Lake Wabamun (try saying that with your mouth full), a popular camping spot. Edson and Hinton are major stops en route to Jasper National Park.
Icefields Parkway: Banff to Jasper
Alberta's Rocky Mountain High

Landmarks on the Banff-Windermere Parkway include Sinclair and Marble Canyons, Vermilion Pass and the Fireweed Trail. Heard about The Paint Pots? Would you believe they're ponds of red, yellow and orange, just like a kiddies' coloring set? The pots are fed by oxide-bearing streams, and there's an endless supply. For ages untold, Indians mixed ochre from this site with fish oil or animal fat to decorate rocks, teepees -- and each other. Near Vermilion Pass, the Alberta- BC. boundary marks the summit of the Continental Divide; rivers east of here drain to the Arctic Ocean or to far off Hudson's Bay; waters to the west flow to the Pacific. Excerpts from Air Highways Magazine by Jerry W. Bird.
Banff Park's Castles and Caves
Imagine spending twelve festive days of Christmas in a fairyland castle! Truly unforgettable, when it's the Banff Springs Hotel. During many memorable stays, l learned of the hotel's hey day from band leader Louis Trono, who was on a first name basis with the Hollywood greats. As a return to elegance, the hotel offers a new $12 million health spa, with cascading waterfalls, mineral whirlpools and Turkish baths. The Banff Springs is an Epicurean's delight and a golfer's challenge. The first tee-off, from high above the Bow River to its far shore, still gives me goose pimples.
Upper Hot Springs
After skiing Mount Norquay, hiking Sundance Canyon, or fishing Lake Minnewanka, Sulphur Mountain's Upper Hot Springs is a Banff ritual -- hot plunge, icy shower, steam bath, blanket-wrap and massage. Loose as a noodle and ready to devour an ox -- is how one usually feels after that routine. A gondola nearby will whisk you to the summit for a sweeping view of the valley. Sundance Canyon Trail leads to The Cave and Basin National Historic Site, where like honeymooners for generations past, we gazed through a telescope at surrounding peaks. Clad in Rundle-stone, like most Banff buildings, this site contains displays, a theater, and tours into the misty grotto, with its emerald pools, and warm sulfur water dripping down the cavern walls. Priceless Indian relics at nearby Luxton Museum are well worth seeing.
The Mile HIgh Teahouse at Lake Louise
If you really want to seize the moment, rent a canoe, or pedal your way to Bow Falls, Tunnel Mountain, or 101 equally delightful places. Heading north west from Banff, one can cruise the Trans Canada via Sunshine Village to Lake Louise in a breeze. For a change of pace, however, take the old road (Hwy 1A) along the north bank of the Bow River via Johnston Canyon, with its ink pots and nature walks. Chateau Lake Louise is a jewel in an exquisite crown. Talk of beauty and serenity! -- when one's creative spark needs rekindling, the Chateau is my choice. You can paddle a canoe in a scene right out of Hiawatha, or take the alpine trail to a Tea House for granola cakes and wild berry tea. The azure lake far below gets even smaller, as you climb the corkscrew path. Breathe deeply folks -- it gets to be a challenge near the top. Guess who was left standing still by a German couple in their mid 80s?
Jasper's Sunwapta Safari
Louise is a hard gal to say good-bye to -- but not to worry, there's more beauty around the next bend in the road. The Ice fields Parkway ranks among the world's great highroads, with glaciers standing like 100 icy sentinels. Jasper National Park begins at The Columbia Ice fields, a marvel of nature with the largest mass of ice in the Rockies. A fleet of Snow coaches traverse the Athabaska glacier, looking from a distance like ants on a giant vanilla marshmallow sundae. This seventh wonder is part of a formation that blanketed Canada for a million years.
The highway follows the Sunwapta River, joining its cousin the Athabaska at Sunwapta Falls. The hottest water on the entire drive (54°C) is at Miette Hot Springs, near Jasper Lake, and Punchbowl Falls. Don't worry, it's cooled to a comfortable 39° in the swimming pool.
Travel Alberta provides information, maps, travel guides to reservation services. Call 1-800-661-8888 toll-free Monday to Friday, 9:00 a.m - 4:30 p.m. Mountain time zone or write Travel Alberta , Box 2500, Edmonton, Alberta, T5J 2Z4 , Fax: (780) 427-0867 http://www.gov.ab.ca/edt/tourinfo.htm
1-800-661-8888 in North America
1-780-427-4321 outside North America
Box 2500 Edmonton, AB Canada T5J 2Z1
Fax: (780) 427-0867
travelinfo@travelalberta.com
Travel Alberta Head Office
500, 999 - 8th Street SW
Calgary, Alberta Canada T2R 1J5
Phone: 1-403-297-2700
Fax: 1-403-297-5068
info@travelalberta.com
Airport Profiles to come: Calgary International, Springbank, Airdrie, High River, Lethbridge, Medicine Hat and Okotoks airports. Edmonton International and Municipal, Cooking Lake, Ponoka, Red Deer, St. Albert, Villeneuve and Wetaskiwin airports. Lethbridge, Red Deeer, Medicine Hat and Grande Prairie Airports. [Top of page]