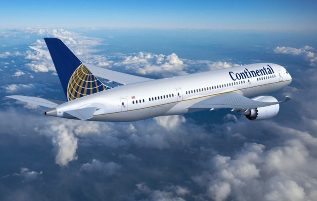 Continental Airlines Elevates Customer Service With Voxify's(R) Automated Agents(TM)
Automated Agents Serving Thousands of Customer Calls Daily for Flight Reconfirmation Deployed in Less Than 3 Months
ALAMEDA, Calif. Voxify, the first company to create Automated Agents(TM) for call centers with the conversational skills to handle advanced customer service calls, today announced that Continental Airlines (NYSE: CAL) is successfully using Voxify's Automated Agents to manage flight reconfirmation calls and deliver excellent customer service. A leader in customer service, Continental chose Voxify for their breakthrough technology and ability to deliver automated systems with superior customer experience, rapidly and cost-effectively. Continental estimates that approximately 10% of incoming customer calls involve flight reconfirmation.
Continental Airlines Reports Operational Performance
HOUSTON: Continental Airlines today reported an all-time record systemwide mainline load factor of 84.5 percent for July 2003, 5.0 points above last year's July load factor and 3.5 points above the previous record set in June 2003. In July 2003, the airline had an all-time record domestic mainline load factor of 85.7 percent, 6.5 points above July 2002 and 3.9 points above the previous record set in June 2003, and an international mainline load factor of 82.5 percent, 2.6 points above July 2002.
During the month, Continental recorded a U.S. Department of Transportation on-time arrival rate of 80.4 percent and a systemwide completion factor of 99.8 percent for its mainline operations. In the final five days of the month, Continental maintained an on-time arrival rate of 90.3 percent with an average load factor of 85.5 percent and no flight cancellations. In total, the airline operated 13 days without a single flight cancellation, including the day when hurricane Claudette passed within 90 miles of Continental's Houston hub at Bush Intercontinental Airport.
In July 2003, Continental flew 6.0 billion mainline revenue passenger miles (RPMs) and 7.1 billion mainline available seat miles (ASMs) systemwide, resulting in a traffic increase of 5.6 percent and a capacity decrease of 0.7 percent as compared to July 2002. Domestic mainline traffic was 3.7 billion RPMs in July 2003, up 9.3 percent from July 2002, and July 2003 domestic mainline capacity was 4.3 billion ASMs, up 1.0 percent from July 2002.
Systemwide July 2003 mainline passenger revenue per available seat mile (RASM) is estimated to have increased between 4 and 6 percent compared to July 2002. For June 2003, RASM increased 0.4 percent as compared to June 2002.
Continental's regional operations (Continental Express) set an all time load factor record of 74.4 percent in July 2003, 7.0 points above last year's July load factor and 0.9 points above the previous record set last month. Regional RPMs were 585.5 million and regional ASMs were 787.2 million in July 2003, resulting in a traffic increase of 61.4 percent and a capacity increase of 46.2 percent versus July 2002.
This press release contains forward-looking statements that are not limited to historical facts, but reflect the company's current beliefs, expectations or intentions regarding future events. All forward-looking statements involve risks and uncertainties that could cause actual results to differ materially from those in the forward-looking statements. For examples of such risks and uncertainties, please see the risk factors set forth in the company's 2002 10-K and its other securities filings, which identify important matters such as terrorist attacks, domestic and international economic conditions, the significant cost of aircraft fuel, labor costs, competition, regulatory matters and industry conditions, including the demand for air travel, the airline pricing environment and industry capacity decisions. The company undertakes no obligation to publicly update or revise any forward- looking statements to reflect events or circumstances that may arise after the date of this press release.
Voxkfy ( continued)
With Voxify's Automated Agents successfully handling these calls,
Continental's live agents can take thousands of calls every day for sales and
other customer services. Automated Agents will also help in reducing overall
hold times and increasing Continental's customer service capacity. Customer
satisfaction with Voxify's Automated Agents is already high, with over 70% of
customers using the system to complete their reconfirmation.
"Not only have we seen high completion rates within the first few weeks of
deployment, Continental has already achieved a 100% ROI in the three months,"
said Martin Hand, Staff Vice President Reservations and City Ticket Offices at
Continental. "Continental's call centers handle over 40 million calls a year.
As a recognized leader in customer service, it's imperative to handle each
call with the greatest care. With Voxify, we have been able to deliver that
high quality of service, while realizing significant savings through
automation. Voxify is an important part of our plan to deliver a consistent
and excellent customer experience."
Breakthrough Conversation Engine(TM) Technology
Voxify Automated Agents are built for advanced customer service calls,
such as fare finder and reservations, and can accommodate customers with
varying amounts of information. For example, Voxify's Reconfirmation
Automated Agents respond to customer inquires about their existing
reservations and provide them an ability to reconfirm their flights,
regardless of how much information the traveler has on hand.
High conversational usability requires complex call path maps to handle
the many variant call paths that a customer service call can take. Voxify has
solved this challenge with its patented Conversation Engine(TM) technology, a
breakthrough for automating the development and maintenance of highly usable
speech applications. The Conversation Engine imbues the Automated Agents with
advanced conversational skills, enabling them to engage callers in
sophisticated dialogue, and understanding multiple pieces of information in a
single response or adjusting to unexpected information provided by the caller.
As a result, callers experience an Automated Agent who understands how to give
them what they need quickly and easily, closely approximating the
effectiveness of a human being.
"Traditional approaches to speech applications required hard-coding for
each transaction and could only handle the simplest interactions, while still
requiring significant upfront investment, multiple deployment cycles, and high
ongoing maintenance costs," said Adeeb Shanaa, Voxify's CEO. "Our
Conversation Engine is unique in codifying the elements of complex customer
service conversations, enabling the automation of the more sophisticated
customer service functions. Our Automated Agents have been pre-trained in the
industries they serve, and can be deployed in weeks rather than months. They
can also be tuned, optimized and modified with minimal maintenance effort,
delivering immediate value and cost-savings to our clients."
"We did not want to engage in a long development cycle that would require
a large number of resources," says Hand of Continental. "In less than
3 months, Voxify has delivered a sophisticated speech application that meets
our high standards of customer service. We are impressed with Voxify's
technology and are very pleased with the initial results."
Built-in Reporting Capabilities
Continental deployed its first speech automation over two years ago and
has been using third-party software to analyze calls. Voxify's Conversation
Engine contains built-in performance tracking and detailed analytics on call
paths, including decision-making, drop-off points, and likelihood ratios,
helping Automated Agents continuously improve call handling and conversion
rates. Voxify's real-time reporting provides Continental immediate enhanced
visibility and understanding in this customer service area, allowing
Continental to leverage this business intelligence for ongoing training and
system development purposes.
"The history of the travel industry shows that the best customer
experiences come from agents who deliver personalized service. Customers
expect the personal touch in every interaction -- even if the voice on the
other end isn't a human being. We've endeavored to this standard by
delivering a personal touch with every customer interaction. By using Voxify,
we're taking a giant leap forward in this, which will pay significant
dividends for our valued customers," said Continental's Hand.
"Voxify's technology takes customer service to new heights. Automated
Agents are best utilized as part of a unified pool of agents -- human and
automated -- that are totally dedicated to customer service and nothing less,"
summarized Voxify's Shanaa. "By using Voxify's Automated Agents, Continental
continues to deliver on its brand promise of excellent service."
About Voxify
Voxify(R) is the first company to create automated call center agents with
the conversational skills to handle advanced customer service calls. Powered
by the company's patented Conversation Engine(TM), Voxify Automated Agents(TM)
model the intelligence and personality of a trained live agent, allowing them
to engage callers in sophisticated dialogue to perform advanced customer
service functions, like reservations, sales, and account requests. Voxify
Automated Agents are helping call centers deliver new services, close more
sales, and handle unplanned call volumes without hiring additional staff.
Voxify was founded by MIT technologists and enterprise software veterans.
Headquartered in Alameda, California, the company has a growing list of
skilled partners around the globe. For more information, visit
www.voxify.com.
PRELIMINARY TRAFFIC RESULTS
JULY 2003 2002 Change
REVENUE PASSENGER MILES (000)
Domestic 3,725,041 3,407,722 9.3 Percent
International 2,296,999 2,295,698 0.1 Percent
Transatlantic 1,099,947 1,079,408 1.9 Percent
Latin America 789,479 725,160 8.9 Percent
Pacific 407,573 491,131 (17.0)Percent
Mainline Jet 6,022,040 5,703,420 5.6 Percent
Regional Jet 585,500 362,654 61.4 Percent
AVAILABLE SEAT MILES (000)
Domestic 4,345,772 4,304,401 1.0 Percent
International 2,782,874 2,872,976 (3.1)Percent
Transatlantic 1,301,973 1,300,251 0.1 Percent
Latin America 922,966 925,469 (0.3)Percent
Pacific 557,935 647,257 (13.8)Percent
Mainline Jet 7,128,647 7,177,377 (0.7)Percent
Regional Jet 787,167 538,380 46.2 Percent
PASSENGER LOAD FACTOR
Domestic 85.7 Percent 79.2 Percent 6.5 Points
International 82.5 Percent 79.9 Percent 2.6 Points
Transatlantic 84.5 Percent 83.0 Percent 1.5 Points
Latin America 85.5 Percent 78.4 Percent 7.1 Points
Pacific 73.1 Percent 75.9 Percent (2.8)Points
Mainline Jet 84.5 Percent 79.5 Percent 5.0 Points
Regional Jet 74.4 Percent 67.4 Percent 7.0 Points
CARGO REVENUE TON MILES (000)
Total 75,405 78,645 (4.1) Percent
YEAR-TO-DATE 2003 2002 Change
REVENUE PASSENGER MILES (000)
Domestic 21,013,187 21,424,945 (1.9)Percent
International 12,955,507 13,796,642 (6.1)Percent
Transatlantic 5,796,103 6,026,733 (3.8)Percent
Latin America 4,685,161 4,641,353 0.9 Percent
Pacific 2,474,243 3,128,556 (20.9)Percent
Mainline Jet 33,968,694 35,221,587 (3.6)Percent
Regional Jet 3,119,688 2,200,652 41.8 Percent
AVAILABLE SEAT MILES (000)
Domestic 27,475,778 28,604,134 (3.9)Percent
International 17,896,956 18,098,067 (1.1)Percent
Transatlantic 7,800,612 7,685,140 1.5 Percent
Latin America 6,316,695 6,304,952 0.2 Percent
Pacific 3,779,649 4,107,975 (8.0)Percent
Mainline Jet 45,372,734 46,702,201 (2.8)Percent
Regional Jet 4,627,257 3,494,782 32.4 Percent
PASSENGER LOAD FACTOR
Domestic 76.5 Percent 74.9 Percent 1.6 Points
International 72.4 Percent 76.2 Percent (3.8)Points
Transatlantic 74.3 Percent 78.4 Percent (4.1)Points
Latin America 74.2 Percent 73.6 Percent 0.6 Points
Pacific 65.5 Percent 76.2 Percent (10.7)Points
Mainline Jet 74.9 Percent 75.4 Percent (0.5)Points
Regional Jet 67.4 Percent 63.0 Percent 4.4 Points
CARGO REVENUE TON MILES (000)
Total 533,963 511,103 4.5 Percent
PRELIMINARY OPERATIONAL AND FINANCIAL RESULTS
JULY 2003 2002 Change
On-Time Performance (A) 80.4% 82.8% (2.4)Points
Completion Factor (B) 99.8% 99.5% 0.3 Points
YEAR-TO-DATE 2003 2002 Change
On-Time Performance (A) 83.3% 84.8% (1.5)Points
Completion Factor (B) 99.4% 99.8% (0.4)Points
June 2003 consolidated breakeven load factor (C), (D) 76.6 Percent
July 2003 estimated year-over-year
RASM change 4-6 Percent
July 2003 estimated average price per
gallon of fuel, excluding fuel taxes 77.0 Cents
July 2003 estimated consolidated
breakeven load factor (C) 77 Percent
July 2003 actual consolidated load factor (E) 83.5 Percent
August 2003 estimated consolidated
breakeven load factor (C) 76 Percent
YEAR-OVER-YEAR RASM (F)
2002 vs 2001 2002 vs 2000
May (6.3) Percent (15.1) Percent
June (5.5) Percent (15.5) Percent
July (4.0) Percent (13.5) Percent
August (2.7) Percent (15.2) Percent
September 10.8 Percent (17.6) Percent
October 9.3 Percent (15.7) Percent
November (1.7) Percent (18.4) Percent
December 10.1 Percent (5.7) Percent
2003 vs 2002 2003 vs 2001
January 3.6 Percent (10.9) Percent
February (0.4) Percent (11.3) Percent
March (11.8) Percent (17.4) Percent
April (1.1) Percent (11.3) Percent
May 2.0 Percent (4.4) Percent
June 0.4 Percent (5.1) Percent
July (estimated) 4-6 Percent (1)-1 Percent
(A) Department of Transportation Arrivals within 14 minutes
(B) System Mileage Completion Percentage
(C) Consolidated load factor (including Continental Airlines and
Continental Express) needed to break even on a consolidated net income
basis. Actual consolidated breakeven load factor may vary
significantly from estimates depending on actual passenger revenue
yields, fuel price and other factors. Month-to-date consolidated loadfactor information can be found on Continental's website atcontinental.com in the Investor Relations-Financial/Traffic Releases
(D) Charge of $14 million related to aircraft deferrals accounts for
1.8 percentage points
(E) Includes Continental Airlines and Continental Express
(F) CAL has been releasing RASM data since May 2001
SOURCE Continental Airlines