Footloose in Historic Gastown
Walking Tours by Jerry W. Bird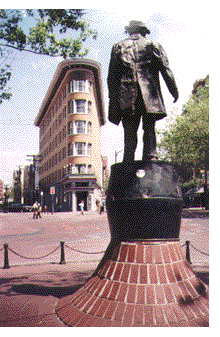 Have you recently arrived for a cruise or convention? Just steps from Canada Place, where Alaska-bound cruise ships berth, the West Coast Express Train rolls in, and float planes take off for BC's Adventure Islands, historic Gastown begins. Its cobblestone streets and ornate lampposts mark this piece of history a living museum ... an area of charm, character and curiosity.
From our magazine's office overlooking "Maple Tree Square," and the statue of Gassy Jack, our staff and visitors witness this magical transformation daily, as Gastown continues to amaze and delight. By day it's a magnet for hordes of tourists and locals, who flock to the art galleries, antique stores and native crafts shops, bistros and sidewalk cafes. Want the name of one of the neatest card shops in town, where you can find something unique for any occasion? Visit Kim Prints on Powell Street in the lower floor of the famous Europe Hotel, opposite Gassy Jack's statue (in above photo).
---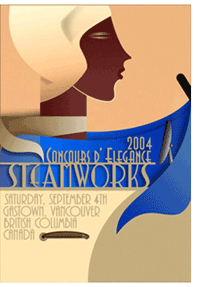 West Coast Gets World Class Concours
This display of 75 to 100 Classic and heritage cars took place from on Saturday Sept 04, 2004 in the Gastown district of Vancouver. Water Street was closed off for the day and cars were displayed from the Gassy Jack statue all the way to Granville Square. There was celebrity judging of the vehicles with awards for six categories of which "Most Elegant Car" will be the pièce de résistance.
At last, the Pacific Northwest has a concours to rank with the best. Steamworks Concours d'Elégance in Vancouver BC's historic Gastown district. Similar to New York's prestigious Louis Vuitton concours, this is an "invitation only" event with up to 100 rare and beautiful classics on display, competing for the title of "most elegant car." The Steamworks is a brew pub adjacent to the famous steam clock, a 9-foot tall, antique sidewalk-mounted clock that announces the hour by a whistle and huge puff of steam. Gastown's streets are paved with bricks, its buildings dating back to Vancouver's wilder days when it was first established as a major west coast port. A wonderful locale for what will surely become a prime stop on the vintage car calendar.. Web site:http://vintagecars.about.com/b/a/2003_08_26.htm
---

We heartily applaud the city's new Gastown Heritage management Plan that will involve the downtown tourist area's first serious face-lift in 30 years. Called the "Birthplace of Vancouver," Gastown has the city's largest concentration of heritage buildings. Even some of the newer buildings are adopting the turn of the century facade.

My early impressions of Gastown were much different. Each Saturday, I worked as a swamper, loading cases of grocery items from its busy warehouses and those of nearby Yaletown, the newest trendy district. As a youngster, Gastown was already an exciting place to visit, as the North Van ferry docked at the foot of Columbia Street. Woodward's Department store stood like a glorious beacon, the Army & Navy store was a Mecca for kids shopping for war surplus, Chinatown was where we renewed our arsenal of fireworks, and East Hastings Street was a blaze of neon.

Gastown springs to life each evening, with ethnic fare, gourmet dining, live entertainment and a variety of bars, pubs, and comedy acts. This diversity has prompted many young, upwardly mobile Vancouverites to consider our new urban hotspot as a unique place to live. It's a generation that seeks what Monty Python calls "something completely different"... which they're discovering right here in Vancouver's Gastown.

If you have an item on Gastown or any other BC Community. Send it to Airways BC Scene: airhwy@dowco.co

Vancouver Area Travel Links
www.hrmacmillanspacecentre.com
www.grousemountain.com
www.granvilleisland.bc.ca
www.moa.ubc.ca Museum of Anthropology
www.vanaqua.org Aquarium
www.vmm.bc.ca Maritime Museum
www.hellobc.com
www.findfamilyfun.com
www.pne.bc.ca (Playland/Pacific National Exhibition)
www.tourism-vancouver.org (Tourism Vancouver )
www.discovervancouver.com
www.portal.ca/vanbike/equip/bikerent.htm (rent bikes)
www.bikeways.com (bike routes )

Add your link to this list by email to: Air Highways Links
COTA News and Background

Tourism Vancouver's Main Website
http://www.tourism-vancouver.org/docs/visit/