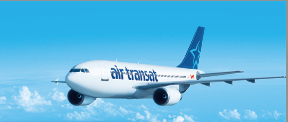 Air Transat is Canada's leading holiday travel airline. It carries some 3 million passengers annually to nearly 60 destinations in 25 countries. Air Transat has a fleet of 23 Airbus A330s and A310s. The company employs approximately 2,000 people. Air Transat is a subsidiary of Transat A.T. Inc.
Transat A.T. Inc. is an integrated international tour operator with more than 60 destination countries and that distributes products in over 50 countries. A holiday travel specialist, Transat operates mainly in Canada and Europe, as well as in the Caribbean, Mexico and the Mediterranean Basin. Montreal-based Transat is also active in air transportation, destination services and distribution. (TSX: TRZ.B, TRZ.A)

August 18, 2013

Air Transat, a wholly-owned subsidiary of Transat A.T. Inc. that has been registered under the International Air Transport Association's IOSA (IATA Operational Safety Audit) program since 2008, has now become the first airline in the world to renew its IOSA Registration based on the E-IOSA methodology. This latest achievement follows a stringent audit recently completed with success.
IOSA provides a standardized audit program for airlines' operational management and control systems, based on internationally recognized standards and supported by a rigorous quality assurance process that aims at improving operations and safety in the airline industry. The program comprises more than 900 stringent standards that contribute to airline operational safety in the areas of management, safety and security of flight operations, operational control, aircraft engineering and maintenance, cabin operations, ground handling and cargo operations.
In 2011, IATA added new elements to the program and introduced E-IOSA, which involves ongoing internal assessment processes, to provide enhanced value and continuity of the audit process. At the request of IATA, Air Transat participated in the development of the new program, which will be mandatory for IATA member companies from 2015.
"We are extremely proud to be the first airline in the world to renew its IOSA Registration based on the E-IOSA methodology," said Jean-François Lemay, General Manager of Air Transat, adding that "Air Transat maintains its leadership in safety management by meeting the highest international safety and operational management standards".
"We congratulate Air Transat for becoming the first airline to complete the rigorous standards of the Enhanced IOSA audit process. Their commitment to support implementation of Enhanced IOSA is commendable and paves the way for other airlines to follow suit," said Guenther Matschnigg, IATA's Senior Vice President, Safety and Flight Operations.
Source:- Air Transat

Transat A.T. Inc. completes acquisition of British tour operator Canadian Affair
Montreal, August 1, 2006 - Transat A.T. Inc., one of the largest integrated tourism companies in the world and Canada's holiday travel leader, has now completed the acquisition of all of the shares of British tour operator The Airline Seat Company (TASC), which operates under the Canadian Affair brand, for ?20.4 million in cash (approximately C$42.8 million).
Established in 1995, TASC is one of the largest British tour operators specializing on U.K.-Canada routes, with 200,000 return seats and annual sales of approximately ?75 million (approximately C$155 million).
"This acquisition squares perfectly with the strategic plan we adopted in 2005 that states our intention to expand the scope of Transat as an outgoing tour operator in Europe, building on our already significant position. In addition, TASC is very strong on direct sales to the consumer, which represent the fastest growing market segment in the U.K. This considerably enhances the strategic value of this acquisition," said Jean-Marc Eustache, President and Chief Executive Officer of Transat A.T. Inc.

Transat is already very active in Europe. The U.K. alone represents 200,000 return seats between Canada and London, Birmingham, Edinburgh, Exeter, Glasgow, Manchester, Newcastle and Belfast, as well as Shannon and Dublin in the Republic of Ireland.
Transat A.T. Inc., with its head offices in Montreal, is an integrated company specializing in the organization, marketing, and distribution of holiday travel. The core of its business consists of tour operators in Canada, France and now the United Kingdom. Transat is also involved in air transportation, value-added services at travel destinations, as well as in distribution through travel agency networks. Transat is listed on the Toronto Stock Exchange (TSX: TRZ.B; TRZ.A)
Website
Fly Air Transat from Canada to 90 destinations in 25 countries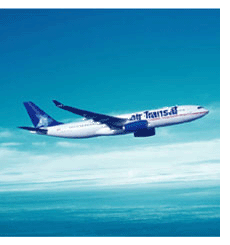 As editors of Air Highways and Africa Travel magazine with a varied agenda of events, we have flown Air Transat from Vancouver to London on our regular to various destinations in Africa and have been pleased with the service, price, reliability and convenience of their flights. Air Transat specializes in charter flights from several Canadian and European cities to vacation destinations, mainly in the south during the winter months and in Europe and Canada during the summer. Year-round, we link Canada's principal cities. Our fleet of 15 aircraft serves 90 destinations in 25 countries. With a fleet of 17 aircraft, Air Transat is Canada's leading vacation airline. Air Transat is a subsidiary of Transat A.T. Inc., an integrated company specializing in the organization, marketing, and distribution of holiday travel. The core of its business consists of tour operators in Canada and France. Transat is also involved in air transportation, hotel management, and value-added