Footloose on Robson Street -
by Muguette Goufrani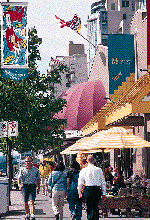 My brother Jean Pierre and I came to Vancouver from France, and like many Europeans who live here, my favorite venue is Robson Street, where Jean Pierre had his own beauty studios for over a decade. For many years, this ten block stretch was called "Robsonstrasse" because of its variety of German and Austrian shops, delis, coffee bars and great little restaurants. Last month we found out that the Heidelberg Restaurant, a fixture in Robson Square for generations is still going strong, it has moved down to Howe Street and is part of the City Centre Travelodge. Today, most all of Greater Vancouver you'll find a touch of the Orient. Expo '86 sparked a carnival atmosphere by way of street attractions, with buskers, jugglers, poets, clowns and musicians performing on Robson's main shopping strip.
A wide variety of chic boutiques make Robson a Shopper's Mecca, with European, African, American and original West Coast designer clothing, Northwest Coast Indian art and jewelry among the popular items.One four block stretch on Robson is home to many famous retailers - Arzita's, Roots, Below the Belt, Aveda, Fila and Virgins, and other popular names. Robson Street is often compared to Hollywood's Rodeo Drive, and its stores keep late hours for shoppers' convenience and to help pay the abnormally high rent. Thanks to Tourism Vancouver for the images used in the above 'fotomation.'

Robson Market
The lower (west) end of Robson Street has undergone less change in the recent decade and is a somewhat more relaxed. One disappointment has been Robson Public Market, which has experienced turnover, losing several key tenants. Despite that fact, we still shop there often, because its so well located, has all the basics we want including a superb meat market -- and free underground parking. With several large residential complexes in the area nearing completion, Robson Market will soon spring back to its original level of activity. Across the street is Capers, an upscale food store -- another great place to stock up for your next picnic in Stanley Park or English Bay.
Robson Street springs to life as night descends on a city that was once considered the neon capital of Canada; people cruising on foot or joining the passing parade of cars, jeeps and limos. There's an electric selection of nightly entertainment on these busy streets, from rock n' roll to jazz, blues and top 40, in venues ranging from funky clubs and bars to elegant restaurants. The Empire Landmark's revolving rooftop restaurant lets you drink in the scenery along with your sparkling wine or martini. Street level bistros and coffee houses present a
totally different experience.
We used this elegant venue for a commercial video shoot several years ago, and it proved to be an ideal locale to show off Vancouver's West End. Vancouver claims to have the world's highest ratio of *foreign-born population, reflected in its diversity of restaurants and beautiful women. As told to us by sophisticated travelers, Vancouver now has the best Chinese food available anywhere, including Hong Kong.

Salt Water City, from Mill to Metropolis


by Jerry W. Bird
Readers of Conde Nast Magazine voted Vancouver one of the world's top 10 destinations, attracting nearly 8 million visitors at last count. Nearby Whistler Resort has been voted North America's top ski resort by Lifestyles of the Rich and Famous for four years in a row. Downtown Vancouver is only 24 miles from the Canada-US boundary and 20 minutes from the international airport, with float plane and/or helicopter service from the waterfront to Victoria, Nanaimo and Seattle. Two terminals serve BC-Alaska cruise passengers, with 250 sailings from May to October. Three railway stations offer passenger service to the BC's interior, Atlantic Canada and America's Amtrak. BC Ferries, with one of the world's largest fleets, serves a variety of ports, from the Southern Gulf Islands to Prince Rupert and the Queen Charlottes.
Lifestyle: Vancouver ranks second among 118 world cities in quality of life.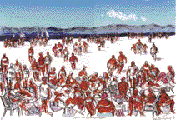 Tempered by the Pacific Ocean currents,
the city's weather is the mildest in Canada. Spring comes early, with flowers in full bloom by early March. Value: Currently the US dollar is worth $1.40 Canadian.
Source: BC Gov't Apec brochure. *local survey of published statistics. Beach Scene by Molly Lamb is from our "Artists for Kids." feature.

Speaking of Dining: On my latest inspection trip, I counted no less than 27 restaurants inside the first two blocks from Burrard Street west. One of these is Joe Forte's Seafood Restaurant, named after a Jamaican, who earned a place in history as lifeguard at English Bay. Want to dine in style, with a park and/or Ocean view? Stanley Park has three superb restaurants, The Fish House, The Tea House and Prospect Point Cafe. Or how about a Dinner Cruise of Burrard Inlet, from Stanley Park's Coal Harbor Marina. Gabriola Mansion, named for the Gulf Islands sandstone used in construction was built in 1899 at the corner of Davie and Nicola Streets by the Rogers family of BC Sugar fame. It was declared a heritage building in 1974 and after restoration became Hy's Mansion, an upscale restaurant. Carrying on the fine food tradition, the building is now the home of Romano's Macaroni Grill (more to come).
Footloose in Vancouver's Gastown.
Then cap it all off on SkyTrain and SeaBus.
It's a great way to experience the city and four of its suburbs for pocket change.
---
Tourism Vancouver's Main Website

http://www.tourism-vancouver.org/docs/visit/
---
Tourism Vancouver's Main Website

http://www.tourism-vancouver.org/docs/visit/
Visitors requiring assistance for accommodation can call: Tourism British Columbia's 1.800.HELLOBC Tourism Vancouver's Visitor InfoCentre on Burrard Street. 604.683.2000

World66 Vancouver Guide
http://www.world66.com/vancouver/htm