Street Cars and Street Smarts: Vancouver's Railway Renaissance
by Jerry W. Bird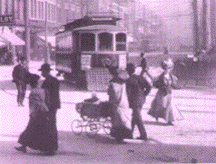 It's about time! Like many Canadian cities, Vancouver is a child of the CPR, which was British Columbia's one way ticket to Confederation in 1867. That famous railway brought my great grandfather Henry Morgan here to set up the fledgling city's first blacksmith shop, where the massive Pacific Centre now stands, between Howe and Granville Streets. My Grandfather Bird also came west by train, setting up roots in Central Alberta, and later moving to Seattle, where my dad was born. Small wonder as a child, I had a great fascination for rail travel, including the bright red streetcars, whose lines crisscrossed the city like a spider's web. I loved everything about them, from the wicker seats and clanging bell, to the conductor's uniform and the way he would call out the street names before each stop. The Interurban Trams on the other hand were an awesome sight, as I recall in my book Fact vs. Fiction:
Just then, we heard the four o' clock interurban tram approaching. Brick red, bound for glory and the fertile fields of Chilliwack, it rounded Venables Street, lurching onto Commercial Drive like a drunken sailor. Noisy, menacing and top heavy, the interurban trams were the ugly ducklings of BC Electric's vast fleet. They were also its workhorses, linking a network of towns and villages with Vancouver's central core. The squeal of metal on metal drowned out the doctor's reply , but in those few seconds, he reached a conclusion."
---
Above Fotomation: Scenes of present day Vancouver courtesy of Tourism Vancouve.

BC Transit Museum Society: Dedicated to the restoration, preservation and operation of vehicles significant to the history of public transit in British Columbia.


BC Transit, Oakridge Transit Centre, 949 41 Ave., Vancouver, BC V5Z 2N5, Tel. 604 665 3903, Charters 604 325 9990
www.trams.bc.ca or www.city.vancouver.bc.ca/streetcar
---
Tourism benefits of Suburban Rail
Hearing that the existing Historic Streetcar Line that now operates for the short summer tourist season, may be extended to Granville Island and downtown attractions warms my heart. Someone is finally looking ahead. Imagine the windfall if Vancouver 's Historic Streetcars were to carry passengers from Canada Place and Vancouver Trade and Convention Centre, via Chinatown and False Creek to Granville Island and beyond. By simply opening the existing Arbutus corridor, you could ride all the way to Richmond - even the Vancouver International Airport.

Should the city spend a proposed $500,0000 to complete the line's eastern section beyond it's current terminus at Quebec Street to Science World and the Main Street Sky Train station? Many feel it will be well invested, yielding bountiful returns in tourist dollars. Look what the cable cars have done for San Francisco. To me, Vancouver's streetcars painted a unique picture, as my story continues:
"Number 4 streetcar rumbled along Commercial Drive, past Woolworth's 5, 10 and 15 cent store. It's clanging bell added further sound effects to the scene, a cacophony of childish delight; apple-cheeked tots crowded the swings, teeter totters, twirlabouts and slides. They rolled in their Sunday best on the doggie-do spotted lawns, dipping and diving in the shallow concrete pool. Parents shared in the excitement, some getting almost as dirt- encrusted and waterlogged as their offspring."

So much for fond memories. Is this possible extension to Marpole, Richmond, Sea Island- even historic Steveston too far fetched? We don't think so, knowing that an interurban line ran through Kerrisdale, along the Arbutus corridor until the 1950s, providing many stops along the way. There will be much more on this topic in the coming months. Watch for it. Send your input, photos or items regarding the street cars and rail travel in general to : Make Tracks- airhwy@dowco.com
For a pleasant tour of Greater Vancouver, get elevated.
Read our item on SkyTrain.