Air Highways to China
"Where tourism goes, trade flows"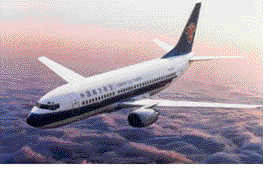 China Southern Resumes 4th Weekly Transpacific Flight
China's Largest Airline Back to Pre-SARS Transpacific Schedule
LOS ANGELES: China Southern Airlines (NYSE: ZNH) (HKSE: 1055), the largest airline in The People's Republic of China, http://www.cs-air.com/en is pleased to announce that due to high market demand - it is returning its 4th weekly transpacific flight between Los Angeles and China, starting Monday, September 1.
China Southern suspended this fourth weekly flight during the recently concluded severe acute respiratory syndrome (SARS) crisis in Asia. With the return of its fourth transpacific flight, China Southern Airlines is back to its pre-SARS transpacific schedule.
Starting September 1st, China Southern Airlines will offer four weekly Boeing 777 transpacific service - Monday, Wednesday, Friday and Sunday evenings - on a code-share basis with Delta Air Lines, http://www.delta.com
"The market demand for our Monday service from our gateway in North America is very important to our company and we are quite pleased to see bookings rapidly coming back in all categories of service," said Mr. Wei Jia Liao, General Manager, China Southern Airlines.
China Southern Airlines features the Boeing 777, the most state-of-the-art aircraft in the world. Each PremiumBusiness, PremiumEconomy and Economy seat is equipped with an individual crystal PTV screen with stereo headsets. Passengers aboard China Southern Airlines' Boeing 777 aircraft enjoy up to 11 channels of motion picture and informational programming selections with private, fully adjustable video monitors.
China Southern Airlines' PremiumBusiness and PremiumEconomy in-flight service features gourmet meals served on fine china and white linen with a selection of exceptional wines and liqueurs. China Southern Airlines is the only airline in China to offer a wide selection of major Hollywood films as part of its in-flight entertainment service.
The largest airline in The People's Republic of China for the past 24 years, China Southern Airlines connects more than 80 cities around the globe. Major business and vacation destinations served in China include: Beijing, Chengdu, Guangzhou, Guilin, Hong Kong, Kunming, Shanghai, Shenzhen and Wuhan and as well as international service, including: Amsterdam, Bangkok, Fukuoka, Hanoi, Ho Chi Minh City, Islamabad, Kuala Lumpur, Jakarta, Los Angeles, Manila, Melbourne, Moscow, Osaka, Penang, Phnom Penh, Seoul, Singapore, Sydney and Tokyo
For China Southern Airlines reservations and information, please contact your local travel agent.
Mr. Jeff Ruffolo
Manager, Public Relations
Office: 1-909-734-6141
Fax: 1-909-734-6146
E-Mail: RuffoloPR@aol.com fine china on white linen with a selection of gourmet entrees.