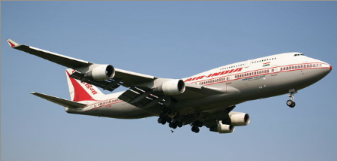 Air
India
is the state-owned national carrier of India with its main hubs at
Delhi
and
Mumbai
airports. It established an international LCC subsidiary,
Air India Express
, in 2005 and merged with
Indian Airlines
in Aug-2007. Its network covers domestic and regional destinations, as well as international services to Asia, the Middle East, Europe, and North America. Capa Aviation.
Air India

http://www.airindia.com/

Cargo Tracking
To give you real-time update on your shipment status, Air-India offers you fully computerised Cargo Shipment Tracking system. This system, provided by Unisys, is constantly being upgraded to keep pace with the changing needs of modern business.
Our Cargo offices worldwide track all Air-India shipments from acceptance to delivery. Even while shipments are transferred to another carrier or trucked for onward carriage. This allows our personnel to give you accurate update on the status of your shipment throughout its travel time.
Indian Cargo Community System (CCS)
To make the most of the speed advantage that air cargo offers you, you need constant and prompt feedback on the current status of your consignment. You can now do that using Information Technology (IT).
Air-India, along with the Indian Freight Forwarders Community of India (ACAAI), has played a pioneering role in setting up an Indian CSS. By pressing a few keys on the PC, freight forwarders in India can access our host system for Cargo Space Reservation. Within just a few seconds, the shipment can be tracked from the origin to destination, at any time round the clock. The participating freight forwarder also gets a periodic update on the status of the shipment, automatically on his PC.
The Indian CCS is also in the process of establishing online connectivity with other players of the air cargo trade; such as the Customs, and the Airport Authority of India (AAI). Once in place, this network will facilitate speedier processing of cargo on ground. And quicker deliveries for you.