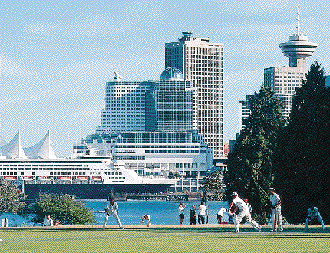 Footloose in Vancouver's Historic Gastown
Recently arrived for a cruise or convention? Just steps from Canada Place, where Alaska-bound cruise ships berth, Gastown begins.

Footloose in Stanley Park, the Beaches and English Bay: A sea of umbrellas one moment, local denizens decked in everything from beachwear to high fashion the next.

Footloose on Robson Street: Robson Street is often compared to Hollywood's Rodeo Drive, and its stores keep late
Footloose at Granville Island: You could spend a day easily.
Footloose on Vancouver's Waterfront: Ed Anderson covers the Air harbour and port with exciting photos and items.

Footloose on Vancouver's Elevated Railway
SkyTrain and SeaBus provide a Supermall 15 miles long.
Footloose on an Old Fashioned Streetcar
Street Cars, Street Scenes, Street Smarts: Vancouver's Rail Renaissance.

Footloose at Vancouver International Airport
A classy shopping mall and a convention hotel all in one complex
.
Footloose on Vancouver's North Shore and West Van
Footloose on Lonsdale Quay

Vancouver Convention Centre: Exciting things are happening right now at the waterfront. Take a look.
BC Scene Magazine: New web site featuring Economic Development, Travel and Tourism in British Columbia-Yukon and Cascadia (Washington-Oregon)

Tourism Vancouver's Main Website
http://www.tourism-vancouver.org/docs/visit/
Visitors requiring assistance for accommodation can call: Tourism British Columbia's 1.800.HELLOBC Tourism Vancouver's Visitor InfoCentre on Burrard Street. 604.683.2000

World66 Vancouver Guide: http://www.world66.com/vancouver/htm