D I S C O V E R
T H E S H R I N E T O W N S
O F F R A N C E !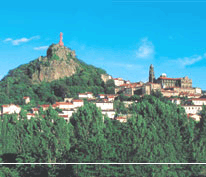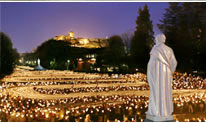 Maison de la France promotes significant sectors of tourist activity through its theme-based Clubs or Working Groups, including the including the "Tourism & Pilgrimage (Tourisme et Pèlerinage)" Working Group set up in 2001 in conjunction with the Association of Shrine Towns of France.
The Association of Shrine Towns brings together Tourist Boards and Shrines in pursuit of a common objective: improving visitor reception for both tourists and pilgrims. Each of the nine towns belonging to the association has a shrine which receives at least 500,000 visitors and a Tourist Board with at least 2-star classification.

The towns are presented in this brochure both from a tourist and religious point of view. In it you will find all the addresses you need for organizing your stay in one or more of these towns. Discovery packages can also be organized to fit your specific needs.
Visit the website: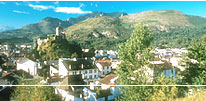 www.villessanctuaires.com/anglais/index.htm
Established in 1987, the principal mission of Maison de la France is to promote France as a Destination for foreign travelers.
It has over 1300 members: regional authorities, tourism professionals and partners whose operations are related to the supply of services used by tourists. The Paris head office of Maison de la France formulates the overall strategy and coordinates the work of its 34 offices in 29 countries.
For further information on tourist heritage and the shrine towns, also visit France Guide. A genuine portal for tourism in France, the website of Maison de la France brings you the services of its 1315 partners: information on the regions, accommodation, transport, culture, active and sporting leisure pursuits...as well as a rolling calendar of events, theme-based magazines, and more.
Hundreds of useful addresses for preparing your next visit to France!