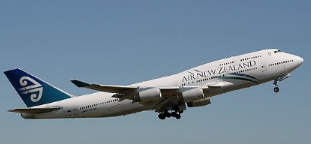 The national carrier of
New Zealand
, Air New Zealand is based in
Auckland
and uses a fleet of narrow and wide-body
Airbus
and
Boeing
aircraft. Air New Zealand
operates a domestic and regional network within New Zealand and the Pacific and international services to
Australia
, Asia, North America and Europe. Air New Zealand is member of the
Star Alliance
. Capa Aviation.
Air New Zealand named Airline of the Year by AirlineRatings.comTheodore Koumelis - 15 January 2014, 00:26
PERTH - AirlineRatings.com the world's foremost safety and product rating website has announced the selection of Air New Zealand as its Airline of the Year for 2014.

www.AirlineRatings.com celebrates and promotes excellence in the airline industry and the pinnacle of these efforts is its Airline Excellence Awards.

Air New Zealand is being honoured for its in-flight innovations, financial performance, operational safety and motivation of its staff that have stamped the airline an industry trendsetter.
The editorial team, one of the world's most awarded and experienced, lauded Air New Zealand's commitment to a young fleet and its continual focus on the environment. The airline also won Best Premium Economy Class.

Airlineratings.com Editor Geoffrey Thomas said, "AirlineRatings.com editorial team took special note of Air New Zealand's comprehensive long haul offering which has two multi-award winning products in the Skycouch and Spaceseat for economy minded passengers."

"Quite simply Air New Zealand is an airline of first choice. And given the airline's location and the country's size its performance is even more remarkable."

Air New Zealand's Chief Executive Officer Christopher Luxon said, "These awards are a great way to kick off 2014 and reaffirm the hard work of more than 11,000 Air New Zealanders across our business, including airport and lounge teams, flight and cabin crew, cargo, operations and ramp staff, contact centres and corporate staff who all work tirelessly to deliver a consistent customer experience."

Other winners in the Airline Excellence Awards are: Emirates, Qantas, Jetstar, Singapore Airlines, Silk Air, Cathay Pacific, Swiss International, Air Canada, JetBlue, Norwegian and flydubai.

Scooping three awards Emirates, one of the industry's leading lights, has been awarded Best First Class, Best IFE and Best Long Haul Airline based in the Middle-East and Africa. The editors noted that Emirates is consistently amongst the finest in the industry across all aspects of service delivery and operational safety.

The Qantas Group also picked up three awards. Qantas was awarded Best Lounges and Best Economy Class, while Jetstar was named Best Low Cost Airline in Asia. AirlineRatings.com editors praised Qantas' domestic economy class product stating that it was clearly the world's best while the airline's domestic lounges are outstanding.

The Singapore Airlines group picked up two awards: Best Regional Airline for subsidiary Silk Airand Best Long Haul Airline based in Asia/Pacific. The editors said that Singapore Airlines is another industry standout that has consistently set the industry agenda.

Cathay Pacific picked up Best Business Class and the award adds to a string of accollades the airline has won for its business class offering.

For value and safety in the Low Cost Airline sector the editors selected JetBlue for the Americas, Norwegian in Europe and flydubai for the Middle-East/Africa. The editors noted that these three airlines and Jetstar in Asia are clear industry leaders in innovation and bringing people together.

For excellence in Long Haul the editors selected Air Canada for the Americas, Swiss International for Europe as well as Emirates for the Middle-East/Africa and Singapore Airlines for Asia/Pacific.

AirlineRatings.com has also announced its top ten airlines for 2014.

Heading the list is Air New Zealand followed by Emirates, Cathay Pacific, Singapore Airlines and Qantas making up the top five. The editors also recognised Etihad Airways (6th), Royal Jordanian Airlines (7th) Swiss International (8th), Virgin Atlantic (9th) and All Nippon Airways (10th).
Air New Zealand's Aircraft Engineering Recruitment Programme Well Underway


Air New Zealand is well underway with its programme of recruiting aircraft engineers to support its airframe maintenance operations. This will mean approximately 70 additional jobs in Christchurch, including 20 trainees, and 30 for the airline's Auckland-based engineering operations.
Air New Zealand Engineering Services Vice President, John Mounce, said the recruitment drive was in response to the evolving needs of the business.
"Additional qualified staff are required to support the growth of our airframe maintenance and overhaul business as well as maximise asset utilisation in what is an ever-increasingly competitive market," said Mr Mounce.
Air New Zealand is recruiting suitable people both locally and from the United Kingdom where there is a pool of talent.
To date the airline's Christchurch engineering facility has recruited 20 local engineers, has another 10 commencing work over the next two months, has a number of offers on the table with interested UK applicants, and is currently advertising another 13 positions.
In Auckland the recruitment programme is underway both locally and in the UK for the additional 30 aircraft engineers required.