Fly away with Cathay Pacific
by Muguette Goufrani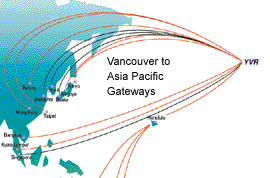 We have flown Cathay Pacific Airlines from Vancouver, BC , Canada to New York for the past seven years, and are extremely pleased with the service we've received. If Africa Travel Magazine were handing out awards for courtesy and friendliness at this time, the staff at the JFK International Airport in New York would rank extremely high. We would gladly recommend this airline to anyone flying between these two cities and anywhere else on its agenda. Here is a brief profile on the airline from its excellent in-flight magazine:
---
---
Cathay Pacific Airways was founded in Hong Kong in 1946 by two adventurers American Roy Farrell and Australian Sydney de Kantzow. The Cathay Pacific story is one of the most romantic in aviation history. It began with the entrepreneurial vision of two former transport pilots - American Roy Farrell and Sydney de Kantzow from Australia - who had flown transport planes over the "HUMP" from Calcutta to Kunming during World War 11. After the war, they spotted an opportunity to start passenger and cargo flights out of Shanghai and, in May 1946, moved their enterprise to the British colony of Hong Kong, naming it Cathay Pacific Airways - Cathay, the ancient name for China; and Pacific, because the far-sighted Farrell speculated that one day the embryonic airline might fly across the Pacific ocean.
By 1948, CPA was operating scheduled services to five destinations around Asia. The same year, Butterfield & Swire, Cathay Pacific continued to grow rapidly. During the 1970, the airline began serving its first destinations beyond Asia with flights to the Middle East, as well as starting its first cargo-only flights.
With delivery of its first Boeing 747-200 in 1980, Cathay Pacific launched its inaugural Hong Kong London service, and then became the world's first airline to take delivery of the Rolls-Royce-poweded Boeing 747-400, which revolutionized long haul travel, bringing destinations such as Vancouver, London and Los Angels within nonstop range. 45 percent of the Airline is owned by Swire Pacific, part of Hong Kong based conglomerate Swire Group, while China International Trust & Investment Corporation (CITIC) holds a further 25.4 percent and John Swire & Sons provides a wide range of management services to the airline.
In 1996, the airline commemorated its 50th anniversary and in 1999, the airline took delivery of three Boeing 777-300s, one of the most advanced passenger aircraft in the market today. Cathay Pacific's continued success is closely tied to that of Hong Kong, and with this in mind the airline has invested a total of HK$8 BILLION (us$1 billion in its new headquarters at Cathay Pacific City and in the infrastructure of the Hong Kong international Airport at Chek Lap Kok which opened on 6 July 1998: Cathay Pacific's new home in the heart of Asia. More information is also available on the website: www.cathaypacific.com

We will describe our most recent flight in more detail later, but first here is some supporting information we gathered via press release that was sent to our office. It speaks of a very key topic - management:
Cathay Pacific Airways has been ranked the best managed major airline in Asia and the second best managed major airline in the world by leading airline industry magazine Aviation Week & Space Technology. Cathay Pacific, which offers twice daily Boeing 747-400 service from Vancouver to Hong Kong, daily non-stops to New York and daily direct A340-300 service from Toronto to Honk Kong, offers service to 47 destinations from its "Super Hub" in Honk Kong.
Cathay Pacific was also lauded for the "exceptionally strong performance" of its management. The rankings are based on a combination of asset utilization, productivity and financial health. Aviation Week said the highly-ranked companies should serve as a guide for aerospace companies and airlines worldwide.