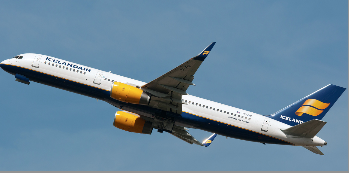 The airline is part of the Icelandair Group, a publicly-traded travel company based in
Reyjavik. The airline aims to leverage Icelandís geographical location to build an
international route network linking points in North America and Europe and in doing so,
has been able to grow its network steadily. Capa Aviation.
Icelandair to Expand Canadian Service with Open Skies Agreement

The governments of Iceland and Canada have signed an Open Skies agreement to permit scheduled air services for passenger and all-cargo traffic between Canada and Iceland, effective immediately. The new agreement replaces the Memorandum of Understanding on Air Services that has allowed operations to Canada by Icelandair, the flag carrier of Iceland, since 1995.
"This marks a significant advance in Icelandic aviation history," said Jon Karl Olafsson, President and CEO of Icelandair and the Icelandair Group. "The strength of our relationship with Halifax and Atlantic Canada over the last decade has paved the way for this success," he added. "Icelandair will initiate flights from Toronto in Spring 2008 to complement our Halifax service." Additional Canadian gateways are under consideration for future development.
"The Canadian market plays a very important role in the growth of our route network," said Gunnar Eklund, Icelandair's General Manager-The Americas. "Our expansion to Toronto will open an array of opportunities for commercial and leisure travel between Canada's most populated areas and Iceland," he added, "and to our many destinations in Scandinavia, Great Britain and Continental Europe." Eklund said Toronto will be an excellent connecting point for Icelandair passengers traveling from other Canadian cities.
In announcing the agreement, Lawrence Cannon, Canada's Minister of Transport, Infrastructure and Communities, said: "This latest agreement under our Blue Sky policy marks another step towards greater choice and flexibility for Canadian travelers, while connecting them to the world."
Icelandair will offer 5-7 flights per week from Toronto with a flying time of approximately five hours to Iceland. Flights will connect in Iceland to other European cities, including Copenhagen, Oslo, Bergen, Stockholm, Gothenburg, Helsinki, Paris, Frankfurt, Munich, Berlin, Amsterdam, London, Manchester and Glasgow. Today Icelandair operates 160 flights per week to 25 cities in North America and Europe via its hub in Reykjavik.
Travel information is available from Icelandair at (800) 223-5500, http://www.icelandair.ca and http://www.icelandair.com .
Icelandair Canadian Highlights
Icelandair is pleased to announce their return to Halifax, with three flights per week (Mondays, Thursdays, Saturdays) starting May 17. through September 24, 2007. Your clients can now fly non-stop to Iceland with easy connections to Europe! See your CRS/GDS systems for prices and schedules. FI published fares, plated on FI/108, are commissionaire at 8%\
Agent Support: For additional information in Canada, please contact us at: icelandair@gctc-mst.com, by phone at (204) 949-3023, or fax (204) 949-3020. For additional information in the USA, please contact salessupport@icelandair.is by phone at (800) 757-7242 EXT 775, or fax (410) 715-3547.