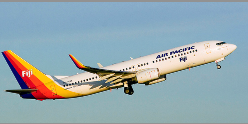 The national airline of Fiji, Air Pacific is majority-owned by the Fijian government. Based inNadi, Air Pacific operates a fleet that includes B737, B767 and B747 aircraft with a domestic and international network covering the Pacific, North America, Asia, New Zealand andAustralia. As part of the carrier's restructuring, a rebranding to its former name of Fiji Airways will be rolled over the next 18 months and will include a new livery for its upcoming A330-200s in 2013. Capa Aviation.
In 1947, Katafaga Estates Limited was incorpored by famed aviator Harold Gatty. In September 1951, the first scheduled service of his Fiji-based air line, a twin engined dragon biplane emblazoned with the worlds "Fiji Airways" climbed into
the morning Suva skies on its maiden flight. Gatty's company, Katafaga Estates had registered the name "Fiji Airways" after applying for and being granted a five-year exclusive airline operator's licence. 20 Years later in 1971, the airline was renamed Air Pacific to reflect a more regional airline following
investment by neighbouring countries including Tonga, Nauru, Kirinbati and the Solomon Islands, alongside Qantas Airways and Air New Zealand.
In June 2013, the airline will reintroduce the name Fiji Airways to reinforce its role as the proud airline of Fiji. Offering its customers brand new Airbus 330-300 aircraft and warm friendly Fijian service, Fiji Airways connects the islands of Fiji to the world and proudly welcomes visitors to experience its island home.
Air Pacific Executive Office
Tel: 6737440
Fax: 6720512
Email: doreen@airpacific.com.fj