Africans Active at UN World Urban Forum in Vancouver
Tourism Generates Jobs,
by Jerry W. Bird, Editor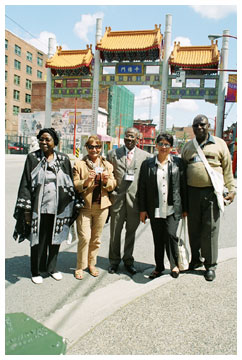 What a memorable week. After 30 years UN Habitat returns to its launching pad - the seaport city of Vancouver, British Columbia Canada. The crowd is estimated at 10,000 plus and it certainly seems so, judging by the heavy attendance at many sessions. At the time of writing, we have had the pleasure of taking two groups of mayors representing different African countries on tours of Vancouver and the University of British Columbia. It's one way for us to repay the wonderful hospitality we have enjoyed in eleven years with the Africa Travel Association as its media voice in North America and Worldwide.
The twin goals of Habitat are "Adequate shelter for all" and "sustainable human settlements development in an urbanizing world. "The "Global Village" is well represented, this week - with Africa making a particularly strong showing. As publishers of Africa Travel Magazine and related travel business media features, we were extremely pleased and honored to be able to to network with so many of our African colleagues. We will introduce key African delegates and speakers to you via radio interviews and photos as this important feature unfolds. Our editors encountered another big surprise on arrival at the Expo Media Center, where many African print and broadcast media were present, giving us ample opportunity to exchange views and share ideas. Many delegates requested complimentary copies of Africa Travel magazine. These issues from our archives cover a wide range of African destinations and topics.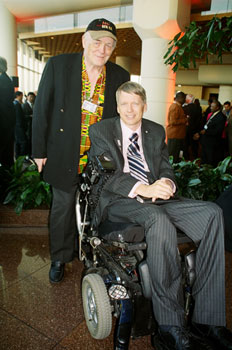 The impact of Urban Development on African Tourism goes without saying - and this event, along with Globe 2006 World's Largest Enviro-Business Expo, also in Vancouver, open up a broad avenue for our editorial group. The week started off with a keynote address by Hon. Stephen Harper, Prime Minister of Canada. followed by Vancouver Mayor Sam Sullivan, and BC Premier Gordon Campbell.
Africans have made a strong showing at this world class event, as they have at the 2006 World Cup in Germany. On day four we attended the Mayors Roundtable at Simon Fraser University's downtown campus, and later at the World Mayors Reception we had a brief dialogue with host Mayor Sam Sullivan, who has a high profile worldwide and will host the Winter Olympics in 2010. We finished off an outstanding day at a special evening event hosted by Kenya, networking with dignitaries from cities and the federal scene.
AFRICANS ON VIDEO: Comments from the African delegates are available in Video Clips thanks to Sustainability Corner, which operated from a broadcast stage at the entrance to the Expo. Not only did our editor get an opportunity to introduce Africa Travel Magazine to the world, we were provided with interviews from a wide cross section of Africans from Cabinet Ministers to professionals of all stripes. www.sustainabilitycorner.com
ACTION ON SLUM IMPROVEMENT
Rose Molokoane: South African Homeless People's Federation anchored a panel on this vital topic, which attracted many members of the world press, most especially Africa Travel Magazine. A leading world figure on Rose's panel was Mr. Jockin Arputham is President of the National Slum Dwellers Federation (NSDF) of India. This organization is one of the largest urban poor organizations and social movements in the world. He is also President of Slum/Shack Dwellers International (SDI), an umbrella group formed by urban poor and homeless federations from many different nations - as they support each other and learn from each other. Having worked for more than 40 years in slums and shanty towns, building representative organizations and demonstrating what slum-dwellers' own organizations are capable of, he has shown what powerful partners slum dwellers can be for governments and international agencies. Mr. Arputham set up NSDF in India which developed to become a mass movement with hundreds of thousands of slum dwellers as members. Mr. Arpurtham is also an active Member of the UN Advisory Group on Forced Evictions. In 2000, he received the Ramon Magsaysay Award, Asia's version of the Nobel Prize.
Mayors, such as Patricia Applagyel of Kumasi, Ghana';s second largest city, are among our favorite people, not just the friendly Africans we met at the UN World Urban Forum, but as publishers we've had a dialogue with mayors in our own province for decades by covering the annual Union of BC Municipalities Expo. Former mayor Russ Helburg of Port Hardy was of great help for years and was featured in our first airport magazine in the early 90s. Not long ago I was keynote speaker at a Trans Canada Highway Association 59th Anniversary Conference and mayors in my audience came from half of Canada, some 2,000 km from Lake Manitoba to the :Pacific. They were a very appreciative audience. Small wonder we love dealing with mayors. Patricia was featured on a cover page of the Vancouver Sun Newspaper following the forum. We stayed in Kumasi earlier this year during our tour of Ghana and were greatly impressed by its outstanding potential for tourism development. Rose, who is an avid gardener and lover of beauty, along with David, her colleague from Tema, near Accra, joined Muguette and I for a tour of the University of British Columbia campus, with stops at the Memorial Gardens and the UBC Museum of Anthropology.
Anna Kajumulo Tibaijuka of Tanzania, Under-Secretary-General and Executive Director, UN-HABITAT, highest ranking African woman in the United Nations, gave an outline of the program';s purpose. "As the international community celebrates Vancouver + 30, it should also reflect on the important lessons learned in urban development and the need to reduce inequalities within cities. Cities present an unparalleled opportunity for the simultaneous attainment of most, if not all, of the internationally agreed development goals. Interventions in, for example, poor water and sanitation, have immediate positive knock-on effects in terms of improved health, nutrition, disease prevention and the environment. However, unless such concerted action is taken to redress urban inequalities, cities may well become the predominant sites of deprivation, social exclusion and instability worldwide."
FACES AND VOICES OF AFRICA AT THIS EVENT

The conference speaker list included many high profile Africans. Here are just some of the people who shared their expertise and experience with participants at WUF3:
SPEAKERS FROM AFRICA
Contact numbers and some biographies available.
Ali Mohamed Shein: Vice President, Government of Tanzania
Harriette Amissah Arthur. Director, KITE, Ghana
Mary Balikungeri: Rwanda Women's Network, Rwanda
Tasneem Essop: Minister of Environment, Planning and Economic Development, Government of the Western Cape, South Africa
Eric Falt: Director of the Division of Communications & Public Information, United Nations Environment Program (UNEP), Kenya
Bhekokwakhe Hamilton Cele: Transport Safety and Community Liaison Officer, KwaZulu Natal, South Africa
Lamine Mbassa: Director of Economic and Financial Affairs, Communauté Urbaine de Douala (CUD), Cameroon
Jean-Pierre Mbassi: Secretary General, United Cities & Local Governments Africa
Smangaliso Mkhatshwa : Councilor of Tshwane, South Africa
Abbès Mohsen: Mayor of Tunis, Tunisia; President of the Féderation Nationale des Villes Tunisiennes, Tunisia
Rose Molokoane: South African Homeless People's Federation, South Africa
Maria Mutagamba: Minister of State for Urban Employment & Poverty Alleviation, Government of Uganda, Uganda
John Pombe Magufuli : Minister of Housing, Lands and Human Settlements, Government of Tanzania, Co-Chair WUF 3
Lindiwe Sisulu: Minister of Housing, Government of South Africa
Local examples of sustainability
Examples of urban sustainability were just outside the doors of WUF3. Delegates saw how a waste water treatment plant works or cycle around the University of British Columbia campus. Free guided tours took them off the tourist track to see why Vancouver is one of the most sustainable cities on the planet.
RELATED LINKS
WORLD MAYOR AWARDS- AFRICA; Finalistgs 2006: Mayor of Antananarivo, Madagascar; Johannesburg, South Africa; Maputo, Mozambique; Tunis, Tunisia
AFRICA MUNICIPAL DEVELOPMENT PARTNERSHIP
Under the current local government reforms in Africa, Mayors and Councilors are key actors in establishing strong and sustainable local governments. They have a dual role of democratizing local government and fostering local development. They represent the citizens and are supposed to provide both political and economic leadership; have an appreciable level of civic knowledge with the ability to manage public affairs; and create an environment for maintenance of peace and security in their jurisdiction. However, until the late 1980s, it was never conceived that representation of ordinary people requires a mayor or a councilor to have extraordinary skills. This was possibly due to the fact that their engagement was on a part time basis and for a fixed term of one or two years. Many elected officials come to local authorities without prior management skills or knowledge of local government systems, or knowledge of national priorities and goals. MORE-

MAYOR'S OVERHAUL OF ADDIS ABABA: Executive Mayor Arkebe Oqubay
AFRICA CITY MAYORS SOCIETY- PROJECTIONS TO 2030