Expanded Convention and Exhibition Centre
by Jerry W. Bird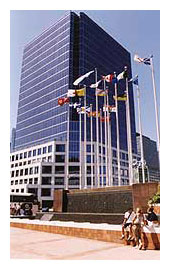 We've worked closely with Tourism Vancouver for many years, and recently witnessed one of that association's crowning achievements, when plans for a new, expanded Convention Centre were revealed. It was in the exciting months leading up to Expo '86 that I watched in awe as the current facility rose on the site of what used to be the CPR Steamship pier, where my grandparents and I departed for Alaska and the Yukon. I followed every step of its progress, and what a marvelous transformation. It was Expo '86 that truly put Vancouver on the world map of great cities, and the Five Sails became its icon. At Apec '97 , we enjoyed a feeling of pride unlike never before, as 10,000 participants from over 18 countries shared their ideas. Air Highways produced a Souvenir Edition to fit the occasion and set the stage for future events.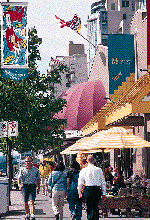 L
Convention Centre Target Now 2007
A proposed $495-million expansion to the Vancouver Convention center will likely open years later than the 2005 target date envisioned by city tourism officials. That was the message Tuesday from Enterprise Minister Rick Thorpe following a speech to the Vancouver Board of Trade. Thorpe said the proposed expansion now is tied closely to the Vancouver-Whistler 2010 Olympic bid, so construction of the facility seems unlikely before the Games are awarded in the summer of 2003. The project would take about four years to build so under a successful Games bid scenario, it would open by 2007 at the earliest.
Bruce Constantineau, The Vancouver Sun, October 24, 2001
---
Our Second Office
Wayne Gretsky's office was behind the goal net, and Vancouver radio columnist Joy Metcalf calls the Convention Centre and Pan Pacific Hotel her office. We feel the same way, since we work in Gastown, a few blocks away and attend over 30 functions there annually. Small wonder the news about a new facility was music to our ears. The Vancouver Convention and Exhibition Centre has become an internationally recognized symbol of what we believe is the most attractive destination in the world. The centre's column-free exhibition areas, meeting rooms and ballrooms can handle up to 8,000 guests . The newly announced facility will expand this base considerably.

Vancouver's financial district and downtown core is within safe and easy walking distance. Entertainment, restaurants and retail shopping areas are an easy stroll from your room, and the view of the harbour with its cruise ships and seaplanes coming and going, is truly a delight. Write: airhwy@dowco.com or contact the convention centre at: 200-999 Canada Place • Vancouver, BC • Canada V6C 3C1, Tel: (604) 689-8232 • Fax: (604) 647-7232

Photos courtesy Tourism Vancouver

The Pacific Northwest, California and Asia are markets that represent strong growth opportunities for the hotel. For more information call central reservations at 1-800-441-1414 or visit the web site at www.cphotels.co. Media Contact:
Sarah Geddes, Communications and Promotions Manager,
Tel: (604) 662-1923 Fax: (604) 685-9476 E-mail: sgeddes@vap.cphotels.ca ...